How to Strengthen Unstable Sun Catcher

Fan Light Foil Unstable Question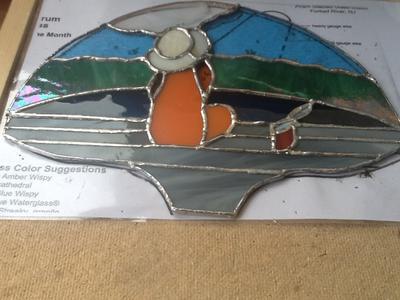 Copper foiled fan light
I have not long started and this is my third project. I have finished this piece ( not perfect i know) but the tab at the bottom is wobbly is there any help you can give me to solve this problem. Ann
Milly's reply:
Third project? You're doing great!
I can see why the bottom bit is wobbling. I've added a pink line on the second photo to show you where the design is structurally weak.
Whenever you're doing a suncatcher and there's no framework to hold it in place, anything that is only held on with one straight line is vulnerable. So it will wobble back and forth.
Sometimes you can add another couple of shapes to secure it, but this isn't an option here, as it would spoil the shape and be such a small slither it wouldn't help much.
Strengthen with wire
What you can do is strengthen it around the edge with some wire. I've indicated the minimum area with the green line, but if this were mine I'd go all the way around so that it looks even.
The wire is joined on to the edge with solder. Tinned wire is stronger and will be able to take patina to match your copper foil.
'Tinned' means wire that is coated with a thin layer of solder.
You can either buy it tinned (easier!), or tin it yourself by coating the copper wire with flux and, holding it with needle nose pliers, run a drop of solder slowly along the length of it. Keep adding solder. It takes a bit of practice!
Once you've done that, work around your sun catcher, adding small blobs of solder to stick the wire to the edge. I'd start somewhere on the top dome, not around the tab that you want to strengthen.
I'd also practice first on a piece of foiled glass that isn't precious.
Hope that helps.
GET MY FREE 'CUTTING PERFECT CURVES' eBOOK
My simple to follow free e-Book shows you how easy it is to cut even the most difficult type of curves in stained glass.

On top of that you'll get stained glass tips, tricks and inspiration with the Everything Stained Glass Newsletter.
http://everythingstainedglass.com/fan-light-foil-unstable
http://everythingstainedglass.com/wp-content/uploads/fan-light-foil-unstable-21734498-1.jpg
http://everythingstainedglass.com/wp-content/uploads/fan-light-foil-unstable-21734498-1-150x150.jpg
FAQ
Q+A,Soldering Copper Foil
Fan Light Foil Unstable Question Copper foiled fan light I have not long started and this is my third project. I have finished this piece ( not perfect i know) but the tab at the bottom is wobbly is there any help you can give me to solve this problem. Ann Milly's...
Milly Frances
Milly
Frances
millyfrances@gmail.com
Administrator
Everything Stained Glass