'Cutting Perfect Curves' is a simple to follow free eBook that shows you how easy it is to cut even the most difficult type of curves in stained glass.
Cutting can be a bit daunting if you don't know where to start. This tutorial takes you through each step in turn with labeled photos to help.
Before you know it, you'll have cut a perfect inside curve and have the skills to create any shape in glass.
'Cutting Perfect Curves' includes:
5 simple steps for cutting a curve in a logical sequence that won't overwhelm you
how to choose your tools with a handy checklist and spend money only on those you actually need
the secrets of making a smooth score line and avoiding unnecessary breakage. We don't want those!
how to work with glass confidently and without making a scary mess
tricks for cutting glass in the right order to avoid wasting time and precious glass
how to use the secret tool that will become your multi-tasking best friend
And, best of all
how to avoid mistakes by learning from all the costly ones I've made over the years!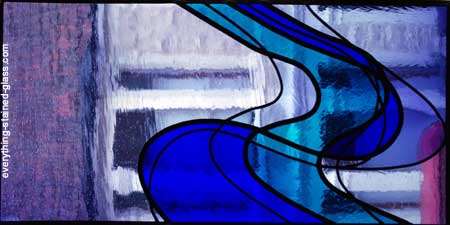 And there's more…
You'll receive the Everything Stained Glass Newsletter that will delight you with photos, inspiration and ideas.
The Newsletter will feature:
Lots of exciting photos to brighten up your day, make you smile and inspire you to try new things
Simple designing tricks to give you the confidence to start creating your very own unique patterns
Honest reviews and updates about new products that may (or may not!) help you make more beautiful stained glass
Information on innovative new techniques with ideas for how you can use them in your own glass projects
An occasional 'Fresh Focus' surprise that may not be strictly about glass, but will always be fun and interesting
I hate it when I sign up for anything and then get bombarded by junk. I promise that the Everything Stained Glass Newsletter will only be sent out when I have original, valuable and creative items worth sharing.
A confirmation email will be sent to the address you provide above. Your subscription will not start until you have confirmed that you really want it. Thanks!