Giving you the skills to create beautiful things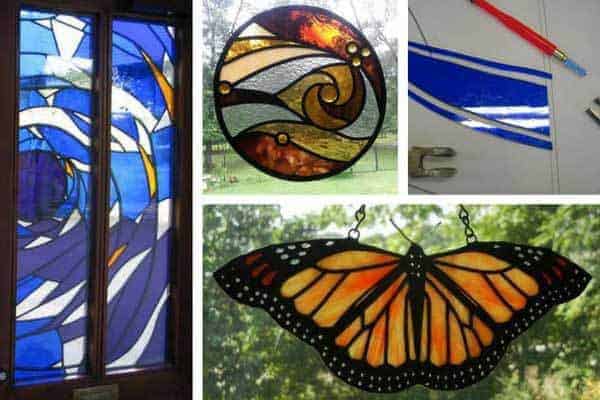 Hello and welcome to Everything Stained Glass. I'm happy you're here and want to help you get the biggest buzz from your stained glass journey.
From Beginners to Advanced, I have something new to teach you.
ARE YOU A PAYING STUDENT? THEN CLICK HERE FOR LOG IN HELP
In the 16 years EverythingStainedGlass.com has been around I've added a LOT of information to the site. It can seem overwhelming.
To get you started, I've created 3 sections covering the most common questions I'm asked at each level:
1. Help for Beginners and Refreshers
2. Help for Improvers
3. Help for Advanced
And as I know you LOVE tools, I've devoted a section solely to them:
Search Button
Don't forget, you can always use the Search Button (top right on each page) to find your answer/s.
That buzz when you lift your stained glass from the bench and hold it up to the light is truly the finest moment. My job is to help you reach that moment with confidence and satisfaction.
I'm not interested in the 'right' way, I'm interested in the way that suits you best.
Let's dive in…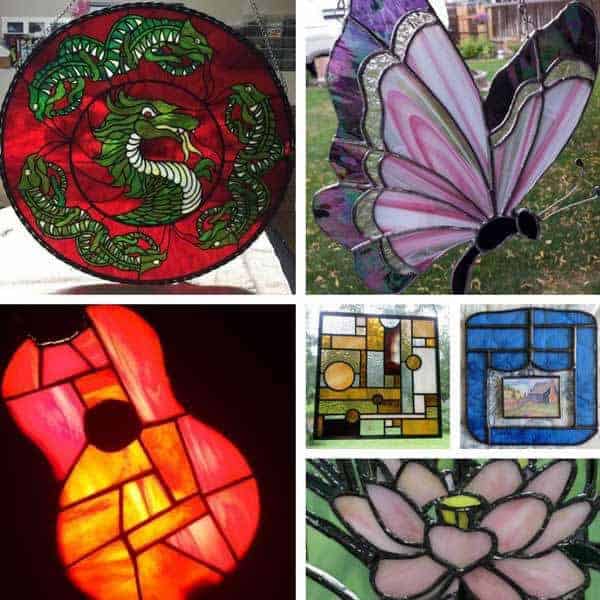 Everyone has different stumbling blocks at this stage. Cutting and soldering are the biggies, with patina and foil close behind.
Stained Glass Soldering specifically takes you through the process.
– Problems with iron temperatures, filling gaps or soldering hooks?
Visit these Soldering Help Pages
– Struggling with cutting (e.g. cuttable shapes, cutting circles or panels that grow)?
– Mouldy patina, eek. Hot foot it here:
Perfect Your Patina to prevent a mouldy, unsightly finish.
– Pesky foil not sticking?
Here's your answer Copperfoil Not Sticking
To make 100% sure you're not missing any vital information at this crucial Beginner/Refresher stage take my Stained Glass Made Perfect course.

This course, together with my shorter Conquering Curves class will give you a solid 'know it all' start to your stained glass journey.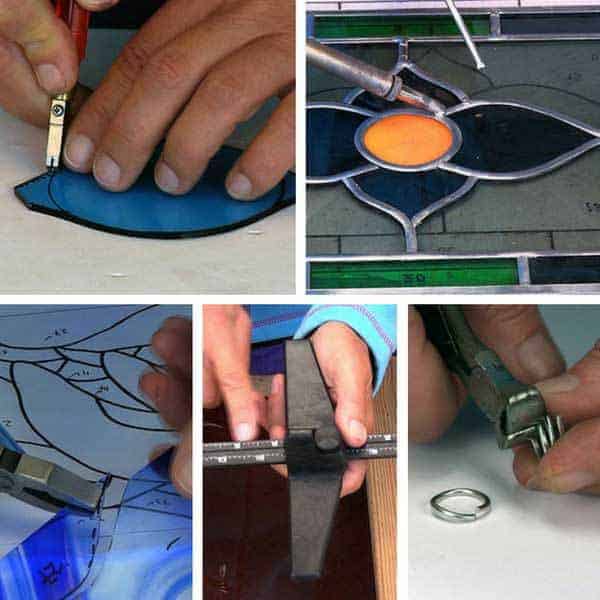 The top sticking points here are making larger work, bendy panels and repairs.
– Ugh, wrong size pattern.
Go here Resizing Patterns to resize it.
– Unstable panels? Learn how to reinforce here
– Repair needed? There's a workaround for you here:
– Questions about lead? Everything is here for you:
This is also the time to expand into new techniques. My Leaded Stained Glass Artistry course is a natural progression at this stage to give you additional confidence and creative choices.
3. Help for Advanced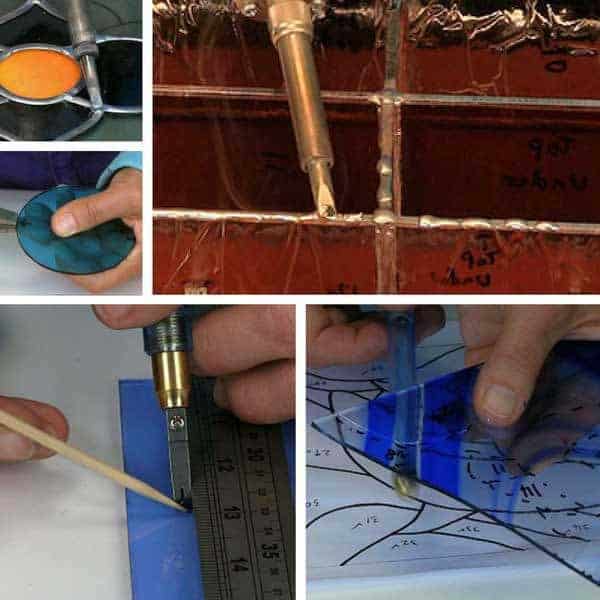 Those with skill in all areas can still improve and push forwards. There are new decorative and 'arty' techniques to explore and a more business approach.
– Fancy adding tiny details? Overlay is your answer:
– Vintage plates, decorative solder and textured glass are other possibles:
– Underpricing your work? Go here for pricing help:
My Stained Glass Plating Magic course hits the 'advanced' spot perfectly. It unites the practical with the artistic in a way that will push you into completely new areas.
4. Tools and Materials
Beginners are always the most anxious about tools, so this list of essentials is for you:
Glass Grinder (optional, but makes life much easier)
Soldering Iron
2 Piece stained glass 10″ x 10″ – hobby cuts
Glass Cutter
Running Pliers
Breaker/Grozer Pliers
60/40 Solder
Copper Foil
Safety Flux and Brush
Soldering Iron Stand
Fid and Burnisher
Safety Glasses
– My personal recommendations for these and a range of other (sometimes surprising) tools are here:
– An explanation of what the tools actually DO is here:
– If it's a soldering iron recommendation you're after, this is THE one:
Which Soldering Iron Should You Choose?
– Saws and board hunting? Go here:
Stained Glass Saws and here Stained Glass Soldering Boards
– Lastly, here are the lead came tools for you Lead Heads:
Introducing Myself

If you're wondering 'who IS Milly Frances and what's her story?' you might want to check out my About Page.
The crucial bits to know are that I play 5-aside football badly, have a Masters degree in Glass and a Post Graduate Teaching Certificate.
My 3 passions in a nutshell – football, glass and teaching 🙂