Essential Stain Glass Tools For Copper Foil Method
There are stained glass tools for everything you could possibly want to create, but what do you really need?
Here's a short explanatory video for those who want to know the answer:
Essential stained glass tools for the copper foil technique
To help you get your stained glass equipment up together, the list below contains all the specialised tools you'll need for making stained glass. My favourite tools – and why I use them – are here: Recommended Tools .
General Stained Glass Tools

Rapid Resizer Pattern Software

Stained glass software can help your speed and accuracy with designs and patterns. My preferred choice is Rapid Resizer online and I have a review of it here.





Stained Glass Kits

You might choose to buy a ready-made kit instead of selecting the tools individually. Make it easy for yourself and compare deals on a range of kits here. Make sure you get the best bundle of equipment and don't pay for things you don't actually need. There are separate kits for the Copper Foil and Lead Came Construction techniques.




 Stained Glass Sheets

C & L

There's a stunning range of coloured and textured sheet glass to make your artwork completely unique. Find out all about the different types of stained glass sheets, what they're best used for and who supplies them. Includes fusible, opal and cathedral sheets. With two videos – one on the different types of glass and one on how best to cut art glass to maximise the grain direction.

Specialised Stained Glass Tools

Stained Glass Grinder

Cut down on waste and achieve precision fits with a grinder that matches your particular needs. Read reviews of different grinders and find out which one comes out top for value and quality. Grinders are verging on the essential for the copper foil technique.

Pattern Shears

These special shears have a triple blade that miraculously removes a tiny slither of paper when cutting pattern template pieces. This allows space for the heart of the copper foil and solder and makes sure that you don't cut your stained glass too big. Some shears are made for both lead and foil, some just for lead and some just for copper foil. Make sure you get the right ones for your project.




Glass Cutter

Enjoy cutting stained glass and reduce breakage by choosing the stained glass cutter that suits you best. Includes a very helpful video showing all the different types of cutters available.

Stained Glass Pliers

Learn all about the different types of stained glass pliers essential for stained glass making, and how to use them for breaking and grozing glass.




 Stained Glass Soldering Irons

Select the right soldering iron and solder neatly and comfortably. Find out about which wattage you need and the best type of tips to use. Includes amazing stained glass soldering video.
Also here are lots of ideas for tools that help you to hold stained glass for those times when you need 3 hands.

Flux

Make solder flow easily and neatly by using flux. There are many different types but all do an adequate job. Flux removers aren't essential.

Stained Glass Solder

Solder is used to join all your bits of glass together – either on each of the lead joins or along the copper foil seams. There's lead-free solder and solder with a different ratio of tin/lead solder for leaded (50/50) and copper foiling (60/40) projects.

Patina

This is painted on the solder to change the colour from silver to either copper, brass or black, depending on which colour patina you buy. Make sure you clean your copper foil panel before applying.

Copper Foil Tape

This is a roll of thin sheet copper that comes in a roll with a sticky back. It is stuck around the edges of your glass pieces so that the solder has something to stick to. It's available in 1/8" (3mm) to ½" (13mm) widths.

Stained Glass Soldering Boards

Suggestions for the best boards for soldering stained glass that are heat resistant. Homasote board accepts push pins easily. A very useful addition to your kit!

Additional Optional Equipment




Ring Saws

Do you actually need a ring saw? Decide after you've read about the 5 things ring saws do well. You might find it's the perfect tool for you or you might discover that it doesn't help you make stained glass.




Drills

Add unique detail to your art work by engraving and drilling glass. You don't need lots of expensive kit to drill holes. Find out which drill is best for you and how to use your grinder for drilling holes.




Glass Bottle Cutter

Transform your used bottles into goblets, bowls or candle holders with this popular and well-reviewed bottle cutter. Detailed instructions on how to cut bottles successfully.

Non-Specialist Tools Needed

I've compiled 5 Cost Savings Tips here for you – so you can spend more money on beautiful glass 🙂

Designing Equipment

Pencils, pastels, paints – anything you can make marks with to start you off! – ruler, drawing paper, pattern card, drawing square for the right angles and masking tape.

Cutting Tools

Safety glasses. Always make sure your eyes are protected with a pair of decent safety goggles – even if you wear spectacles.
Permanent Pen for marking – black is fine but there's a special white one for marking dark glass
Scrap Lino for cutting on and a sharpening stone for making the edges safe if you can't stretch to a grinder yet.

Assembling and Soldering Tools

Wood strips and Nails for holding glass while soldering
Work Board – a Homasote board is perfect
Small, cheap brush for painting on the flux.
Stained Glass Tools Suppliers
All of the above tools and materials are available from Amazon. Their prices are good, they're reliable and they don't make a fuss about returns.
Have a browse and see what's available but if you stick to the above list of essentials, you can be sure you won't be buying items you don't really need.
Everything Stained Glass receives a small % from Amazon (not you!) for any tools and supplies bought if you click through from this site. We never recommend any products we don't rate highly. I hope you find our review and information service helpful.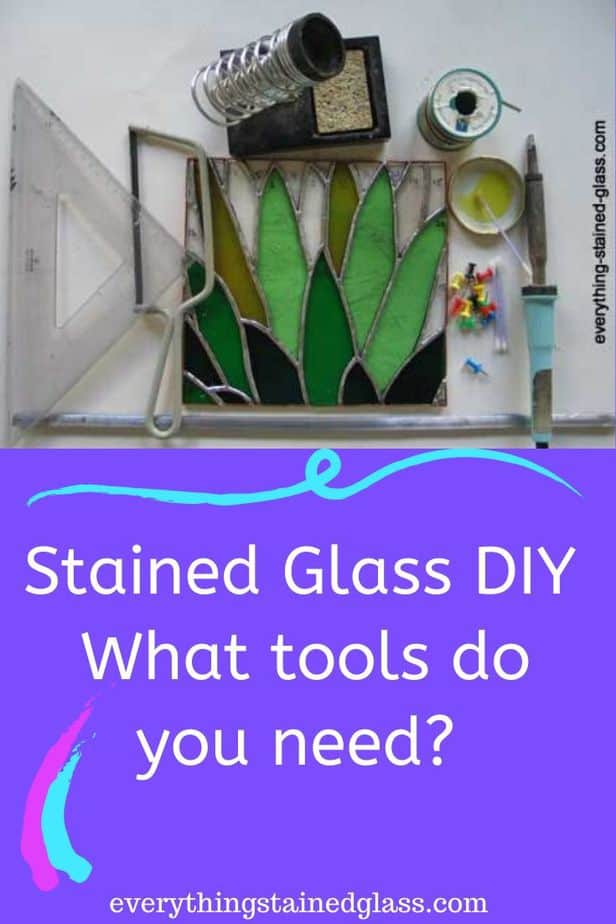 Helpful Resources
There's a little bit more information explaining how to use each tool needed for stained glass kits here that you might find useful. Once you know about each of the tools, what they're for and how to use them, you're ready to start making.
You can learn how to make stained glass from my free tutorials. They take each process at a time and are packed with annotated photos and videos. I hope you find them helpful.
Fun Stained Glass Gifts
The apron is supplied, printed and shipped by Californian-based company Zazzle.com. It is easy to order the apron online through Zazzle's website and – according to review sites – they fulfil the order promptly and efficiently.
Zazzle has outlets internationally. I dealt with Zazzle UK and was happy with the service and the product. My good experience is backed up by other people's reviews on the Internet.
Original design by Milly Frances
Mugs are dishwasher & microwave safe
Aprons come in alternative sizes
Available internationally, see below