Signing stained glass tells the world that you designed and made it ALL yourself. There's something really satisfying about seeing your name on your window at the end of all your hard work.
It doesn't have to be about your name – you could add a dedication, add part of a poem you love or copy a grandchild's drawing for example.
It's not as easy as adding a watermark on a photograph or signing a painting though; as usual with stained glass we need more creative solutions! I have explained a couple below.
Signing Stained Glass By Engraving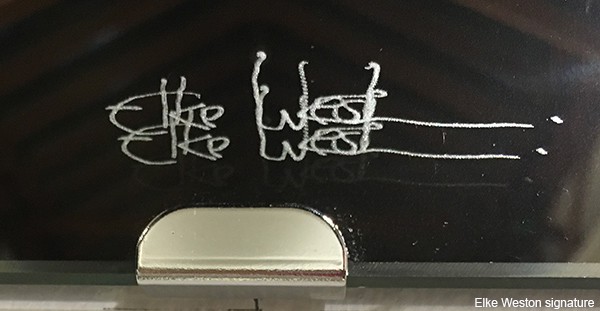 I like engraving as it's subtle and allows you to put your individual mark on the piece. This lovely flamboyant signature was on a piece I saw at the Irish glass biennale by an artist called Elke Weston.
You can use a Dremel or similar drill to sign like this. If you're thinking of getting one, the Dremel 4000 (paid link)has an option for connecting a flexible shaft which really helps for signing stained glass work.
A flexible shaft (paid link) is a wire coil which is very bendy. You fix one end to the Dremel and the other end has a tapered end which holds the drill bit.
Just so's you know, if you click and buy through the link within 24 hrs I get a small % from Amazon, (not you!). Thanks in advance but no worries if you have a local store – I'd always support them first 🙂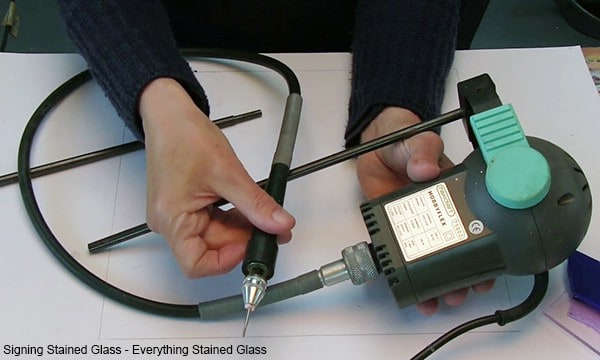 Here's my flexible shaft set up – masquerading as a dentist's drill! It means that I can hold the drill like a pencil and be more natural with my signature.
How To Sign Stained Glass Video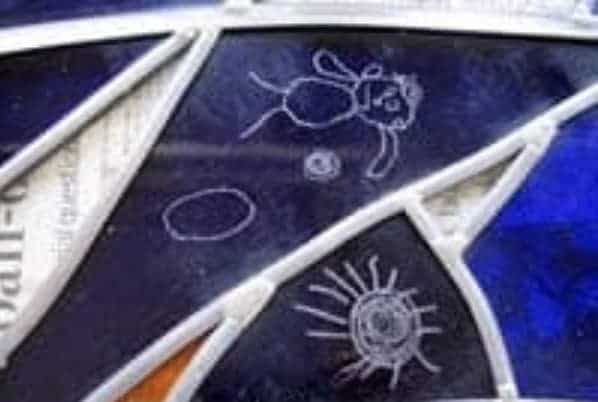 If you have no option but to engrave on lighter glass, you can always smear black permanent pen into your signature. It will help with visibility.
The exact same method can be used for any marks or drawings you want to make on your glass. If you wanted to copy a child's drawing, you can copy it onto the glass with a white chinagraph pen and follow the lines with the drill bit.
Personalised Graduation Gift
This gorgeous example below is by an online student of mine, Deb Minez. She made it for her granddaughter's graduation to celebrate her career-to-come as a writer and her photography skills.
She engraved the quote on the glass before assembly and used some of her favourite Fremont Antique Glass for the fountain pen. Can you see the "ink drops" of solder that Deb made and copper patina-ed so they would stand out a little. What a gem she has created here. A gift to treasure.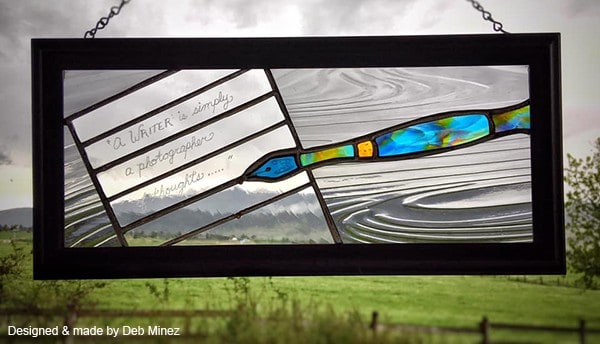 There are other ways to can sign your stained glass work. Embossing is another option.
Signing Your Stained Glass By Embossing
I remember loving these DYMO labellers (paid link) when I was a child, labelling everything in sight. Now I find – courtesy of my online student Stephanie Spurlock – that there's another, grown up, glassy use for them!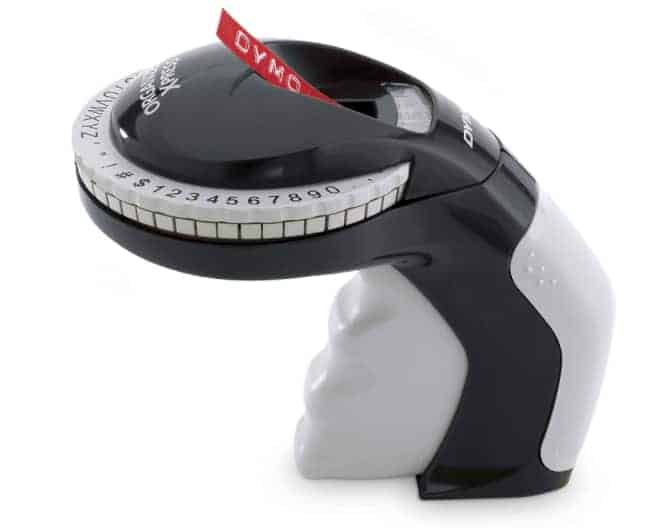 All you need to do is feed a strip of copper foil through the labeller instead of the supplied tape and punch out your name. It will emboss the foil with your name on.
This piece of copper foil can be soldered on the edge of your panel and finished off as normal. Just make sure it's a very light tinning of solder; too much and your name (and fame!) will disappear.
My Embossing Experiment
In the absence of a labeller I thought I'd give it a try myself. I folded a piece of copper foil in half, sticky side together. I put this on a padded piece of lino so that I could press hard into it.
I used a horseshoe nail to spell out my name – anything pointed and metal will do – and then tinned over my name…
…it didn't work!!!
For a start you have to write your name backwards so that your name stands proud in the copper foil, so my first attempts came out back to front LOL.
And secondly, my name is nearly impossible to read as I couldn't easily write backwards and press hard at the same time: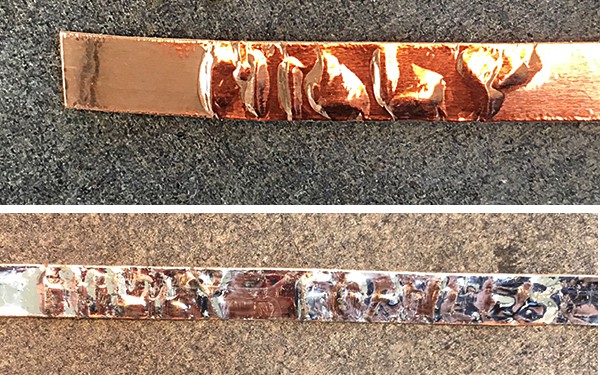 Ah well, you get the gist and the experiment was fun 🙂 Best stick with the DYMO (paid link) if you fancy going down this embossing route.
One last thing; copyright. I'm sure you wouldn't, but just a friendly warning – don't go signing your stained glass work if it's not 100% yours. Designed, made and everything… I don't want you getting into trouble.
How are you signing stained glass or making patterns or marks? I'd love to hear your ideas below. Thanks 🙂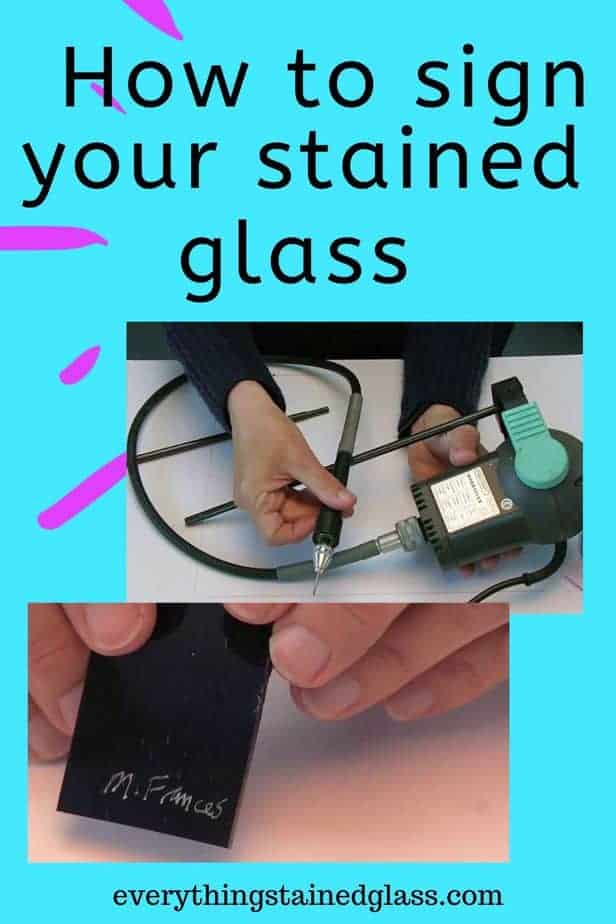 Related Resources
If you have a drill and want to drill holes go here
Etching cream is another way to make marks on your glass. You can find a whole set of tutorials on etching here.