Jacob's Ladder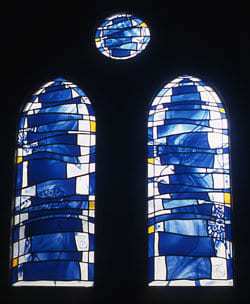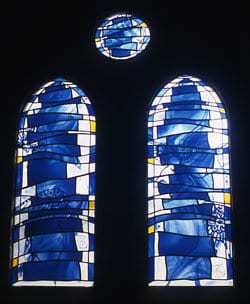 There are lots of church stained glass windows in Swansea, Wales. A while ago I went on a tour to look at them.
Back then, cameras and slides were the thing, and I have lots from this trip, all lovingly labelled and notated.
St Mary's Church has lots of different windows; they have a John Piper, a Catrin Jones and, since 2001, a Martin Donlin.
But who made these windows?! My notes say 'Lisa Berkle', but I can't find any reference to her on the web or in my considerable library; nothing. It's driving me mad, can you help?
Whoever she is, she uses the lead lines skilfully to suggest a ladder, and the movement inherent in the design propels our eyes upwards until we almost feel that we have climbed it ourselves.
The small areas of yellow in the church windows hint at a heaven at the top of the ladder.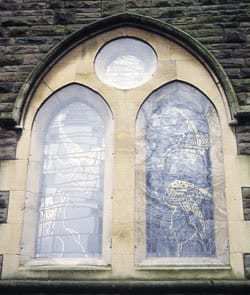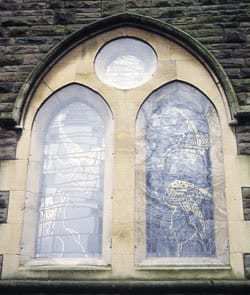 Another intriguing aspect of this window is the use of the gilding technique – here with gold leaf – used for the angels. From the inside of the church you can partially see some subtle blue figures that look as if they have wings, but if you step outside it's a different story.
Five golden angels suddenly appear! From this side they are the most dominant feature of the windows, along with the lead 'ladder'. It's a good example of an artist who is aware of both surfaces of the transparent canvas; inside and outside.
Helpful Resources
If you're interested in finding out about glasswork in Wales, there's the most amazing database being compiled which documents all the stained glass in the country.
There's detailed photos of each window with dates and artists/studio names. What a task! Here's the main search page. Type in "Swansea St Mary's" and it will take you to all the windows in this particular church.
Thanks to those who wrote to me and told me that Lisa Berkl (without an 'e'!) works at Swansea Metropolitan University. Much appreciated!
1 | 2 | 3 | 4 | 5 | 6 | 7 | View All
[table id=1 /]