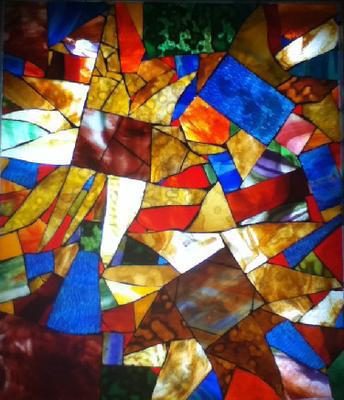 Impressive Applique Panel Called Big Bang
We divested our s.g. stock in Ontario, but had the usual superabundance of residual scrap, some of which was exceptionally sightly, so made a design-as-you-go applique panel for our bath window in Missouri. "Let the glass do the talking" is often the best expedient! By Larry Stout
Milly's reply:
Wow! This would revitalize you in the morning!
I can imagine lying there making up lots of different stories with all the shapes and colors… there's some beautiful glass in there.
What happens when you want to have a really peaceful bath, though?! 🙂
For those who don't know what appliqué is, Larry has kindly written a really good tutorial about it on this site here.
It's a very exciting technique, and one which allows you to break away from the linear look of stained glass.
Comments for Applique Big Bang
Color balance – Larry Stout
Thank you, Julia. I do think that the eye perceives each basic color semi-independently, and color balance can be pleasingly "comfortable", but a nice aesthetic also can be achieved with artfully contrived imbalance. I am also of the opinion that yellow is the universal complement; I in fact hold the "color wheel" in disdain. With regard to elegance, however, I must refrain from comment and defer to you! :>)
---
WOW! – Julia RIchardson
Completely abstract and random and yet perfectly colour balanced and what great colours too! I love it!