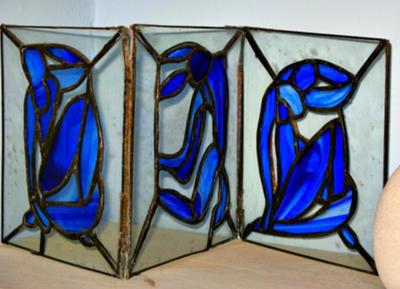 Picasso Inspired Blue Ladies by Naomi Griffiths
This is based on the Picasso paintings and is a "threesome" – I usually do single blue ladies as suncatchers…I am also inspired (as I imagine most stained glass folk are!) by Charles Rennie Mackintosh and have squashed, squeezed and mangled his designs to fit door panels and mirrors(with apologies to the great man!). I especially love working on leaded church-themed windows. That heavy dull leaded appearance evokes an atmosphere of ancient medieval cathedrals and churches, and is what attracted me to this art/craft in the beginning. A hobby/passion for many years has now taken hold to become my full time occupation.
Milly's reply:
These are fantastic Naomi. Your 'squashing, squeezing and mangling' is very successful! It's great also to hear that you're managing to do it full time; not easy in these stringent times.
I love the idea of taking an artist you admire and adapting their style to create something new and vigorous in it's own creative right. If I was a famous artist that would give me an immense amount of pleasure.
I look forward to seeing any more work you produce.
Comments for Blue Ladies Triple Panel
Blue ladies
by: Anonymous
The blue ladies are pretty spectacular as are all of this Artists work's. Also, too, she has her own style, but is in the keeping of other great traditions and glass artist's of ages past.
She is doing her part in keeping this ancient and noble craft alive in our own time. Indeed, I wish her all of the best in her endeavors.
---
Thanks
by: Naomi
Thanks for the encouragement Milly, when I look at my own work and then other people's I have huge doubts! Whether I can eke out a living from this is as yet unknown but worth a try…my first art/craft sale is this weekend..it would be great to hear from anyone else doing something similar so we can swap notes, advice, experiences, and give some mutual support. I'd be happy to pass on my email address.