Cutting large sheets of art glass… does even the thought of this absolutely petrify you?! If so, I've made a video especially for you. It will help you see that cutting large sheets of glass is no different to cutting a hobby piece.
Large sheets of art glass work out cheaper AND give you more colour choice. Conquer your fear and start cutting them neatly and with confidence right now 🙂
Milly's Recommended Tools and Equipment
Glass Cutter
I have a Professional Super Cutter Toyo cutter with a TC-20 cutter head which I find great for cutting large sheets of glass. They seem a bit tricky to get hold of these days so I suggest the Toyo Supercutter Metal Handle Straight Head Oil Cutter with a TC-17 cutter head (paid link) instead.
Both cutters have a wide 140 degree head specifically made for straight line cutting.
You can get the TC-17 from Amazon here (paid link)
If you're planning to cut lots of large sheets it might be a good idea to invest in one of these or similar.
If you can't get hold of the TC-17 cutter a regular Toyo Comfort Grip Glass Cutter (paid link) is fine for cutting large sheets. I use both in the video below to prove it!
Cutting Square
You'll also need a robust right angled Cutting Edge to guide your cutter head along the straight line. Mine's a Leponitt like this one (paid link) on Amazon but mine is 40″ rather than 37″. 37″ will work just fine for most glass.
Speaker 2:
Speaker 1:
Speaker 2:
Cutting Art Glass – Making the Score Line
Before you start cutting a large sheet of art glass it's worth checking that you can easily reach the end of the score. You need to be able to move comfortably from edge to edge.
Practise your cutting technique on a sheet of window glass first if you can.
The most important thing is to make a consistent score.
Hold the cutting edge firmly with your left hand (if you're a 'righty') and move your body in one continuous motion from the top to the bottom.
Keep the cutter perpendicular – not leaning left or right – and hugging up to the side of the right angle.
This isn't about speed, it's about consistency. What you're looking for is a score with no breaks in it. Just a very nice consistent line.
---
If you can already cut straight lines like a pro but are struggling with cutting curves my Conquering Curves course has taught lots of people the skills to cut curved and tricky shapes accurately. And we all know how important neatly fitting shapes are!
The course is self-paced and online so you can learn these cutting techniques even if you are unable to get to a class. You can see if it's right for you here Conquering Curves.
---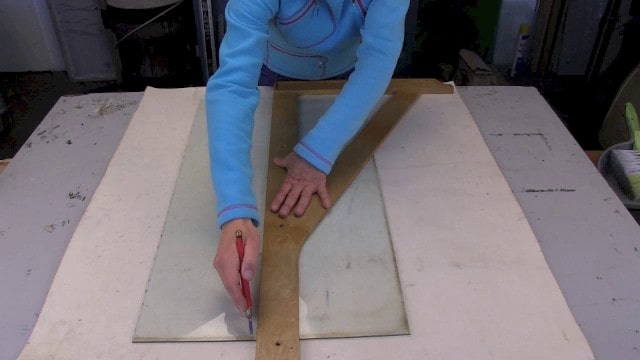 Cutting Large Sheets of Art Glass – Opening the Score
Once your score is done carefully move the glass over the edge of the table.
Don't lift it. Keep the glass either on or just above the work surface and slide it carefully into position with the score parallel to the edge of the table, about 1/4 – 1/2″ beyond the end
Hold the sheet of glass securely on either side
Now lift it and bang it down sharply across the edge of the table. Just like that.
It really is that simple! As long as you do things with confidence and you're feeling relaxed, you'll be cutting large glass art sheets like a pro.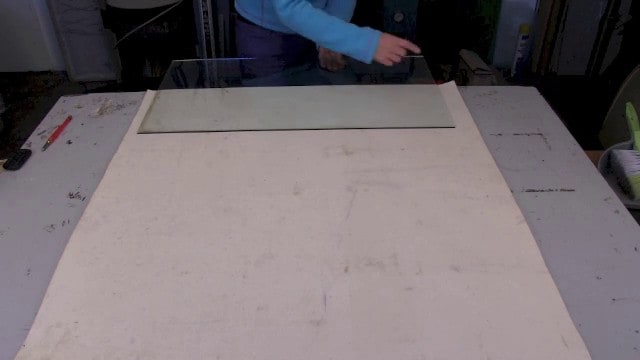 Line up the score just past the edge of the bench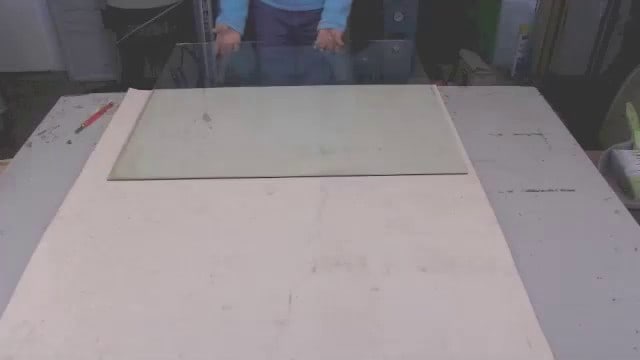 Hold the sheet with open palms before sharply banging downwards
Other Methods of Breaking Large Sheets Apart
Do you think that breaking glass over the table edge will work in every situation?
It doesn't. When there isn't much glass on the bench there isn't enough weight to enable you to snap the glass apart over the edge. Here are 3 other ways of opening the score line:
1. Cut running pliers. Use these as you normally do. You have to be a bit careful when you turn the glass sheet around because the score is liable to run before you're ready. Apart from that it behaves exactly the same as a hobby piece.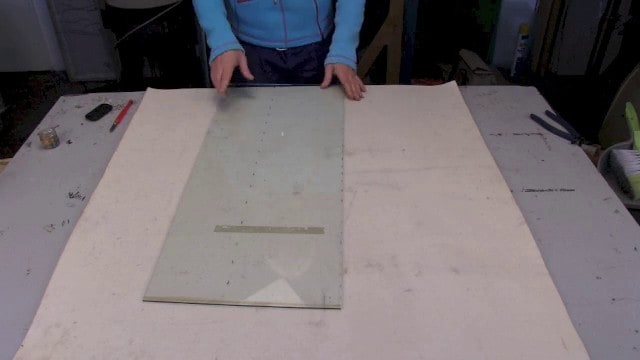 Different ways to separate large sheets
2. End or ball of the cutter. This is a really pleasing way of opening up a score line on a large sheet of glass. is with. Place the end or the ball of the cutter underneath the score at the edge closest to you. Gently press on either side and the pressure opens the score line a treat.
3. Thumbs. Last but not least, your trusty thumbs. Not recommended for full sheets as they're too heavy and dangerous to hold once separated. But for long, narrower pieces like the one below your thumbs will work just fine.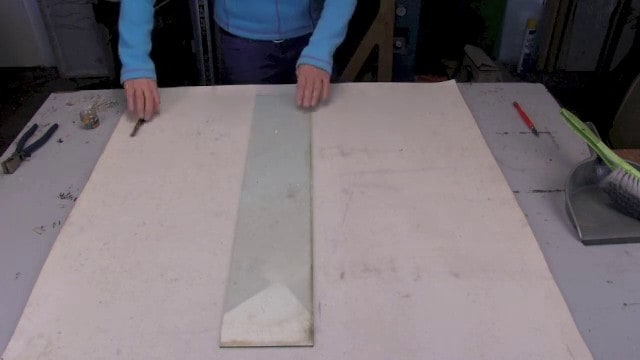 Use thumbs to separate thinner long pieces of glass
Speaker 1:
Different Cutter Heads
Here's a close up of the different size cutter heads. The Toyo TC 20 is on the left, the Toyo Supercutter on the right. The wider head helps stabilise the cutter against the cutting edge by making it easier to hold the line.
I hope this video has given you the confidence to give cutting art glass a try. It really, really isn't as hard as you might think it is.
Thank you to reader Birney Adams who sent this tip to me on cleaning before cutting:
As usual, an excellent presentation on cutting full sheets of glass. For me, the preliminary part of cutting full sheets of glass has been to very carefully inspect and make sure it's clean. After cleaning, I examine and rub down the potential score line with steel wool. This little exercise has been very beneficial in finding hidden "issues" and creating a continuous score line.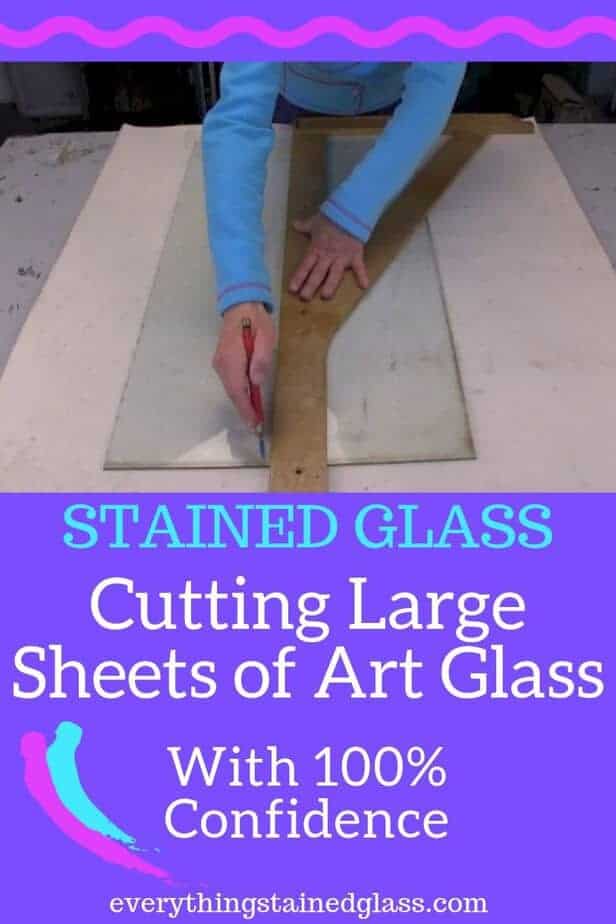 Questions on Cutting Glass Sheets
Q: What is the white thing on the table that your glass is laying on?
A: A large sheet of lino, pattern face down.
Q: The table that I have has rounded edges – can I still use that?
A: This isn't recommended.  What you need is a straight edge to bang the glass over. If the profile of the rounded edge to your table has a straight edge it may be okay if the rounded bit falls away quickly, but I'd say not to be on the safe side.
Q: In connection with your cutting edge, how thick is the wood or plastic?  As I live in Grenada, it would cost me over US$200. to buy one and bring it in as duties are so high here.  However, I have a very handy hubby and he says that he can make me one.
A: It's hard plastic and 9mm or 3/8″ thick. It needs to be hard so that the cutter head doesn't wear it away unevenly with use.
Q: Is there any particular manner in which to move large pieces of glass from a view of being safe?
A: Yes, vertically. Wear non-slip gloves, with one hand underneath and one on the side. Make sure you can see where you're going!
I have many other tutorials on cutting stained glass here.
If it's circles you're after go here: Cutting Stained Glass Circles