Glass Eagle Panel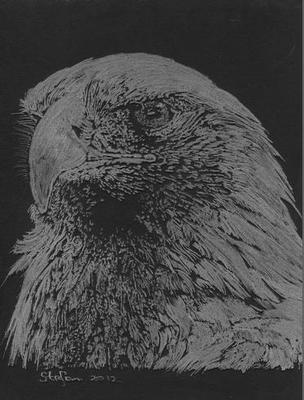 Glass Eagle
This eagle is engraved on glass using a dremmel grinder with a diamond burr.
I've put black card behind the glass to show scratches. By Stefan
Milly's reply:
Wow Sefan, that's fantastic! I don't often get engraved work on here, so this is a special treat. You're very, very skilful, you've captured the feathery magnificence of eagles perfectly.
And that eye! It's really piercing. Last year I cycled from one end of the UK to the other, and one of my most exhilerating moments was seeing a golden eagle. I don't know if eagles are rare in NZ?
Anyway, thanks for posting your magnificent panel.
Comments for Engraved Glass Eagle
Engraved Glass
by: Betty Sue
For my mom's birthday last year, my sister and I honored her with a customized engraved glass from Unique Custom Products in Colorado. I can't begin to explain how happy we were with the quality of the print. It was excellent. They paid attention to the finest detail and Mom is so elated with her gift that she flaunts it to all her guests