Question About Firing Patinated Glass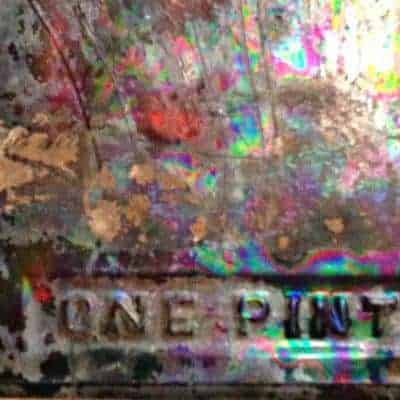 Patina on old bottle
I collect, among many, many other things, old glass. From nearly perfect whole bottles and jars to tiny broken bits, what draws me to them is usually a colorful patina. My question is this: if I fire some of these broken pieces to round off the corners and sharp edges in my kiln, just as if I were doing some dicro dots, will the gorgeous patina survive the heat?
The picture is of an unbroken pint bottle with a gorgeous patina, found in a dump site abandoned in 1950, and only recently rediscovered in a burned area after a wildfire. Elen Freelander
Milly's reply: What a great question, thank you. I'd love to know the other things you collect…The photo is great, looks like dichroic glass!
However, I'm really sorry, but I can't pretend I know the answer to this. It's quite a specialised question and I wouldn't want to get you to fire your glass and spoil it.
Does anyone else out there know the answer? Any comments gratefully received.