Oven Fired Glass Paints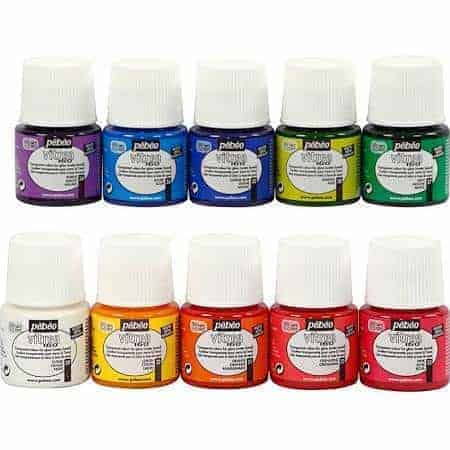 I am using glass paints that say you can fire the paints at 150C for 40 mins in an oven. This obviously does not work, the paint either flakes or peels off after it has been washed. I have a china painting kiln, and am wondering what temperature I need to fire the glass at so that the paint will go into the glass, but not put it out of shape.
I am using Pebeo Vitrea 160 paints, is this the right type of paints to be using, or should I be using a different type i.e. the powder paints that are used for china painting with oil.
Any help you can give me will be appreciated so much. So thank you in advance for your help
Milly's reply: This is a tricky question for me, as I use paint that you fire in a kiln at 650C. At that temperature the glass is just about to start melting, so anything your oven throws at it won't touch that. If you'd like to enter the world of kiln-fired paint (no excuses, you have the technology!) you could have a look at my free Painting Tutorials which take you through the whole process.
You could do some test pieces in your oven, turning it up an extra 50C at a time, and see what happens.
Sorry I can't be of more help. Does anyone else have experience of Pebeo Vitrea 160 paints that they can share? Thanks.
Comments for Firing Pebeo Vitrea 160 Paint
Pebeo 160 Vitra Paints
Anonymous
I do not know how china kilns work or where the heating elements are but,is it possible that your kiln is heating up too fast? Slower and longer might be the the key. Or is your temp. out of calibration and is going up higher than the paint can stand? "Trial and error" is my rule in glass. Although, sometimes it hurts, when things don't work it seems to make you learn a lot more.
If you are dead set on using these paints on a regular basis, you might consider buying a standard home toaster oven for your "low temp" projects. You will just need to manually ramp up to your temp. then turn off to cool down. Good Luck.
---
Pebeo Vitrea 160 Glass Paints
Anonymous
These glass paints are designed to be used in a kitchen oven not a kiln. I have had no problems. It does a wonderful job.
Pebeo has another kind of paint that can be used on porcelain if interested.