Gorgeous Egret in Stained Glass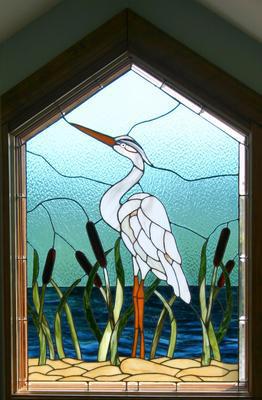 Egret
This was my third stained glass piece. 200 hours….200 pieces too. Looks like I was consistent.
My husband and son installed the piece. Using 2 ladders and impeccable timing walking to the top in sync while holing the Egret! I could not watch. A friend held the ladders and took the picture. The piece is 30" x 40". by Leslie Overby
Milly's reply:
Laughed! I know exactly what you mean about the scary installation and not being able to look. It's the worst bit about stained glass for me.
This is a lovely window. The egret looks very regal there. There's a lot of movement in the water, and the bullrushes are perfect.
It looks enormous! I can't get a sense of the scale. I can only hope it wasn't as big as it looks for your husband and sons' sake!