Building A Wood Fired Kiln From Scratch
The idea of building a glass furnace came about when a few of us decided to see if we could make our very own 'Bristol glass'. It was to be a way of paying homage to the tradition of my home town, Bristol, UK.
The city has a long history of glass making, dating back to the early 1700s, so we thought we would dig up and melt sand dug up from around Redcliffe caves.
In doing so we were using very same sand that would've been used all those centuries ago for making glass.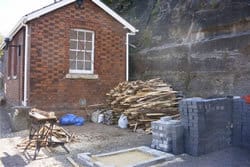 Armed with only a down-loaded diagram of a furnace, a pile of sand and kiln bricks and enough wood to burn the Houses of Parliament down, we started building a kiln.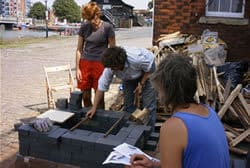 Now I know how to use a kiln, but nothing about how to build one. I quickly learnt that the most important thing to get right is the flow of air around the chamber. We agonised over the design, and must've had a hundred discussions on how to make a kiln before the furnace actually began to take shape.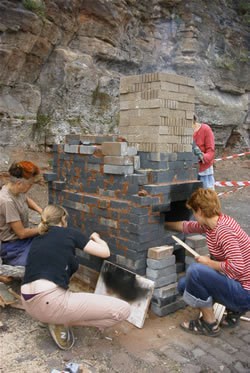 Of course there was no way of knowing whether what we were building was going to draw sufficiently and whether we would be able to reach the temperature required – 1300 degrees C – to melt sand.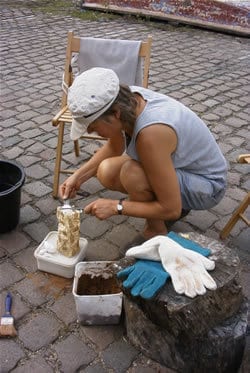 Our knowledge the ingredients in batch didn't really help in this situation.
To go with the sand in the crucible, we added very unscientific amounts of soda ash and limestone.
That, coupled with the fact that the sand was full of impurities, meant that we would never produce something that resembled 'real' Bristol glass. Or even glass!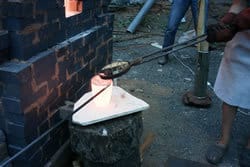 The whole weekend was a complete buzz. By the time we started feeding the furnace with wood, we were all fired up as much as the seven foot flames that shot from the top.
So much for kiln safety!
The kiln pyrometer and the spontaneous cheer told us we'd reached the top temperature – considering there was no kiln insulation it was surprisingly easy – and the ingredients were mixed with anticipation…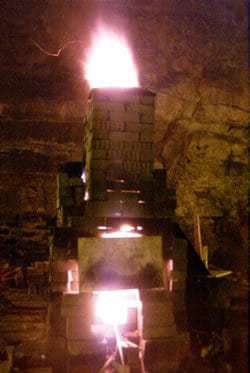 A skilled glassblower was on hand, but to no avail – our lumpy melted blob of sand looked like an over-cooked rock cake, and was impossible to shape.
What a weekend, though. The energy we created together gave me the impetus to give up my dead-end job and resume my dream to make a living from that wonderful, difficult and downright impossible material that we all love – glass.
Interested in trying this yourself? The definitive book on Kiln Firing this one: