Adding Shells to Stained Glass Door Inserts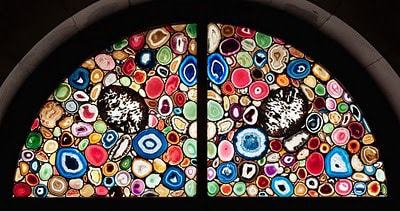 Sigmar Polke – Zurich
I am making cabinet door inserts for relatives in Florida. How would I go about incorporating real shells in the glass? Have seen it done with agate and such but don't know how. Will be designing the inserts myself with measurements approx.10×24. I'm a little apprehensive since this is my first shot at designing my own…wish me luck! Love your site! Pamela
Milly's reply:
Congratulations on biting the designing bullet. You don't say which techniques you're using, so I'm assuming leading? In which case, you need to make sure that the shells you are using lie pretty much flat, otherwise you won't be able to lead them into your panel. Also, they would need to have a flatish edge to them, so that you can get the lead came around them. You may have to use high heart lead came to make this easier – it's deeper than the standard to accommodate thicker or less than flat objects.
If all that is ok, then you'll have to be guided by the shape and size of the shells when you make your cutline – lie them where you want them and trace around them. It may leave some tricky spaces to lead in between, but I'm sure you can do it!
It is so weird that you should ask me this question now, as I have just bought a book featuring Sigmar Polke's church stain glass windows in Zurich, and most of them are beautiful slithers of agate leaded together to make the most exquisite series of windows (see one pictured). Published by Parkett Publishers, if you're interested.
Comments for How to Incorporate Shells into Cabinet Doors
Thanks Milly
by: Pamela
Actually I was thinking of using combo lead and foil methods with the perimeter being lead for strength and foiling in the sand dollar and clamshell in the middle. Sound doable..any drawbacks? Yeah it is weird that I have this issue while you are reading about agate windows..Good Karma perhaps..Stay blessed.
Milly's reply:
Mmm… I'm wondering whether the copperfoil will stick to the shells, and whether the copper foil will give you enough flexibility to fix to the adjoining stained glass? Whereas stained glass lead came will give you a bit more margin if the shells aren't flat. But I love being proved wrong? Do some tests first, and inch it forward in the direction that the results dictate. I'd love to see the results when you're finished…