And What To Do With Them
When learning how to make leaded stained glass you need to know about the various tools that help you shape lead came.
This page introduces you to the lathekin, oyster knife and Fid (sometimes called an All Nova Tool).
The Fid Or All Nova Tool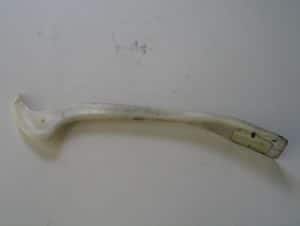 The Fid has to be The Most Ridiculous Name for The Most Ridiculous looking implement.
Luckily, it is also The Most Useful Tool as well.
It has many varied uses:
– it opens the lead channels up before leading
– and pushes them down after soldering
– the 'beak' as I call it, cleans off excess black cement
– the flat end can be used to push the heart of the lead snugly up against the edge of the artglass during leading AND flatten kinked flanges out.
All that for just a few cents. A fid is a must for your tool kit.
---
If you're new to using lead came as a technique I would highly recommend you give it a try. It will add a great deal to your skill set and give you the best of both stained glass worlds – foil and lead.
If you don't have a local class my Leaded Stained Glass Artistry course has taught many people – even those who have never used lead before – how to make a stained glass panel using lead came. The course is self-paced and online so you can learn this lovely technique even if you are unable to get to a class. You can find out more about it here Leaded Stained Glass Artistry.
---
Lathekin
Lathekins only do a fraction of the above. They can be made from scrap pieces of wood, and are used for opening up lead cames before leading. These were made by artist Mark Angus.
Oyster Knives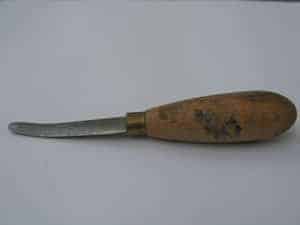 Oyster knives are fractionally more versatile than lathekins, but far more pleasing to look at.
They are used for opening the lead came channels and flattening them down after black cementing.
Originally they were used for prising oysters from their shells!
Without a doubt, the Fid is the most useful of these tools, and is also the cheapest.
It would be difficult to make a lead came panel without one, and I would definitely recommend adding one to your kit.
For instructions showing how to use these various odd tools, go to the leading page.