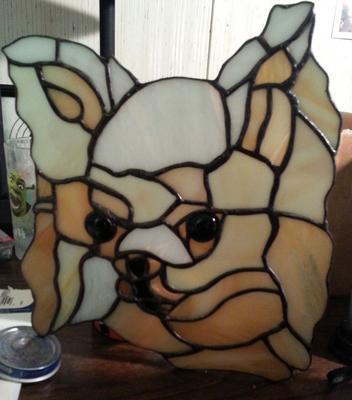 Chi Chi by Kd
This is my first piece. I watched many hours of youtube movies and asked a lot of questions via email/phone calls.
I have always wanted to do stained glass (for over 30yrs)
I am a 3D artist (clay, plaster, cement, resin, carving stone..) and I had a blast with every moment of getting to the finished product!!
I found a stained glass supply store about 15 miles from my home. They are a very informative and helped me not only in supplies but advise and orders, they even loaned me some tools until mine came in. VERY nice family!
This dog piece I first sketched out, I already knew it would be a fawn/beige color, so I just tried to give it depth with darker and lighter pieces.
I am working on another piece now.
I'm thinking this years Christmas gifts are in the works.
This first piece I will donate to my local dog club for bring in funds at their next auction WISH IT LUCK!
I LOVE doing my glass work, now if only I had a studio!! 🙂
Milly's reply:
Kd, this is absolutely brilliant! It made me smile. I can see that you're an artist, if that's your first piece and you designed it yourself. Amazing.
You've caught the character of the dog perfectly, and the colors are spot on. It's always nice to see glass being used sympathetically like this, with the subtle hues exploited. The eyes are amazing.
I'm so pleased that you like stained glass, but worry for your future… you will most certainly become addicted and lost to your friends and family!!! Only joking, welcome to a very long line of stained glass makers. We're a friendly bunch, as you've found from your local store. What luck!
Comments for Long Coat Chihuahua in Glass
Milly & Lizzy Thx!!
by: Kd
Thank you for adding my photo.
This IS going to be very addicting Milly!! 🙂
I LOVE it.y
I used half circle glass marble things for the eyes, only because I thought it was in proportion to this one piece.
I am already working on piece #3 🙂
Glad to find such a nice group of artist, thank you for this website for support, it is wonderful.
---