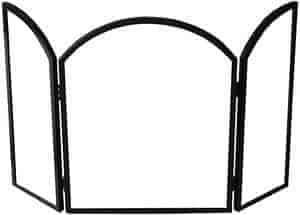 Firescreen frame by  Morgan
Hi Milly,
I want to make a tri-panel, hinged fireplace screen out of stained glass. I know how to make the panels using the copper foil method and I know how to finish them off with soldering and zinc. Would that finishing method be appropriate in this situation? If so, how do you recommend I attach the hinges to the zinc frame for a professional looking finished product? If not, what materials and steps should I use so that the screen looks good AND is secure/stable enough for proper use?
Milly's reply:
What a fantastic project Morgan! I hope you'll come back and post a photo of it when you're done?
I've made a couple of stained glass firescreens, both of them used frames that I'd bought. One was metal, one wood.
You used to be able to buy frames like the one above from Delphi Glass but they don't seem to sell them anymore.
Alternatively, you could get a carpenter or a welder to make one to your specifications – luxury!
As for the fixing, border the panel with zinc came as you suggest, made to sit inside the iron frame. Drill holes through the ends, and then drive small steel roll pins in the holes to hold the glass in place.
I hope that helps.
securing glass
by: Stacey
Hi Morgan..I managed to get one of these screens from Delphi many years ago and am just about finished the third side. When I purchased the kit it included a pattern with bevels and clear glass silicone. After I applied it to the main section..I suddenly thought .. this is meant to be going in front of a blazing fire…have you ever used glass silicone to attach glass to anything? I'm not sure if I'm ready to drill holes in the iron for the pins you suggest (do you have any photos?)
---
Screen Kit
by: Ben Acre
Checked Delphi Glass, following your link, and they don'the show any kits.
Any other suppliers you know of?
Hi Ben,
Thanks for letting me know. I've searched all the suppliers and can't find an alternative place to buy these screens. Don't know where they've gone!
You might have to find one in a thrift shop or commission your own if it's a more high-end project. Sorry I can't be of more help here.