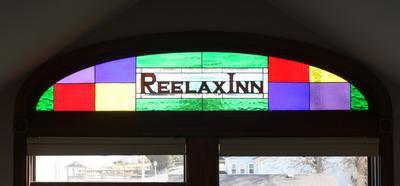 Our home on the ICW – Leslie Overby
We live on the Intracoastal Waterway in Beaufort, NC. We have so many visitors from up north. They tell us that they are so relaxed when they come to visit. So…..we made a play on words and "REEL" is for the fishing we do as well.
Milly's reply:
I want to come and reel-lax! Love the play on words, very witty 😉
The simple windows are often the best, and this one has a smile to accompany it, too!
I used to help run a hotel on the coast in SW England, and it was amazing how people Reel-axed when they came down from London. To start with they're buzzing about like mad bees, but two days later… up late for breakfast, snoozing in the lounge, pottering by the ocean. Lovely.
Thanks for posting your transom, cheered me up and reminded me to relax.