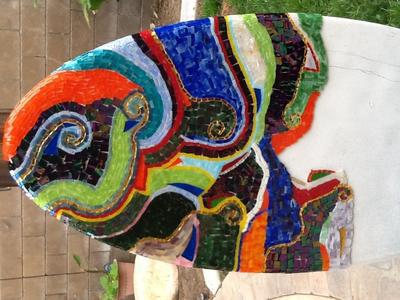 Psycho Surf by Walkalone Design
I saw a skim board at a yard sale and I just had to mosaic it! If you have ever been tumbled by a big wave then you know of all the great colors that swirl around you. I am using stained glass and mirror pieces to mosaic this piece.
Milly's reply:
What a fantastic idea, to mosaic a skim board! It looks absolutely brilliant, it really captures the movement of the waves. And the colors! Look at that blue section, with all the different shades swirling around. Love it.
Now you've started you'll probably be making them for the rest of your life – your mates will definitely all be asking for one!
Thanks for this, it makes me dream of summer in cold, dark January.
Comments for Psycho Surf
Size
by: J Guilford
I am not sure what a skim board is. What are the dimensions of the piece. Vivid colors.
Milly's reply:
A body board, if you're in the UK? That will help imagine the dimensions. Hopefully Psycho Surf will come back with the dimensions, knowing them does help to visualize things!
---
WOW. Psycho Surf
by: Lizzy
Very nice! There is nothing like the rush felt by inspiration.
---
Oooooh!
by: Larry
Makes me want to play with colo(u)rs! Nice work!