Squaring Stained Glass – Making Your Panel Fit
Squaring stained glass is a combination of accurate cutting and constant checking. This tutorial is for those who struggle with making sure a copper foiled panel is perfectly square – or rectangular.
It's worth knowing that the process of squaring stained glass lead came panels is a tiny bit different. I'll cover that another time.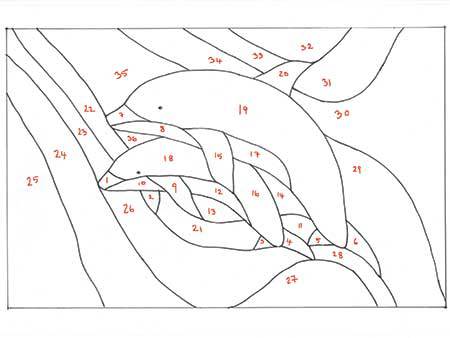 Getting The Basics Right
First off, make sure your pattern right angles are absolutely accurate before you start cutting. This may sound obvious but you'd be surprised how many people don't check this!
Then cut accurately. You won't achieve any squaring of right angles if you haven't done both 1 and 2.
---
If you can't seem to get your pieces cut accurately there are a many techniques you can learn to improve it.
If you don't have a physical course near you my Stained Glass Made Perfect class has helped many students improve their cutting. And their soldering and finishing 🙂
The course can be done in your own time as it's online. You can see if it looks right for you by clicking here Stained Glass Made Perfect.
---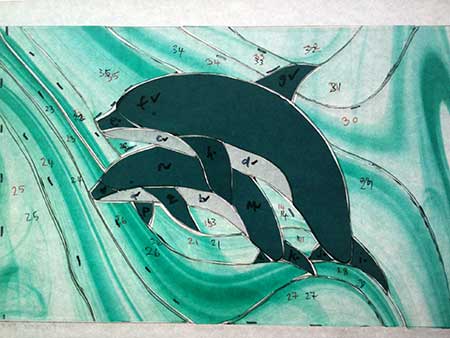 Squaring Stained Glass With a Jig
Use a jig to keep your stained glass square. You can either use Morton Layout System pinned into a homasote board or just bang 2 X 1″ batons of wood at right angles into chipboard or plywood, using the edges of your pattern as a guide.
Double check everything with a T square before you bang the jig in place.
Use a jig set up like the one below to hold your glass pieces in place.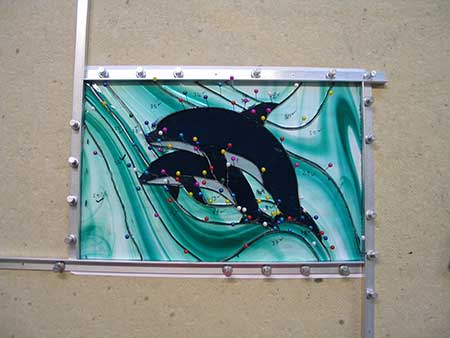 Note the corners of the jig and how they butt up against each other – this is what you need to do for squaring stained glass panel.
4. Holding The Glass In Place
Finish cutting the pieces and place them on the pattern together. There should be a small gap between all the pieces of stained glass to accommodate the copper foil and solder. You can use sewing pins to make sure of this on fiddly patterns like this one to hold the pieces in position. This helps with squaring up – if you don't have this tiny gap uniform the panel will grow and become misshapen.
Be careful that you don't catch the edge of the glass with the pins when you tap them in, this can result in chipping the glass.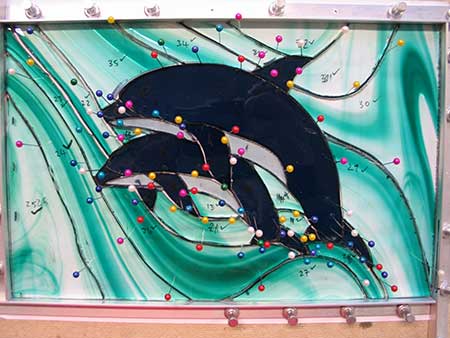 Trouble Shooting
You can jiggle the shapes about a bit within the squaring jig once you have all 4 sides secured and grind only where necessary.
If it's too difficult to move the pieces with all 4 batons in place, you can just use 2 – a vertical and horizontal – and pin the stained glass pieces one by one, grinding as you go.
If you choose this way, then carefully bang in the remaining 2 wooden batons or pin in the Morton Layout when you've finished cutting all the stained glass shapes and you're happy that everything is fitting.
Take note: If you don't have the necessary gap in between each piece, your panel will grow and grow, so this is crucial.
Constantly check with a T square / right angle and keep measuring and squaring the edges. You have to work at squaring stained glass up, it doesn't miraculously happen!
Go here for some more Free Tutorials on the Copper Foil Technique