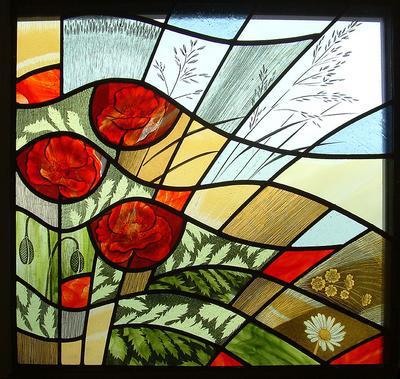 Poppies by Julia Richardson
You were right Milly! Getting a kiln has opened up a whole new world!
Using silver stain on this panel was not entirely successful and some of the tracing and matting could have been darker but there is so much to learn with every firing…..
Milly's reply:
Wow, this is fabulous. You've really added another element to your stained glass with the painting.
I love the colours you've chosen, reminds me of late summer… But I also like the way the patchwork effect of the leading suggests the landscape without being rigid or predictable.
The etching adds detail but manages to keep the lightness, something that you have to be careful about with paint. You don't want it darkening the panel too much.
With the silver stain, if you wet the glass slightly before applying, you might find that you can achieve less defined edges.
I'm not sure what you were intending and why you're disappointed though, it looks good to me!
Keep sending the photos in, it's great to see how people's art develops.
Comments for Stain Glass Poppies
Thank you
by: Julia Richardson
To Juliet and to the others who have posted comments about my work – thank you so much! Such positive feed-back gives me the confidence to carry on with my stained glass work. Working alone in my little studio I sometimes begin to doubt myself and your comments give me a real boost!
---
poppies
by: Juliet
Your piece shows that you are a true artist not a crafter like me! It is stunning.
---
Beautiful!
by: Audrey
I keep coming back to this piece. I have a thing for poppies. I just got a kiln so I will have to start experimenting! Thank you for such inspiration, your work is beautiful!
---
Super!
by: Larry Stout
Great work, Julia! I have to envy both your masterful technique and your ingenious eye! You elevate our s.g. world with every post! Cheers, Larry :>)
---
Poppies
by: Liz
I love it!!! Im starting fuse classes next January. I can't wait!
Nice Job!!