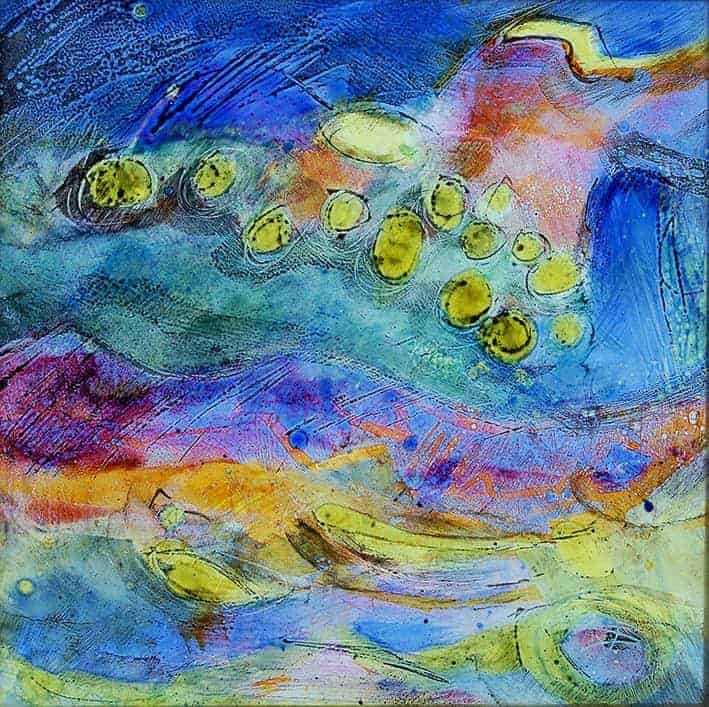 This is the first in a series of looking at the work of different stained glass artists.
I hope you are inspired by their work to try something new in your own. You don't have to be able to do exactly what they do, it might be something as simple as a colour or a shape they use that sets you off on your own unique path.
If you like stained glass art full of life and more like a painting than glass, then Penny Somerville's work is for you. She uses all sorts of techniques, including painting, silver stain, engraving and enamelling. Isn't it fabulous?
Here she is comparing glass painting with painting watercolours and talking about the way she layers enamels before scratching away at the painted surface to achieve the freedom we can see in her work:
 [18th century enamellists] built up layers of enamel by firing it perhaps twice.  This means that the brush strokes can be eliminated to give a smooth surface.  I compared this to my watercolour practice where colour intensity is achieved by many washes of paint – layer over layer of dried colour.

Sdot Yam

My glass painting practice has thus been informed and inspired by historical methods of working. I have developed my own way of glass painting to interpret and translate the spontaneity of my drawings made on location.

The enamels are applied and fired many times to achieve a degree of translucency and luminosity. The use of the engraved and pigmented line has removed the necessity for lead lines, so that the work can breathe more freely.
If you like this you can see more of Penny's glass paintings on her website here.