Make this butterfly stained glass garden stake and add a flash of colour to your garden. It can stay outside in all but the most extreme weather – in which case bring it inside temporarily.
I would recommend using a slightly wider foil for the edges to give the solder more of a base to 'grip' the glass edge.
Be prepared to give them an annual brush up and re-patina if necessary.
Stained Glass Butterfly Garden Stake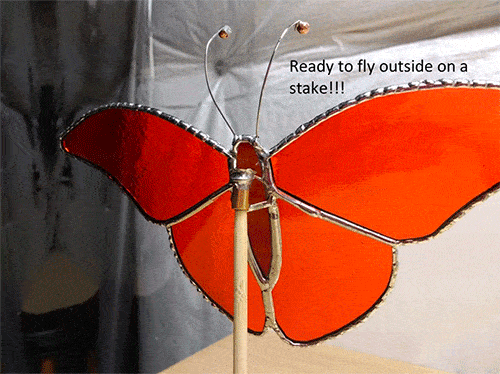 Gail Koebke made this lovely butterfly stained glass garden stake and has kindly written this tutorial for you.
Don't forget to share it with your fellow glassers will you?
Materials Needed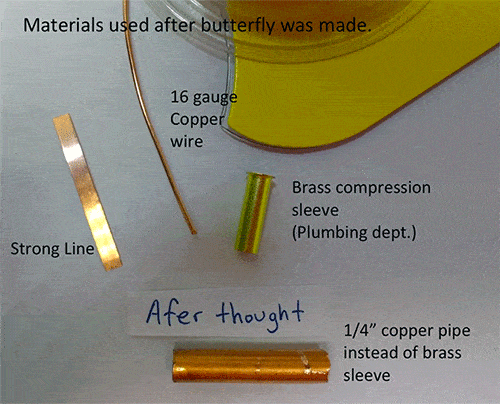 Gail found the brass sleeve at a smaller local hardware store for 49 cents! She found it in a little bin of loose parts.
If you've never used Strong Line before it's a thin coppered steel strip used to strengthen your stained glass panels invisibly.
It's just the perfect size to fit in between copper foiled pieces. It can also be used for lead came projects. You can see what  Strong Line looks like here.
Strong Line is very similar to Re-Strip, except it's made from steel that's been plated with copper so you can solder directly to it. Have a look at Re-Strip here.
The big difference is that StrongLine is stiffer, so it's a bit more difficult to get it to go around turns between pieces of glass.
Stained Glass Garden Stake – Get Started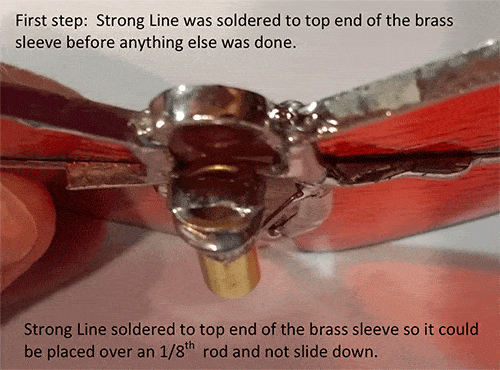 Solder Strong Line to the top of the brass sleeve first.
This prevents it from sliding down the rod and keeps it at the top.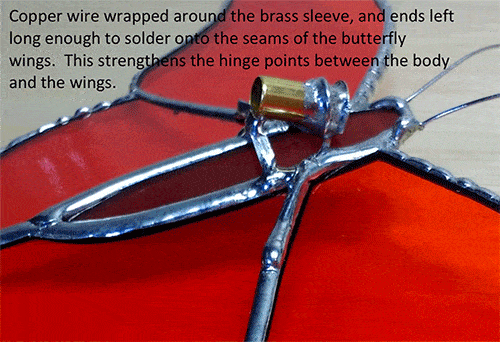 Wrap the copper wire around the brass sleeve
Leave the ends long enough to solder along the seams of the butterfly wings
This gives more strength to the fixing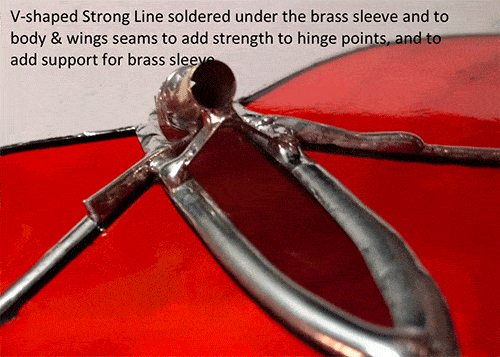 Solder Strong Line in a V-shape under the brass sleeve
Connect the Strong Line to both the body and the wings to increase strength and provide support
The Strong Line is essential to hold the brass tube in place
If you like, your stained glass garden stake can be set at an angle. To do this, solder the sleeve at an angle as Gail has done. This is pleasing to the eye although it does make soldering the mount on a bit more difficult.
Assembling The Stained Glass Garden Stake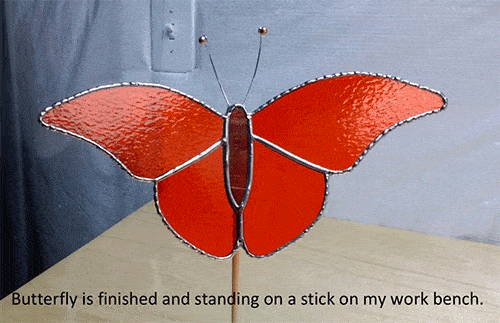 Your butterfly is now ready to be put on a 1/8" rod. It is NOT designed to be a tight fit. This is so the wind will spin it around.
Plant your stake in the garden and watch your butterfly spin and fly!
Another Butterfly Garden Stake Idea
Michel de Smedt kindly sent these butterflies from his garden. The copper wire for the body is wrapped around a stainless steel spring so these butterflies wobble in the wind when passing by. Lovely, thanks Michel!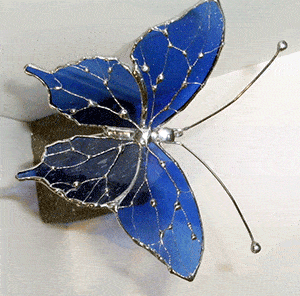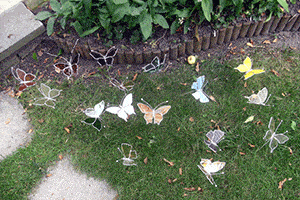 Don't forget to share this page if you think it will be useful to others. Thanks.
Want to make a stained glass Christmas Tree for your table? Find instructions on this page.
See how to get that lovely decorative soldered edge here
Find a butterfly pattern from this selection