Dalle de Verre Surprise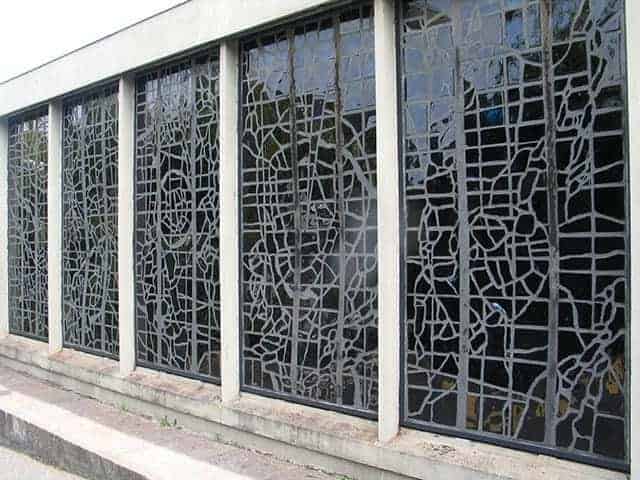 Have you ever seen this sort of patterning on the outside of  church windows? Me too.
And although I KNOW what it is and have a good idea of what's waiting for me inside, somehow walking through into the church still manages to knock me off my feet. In a good way, of course!
'BANG' and 'WALLOP'! These are the stained glass images that hit me when I first walked in. They filled my heart with light in a way I can't quite describe.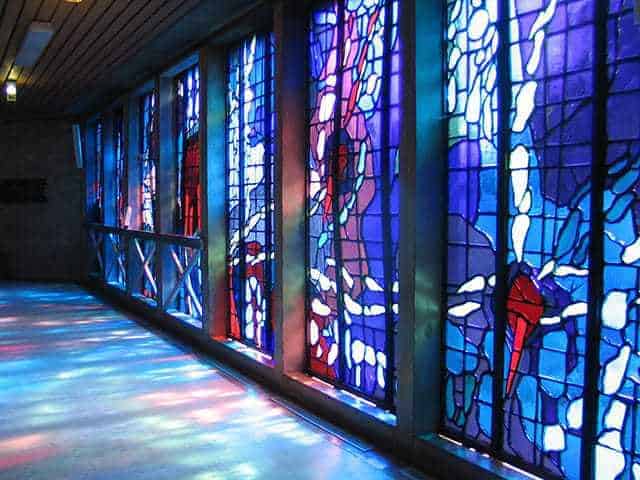 As I was standing there, stunned,  I became aware of increasing activity around me. Worshippers were coming in with baskets full of garden produce which they were arranging on tables around the church.
It was Harvest Festival time. It all seemed so fitting somehow. The church, the stained glass windows, the friendly people offering gifts from the earth.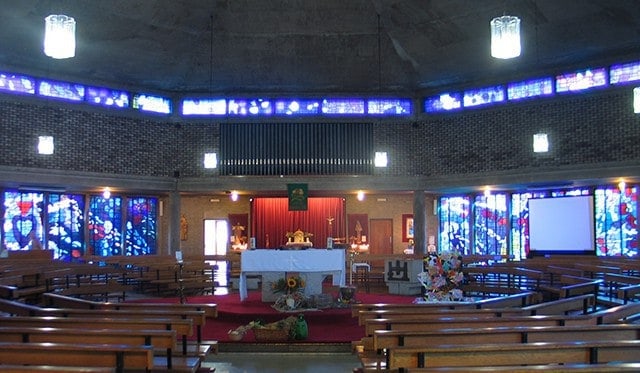 Making The Windows
I was warmly welcomed and encouraged to take images of the stained glass. I could see in some places that the windows were sagging and the resin perishing – as you can see in the 2nd panel from the right in the top stained glass image.
This got me to thinking about the structure of dalle-de-verre (the name of this technique) and how it is made. And guess what? I found this video for you. Not only of the technique, but the same artist – Patrick Reyntiens and his long-time collaborator artist John Piper.
It takes us through the largest stained glass window commission ever – in 1968 anyway – and shows us the processes from the architect, engineers and artists.
It is 15 minutes long and I think it's all fascinating, but if you want to cut to the chase you could go to:
– 6.50 for the design (don't miss the engineers creeping over the full size cartoon with slippers on!)
– 10.00 for the actual making process. Breaking the 1 inch thick glass dalles over an anvil and expertly chipping it into line with hammers! Fabulous stuff.
So now you know how Dalle de Verre is done!
Can you believe the SCALE of the project? I don't think we'll ever see its like again – there's too many stuck on films these days to opt for the real thing.
And just to remind us what a powerful experience it is to be faced with a wall of glowing stained glass, here's the abstract window in the north-west chapel, with white tear drops and orange Pentecostal flames.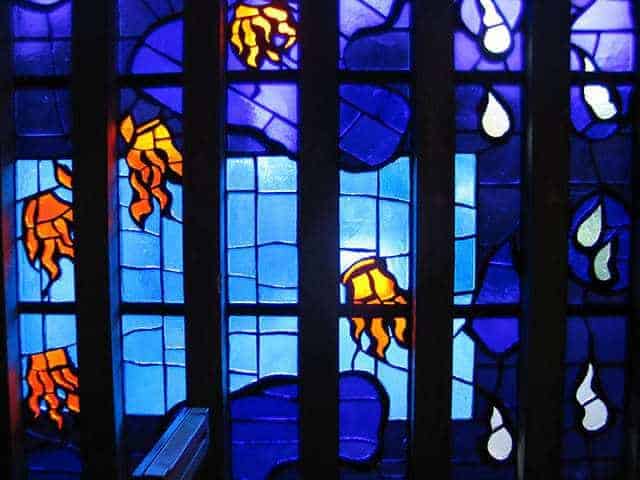 Patrick Reyntiens' website has many more images of his work if you're hooked 🙂