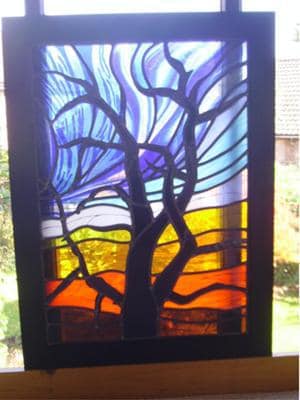 The Winter Tree design for this glass art work was based on photos and drawings from a range of sources, including my own photos of bare trees against the West Country sky.
I'd seen some of Meistermann's work and I loved the way he used pieces of the same coloured glass, separated with lead, to build up large sections of colour. This panel uses similar methods on a small scale to build up the layers of colour in the background. The strips are separated with lead or paint. The tree itself is opaque black glass with some black paint for additional branches. The wild sky at the top of the panel is mostly blue on turquoise flash glass, etched using wax as a resist.
The panel is framed & shown ready to be used in a back-lit panel. By Sarah D
Comments for Winter Tree Panel
Beautiful – Maurício Costa
Your work is very inspiring. But it deserves to be better registered. The photo is very bad – with some time and patience you could get much better results (as the photo is concerned).
---
very cool… – Janet
Very nice panel. I love trees anyway, but your choice of glass for the sky is very cool!
---
Looks cold and bracing – Milly
I love the way the mixture of black opaque glass and paint make the silhouette of the tree so gnarly and irregular. And that sky – makes me feel cold just looking at it.
This piece seems to capture the feeling of being out in the countryside in late autumn/early winter perfectly, with that mixture of warm and cold colours.
Thanks for letting us see it.