Zia Colorida Stained Glass Panel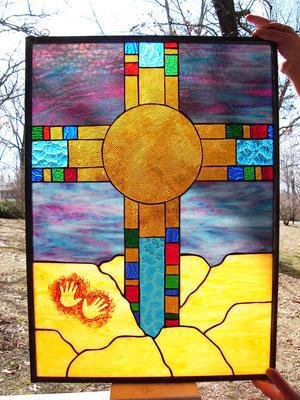 A client liked our original "Zia Colorida" (the "Zia Sun" is the icon of New Mexico), and commissioned a re-creation (we don't do — or attempt! — replication). This was the result.
The hands were made by printing out a nicely formed handprint from the web (as received, and flipped), resized to fit the panel application. I cut out the handprints with an X-acto knife and stuck them to the glass piece with a glue stick, then overpainted by daubing the margins with Pebeo Indian Red. After drying, baked in our kitchen oven for 45 minutes. Crude, simple — and easy!
Larry Stout – Light Romance Studios
Milly's reply:
This is nice. Love the choice of glass for the sky, beautiful. I'm with you on not wanting to do the same thing twice.I like the contrast between the geometric centerpiece and the swirling sky