How To Make And Solder Hooks To Stained Glass
This stained glass tutorial shows you how to solder hooks to stained glass so that you can hang your piece up securely.  You'll learn how to make recycled jump rings and how to solder them neatly to your stained glass sun catcher. Making sure these final touches are done neatly will make your work stand out from the crowd.
Now you've created a lovely beaded solder around the edge of your piece, you're ready to add the hooks. Ideally, these become part of your sun catcher, rather than just a means of hanging. Make them part of your design if you can.
Jump straight to How To Hang Your Sun Catchers Securely
Click here for a clever twine hanging tip
What You Need To Make And Attach Hooks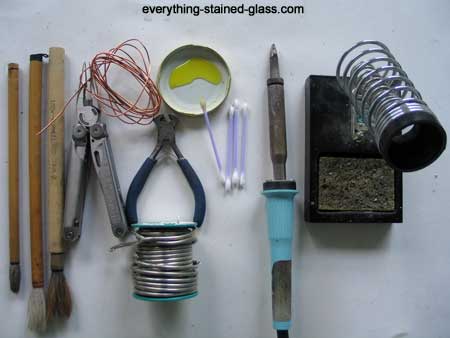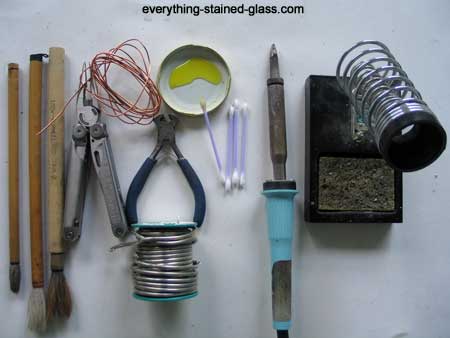 Flux
Soldering Iron* and Soldering Iron Stand*
Wet sponge for cleaning tip
Q-tips or cheap brush to apply the flux copper wire (either bought or recycled)
Needle Nose Pliers
Wire cutters and Bamboo Brushes or similar for making hooks.
(* = paid link).
Solder Hooks To Stained Glass
1. Make Your Own Jump Rings
You can make hooks yourself cheaply and easily. Either buy copper or tinned wire on a spool, or recycle electrical wire by stripping the plastic coating off with a craft knife. Be careful if you do this. Always direct the blade away from your body.


Here's a short video if you prefer to watch rather than read:
Simply wrap the wire around your cylindrical stick (I use a Japanese brush handle) about 15 times. You might as well make a few hooks and keep them for future stained glass projects
You can make larger jump rings by wrapping the wire around a thicker stick


Cut the wire and slide off the stick. You have created a spring of copper wire
Using the wire cutters, cut along the top in a straight line
Magic! Lots of hooks ready for tinning
If the ring diameter is big enough you can insert pliers into the ring at the point where the two ends meet. Squeeze hard to make a flat edge. When you join the ring to your panel the flat part on your ring is easier to solder and it hides the place where the ends meet. Thanks to Gene Salvino for this tip.
2. Soldering The Hooks On
It would be negligent of me to not to mention iron maintenance when talking about soldering hooks on. Following a simple maintenance regime will make all your soldering tasks easier, including hooks. My Iron Maintenance mini-course gives you a blueprint to follow.
When you solder hooks to stained glass the hooks should always be soldered at a joint for strength. Never attach one on a beaded edge, as the weight of the glass will pull the foil off in time. Make sure you solder on a heat resistant surface.
You need to tin the hooks first to strengthen them and to stop corrosion.


Flux the hook
Hold the hook with the pliers, and smear solder on the front and back to cover all the copper
Now hang your sun catcher over the edge of your work bench
Flux the tinned hook and hold it where you want it attached. Make sure the open end of the hook is at the join (see photo, left below). The solder will close the ring and make it secure

Solder hooks to stained glass by carefully melting a blob of stained glass solder where the ring meets the sun catcher
Hold the soldering iron over the solder to neaten it up
Turn the piece over and, if needed, use the iron to melt any solder that may have dripped to the other side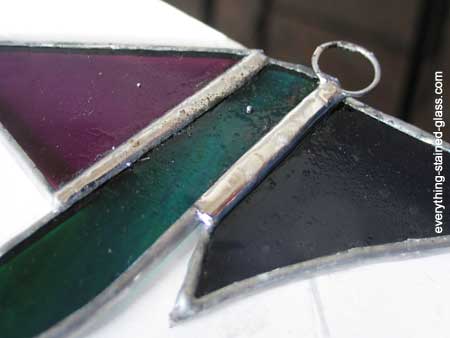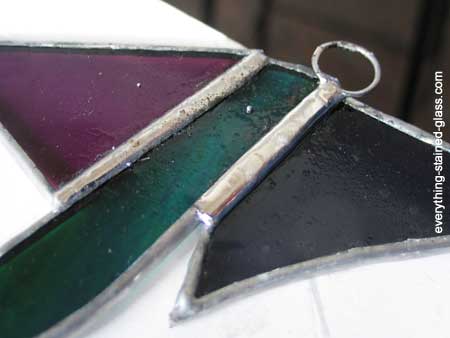 3. Cleaning and Polishing
That's it, you're done! If it hasn't turned out as neat as you'd like, let the solder cool before melting and having another go. Don't re-do too often as the foil will start to come away from the glass.
Everything may look a bit messy at the moment, but that will soon change because now you're ready for the final stage, Patina and Polish. You'll soon end up with a sparkly finished panel to be proud of.

4. Hanging Your Panel Securely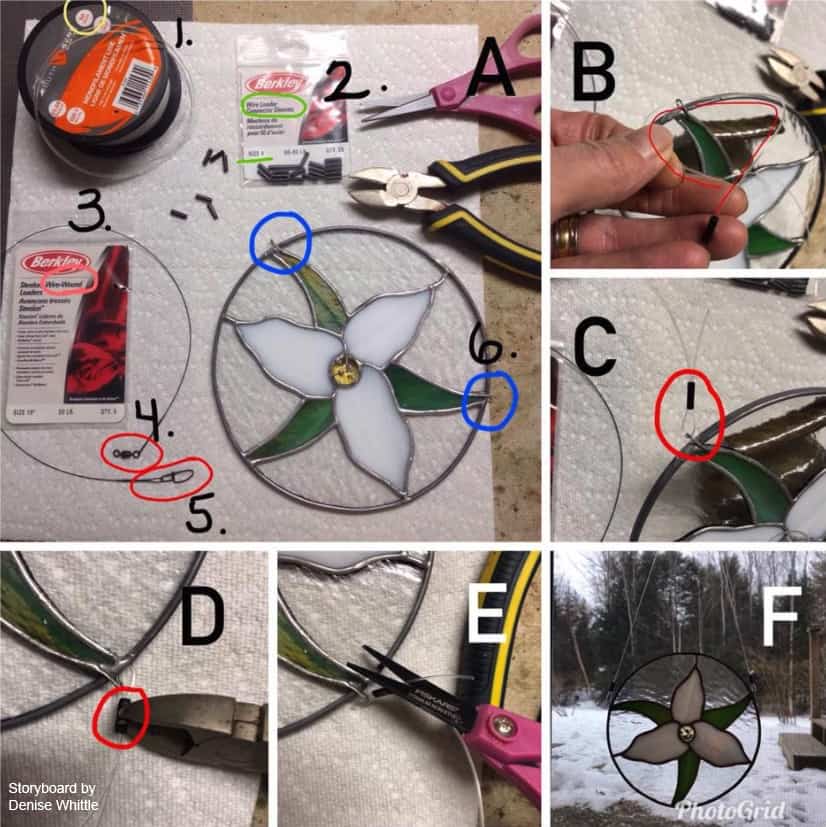 Photo A. Supplies
nylon fishing line at least 50 lb weight
connector sleeves size 3 or 4. These are Berkley® Connector Sleeves and you can find them on amazon.com here*
wire wrapped leaders. Come in many different lengths. Up to 24"
part of the leader. It is a spinner. Usually I just snip it off unless I'm using it on a twirler
the actual fishing lure attachment. I snip that off too. But would be nice to keep if you were hanging a fish related panel or suncatcher.
panel with hangers attached.
Photo B
Slide a connector sleeve over the leader or fishing line, loop through the hanger….
Photo C
Push the line back through the connector sleeve….
Photo D
Use snips to make 3-4 indents in the sleeve. Don't worry you won't cut through…..
Photo E
Cut off that extra bit of line sticking out. And….
Photo F
Hang your piece, securely!!
This excellent storyboard was compiled for us by Denise Whittle. Thanks so much, so helpful for everyone! 🙂
Create A One-Off Twine Hanger For Your Stained Glass
Feast your eyes on this… how cute can you get?
Online student Anna Ray has shared her clever idea of using twine to make a rope hanger. It's especially perfect for this lovely hammock piece.
She held on to the twine with a pair of pliers so she could wrap the wire very tightly around it. She also crimped the wire with pliers as she went to make sure it was tight as possible. Before attaching she pulled it just to make sure it would hold – it did!
Crimp the wire with pliers as you go to make sure it's tight as possible.
Before attaching give it a good firm tug to make sure it will hold.
Simple and incredibly effective. I'm sure that you'll be able to think of some variations on this technique to hang your own stained glass.
Thanks Anna 🙂
If you need more instructions on the copper foil technique there's a list on this page.
Go to Everything Stained Glass home page.
(* = paid link).
PIN IT FOR LATER!