Stained Glass Studio Spaces and Cheap Tool Ideas
Stained glass studio spaces are our little piece of heaven. We obsess over them… how best to store stained glass sheets, how to organise work areas and how high the cutting bench should be…
…and that's before we get on to ingenious stained glass tools to fill them with. You know – the ones that you've made cheaply or adapted from something else. It's such a thrill to make or find stained glass tools that work for you.
Tip 1. Make Your Own Stained Glass Storage Rack
Tip 2. Make Your Own Layout Bars
Tip 3. Make Your Own Grinder Splash Guard
Tip 4. Removing Water from Grinders
Tip 5. Shelving Your Studio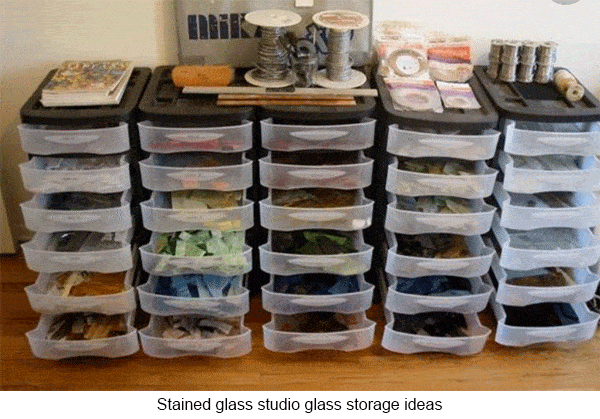 Stained Glass Studio Spaces – Ideas
Ever wished you could see a whole load of stained glass artists' studios to see how they organise their spaces?
Well now you can. Delphi Glass have put together this fascinating slide show of stained glass studio spaces entered for their "Most Organised Studio" competition. Hit the pause button if you want to have a good look at anything in particular.
Which one do you envy the most? You're welcome to add other ideas of your own below.
Stained Glass Tools – Cheap Ones!
Tip 1. Make Your Own Stained Glass Storage Rack
These shelves will give you a lovely tidy mind which will spill over into your pleasure when you make stained glass.
The board was about $10, and the dowels cost about $17. If you don't have the time to make you own you can always buy ready made ones from Amazon here.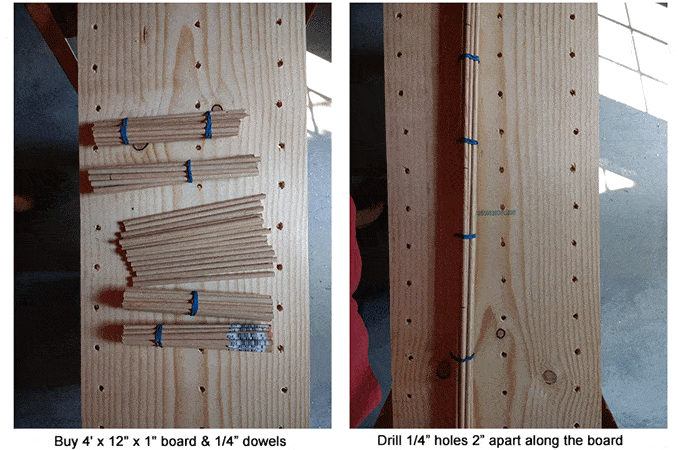 Thanks to Gail Koebke for sending in the photos and idea:
you need: 

4′ x 12″ x 1″ board/s and a quantity of 1/4″ dowels, drill, 1/4″ drill bit, wood glue, hammer

drill 1/4″ holes all the way through the board 2″ apart

cut the dowels into 7″ lengths
put a dab of wood glue on the end of each 7″ dowel and tap into the holes with the hammer
leave overnight for the glue to set
that's it! You now have tidy stained glass sheets 🙂
I think you'll agree they're a MUST HAVE for all stained glass studio spaces. Gail says the rack is very strong and that "the dowels barely flex when several sheets of glass lean against them." Thanks so much for sharing!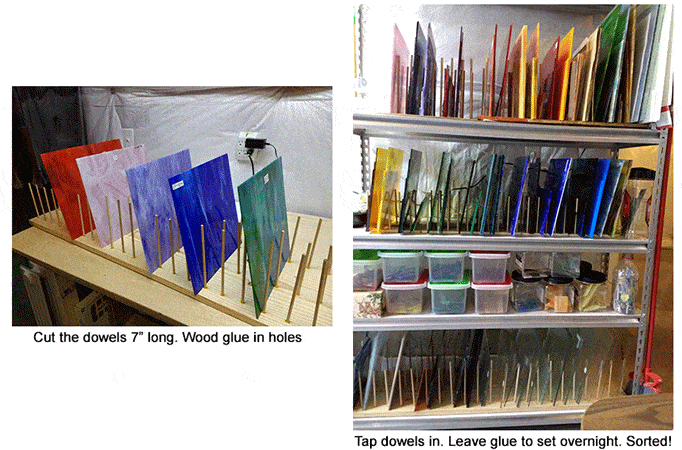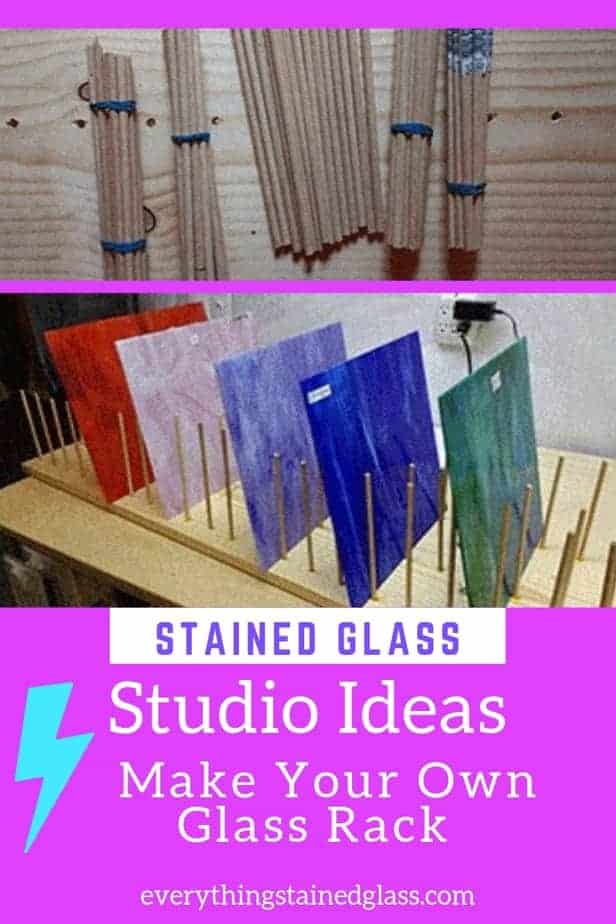 P.S. Everything Stained Glass follower Janusz N has added a simple idea for racking. He uses a plate rack from IKEA for small pieces of glass and says "it is portable and works well". I think we can see that below! Thanks Janusz.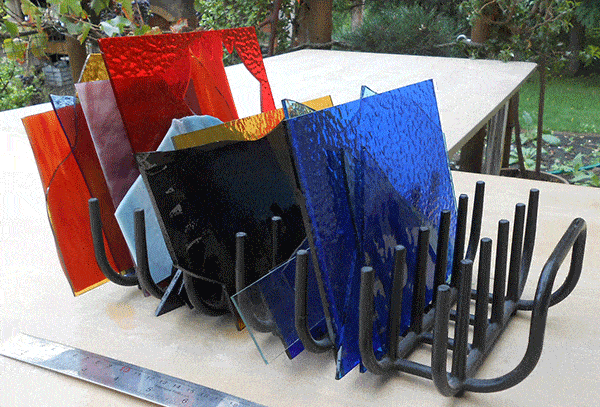 Plus Kathleen says:
I made my own glass storage system using file folder racks and pencil grips. I just cut the pencil grips in half lengthwise, filled each halfway with hot glue and pressed one onto each rack section. It was simple to make, works well and cost a lot less than the ones they sell at glass shops. It holds my small pieces as well as 12″ squares and circles. Here's a picture. I got the supplies on Amazon but I am sure any office supply store will have these items.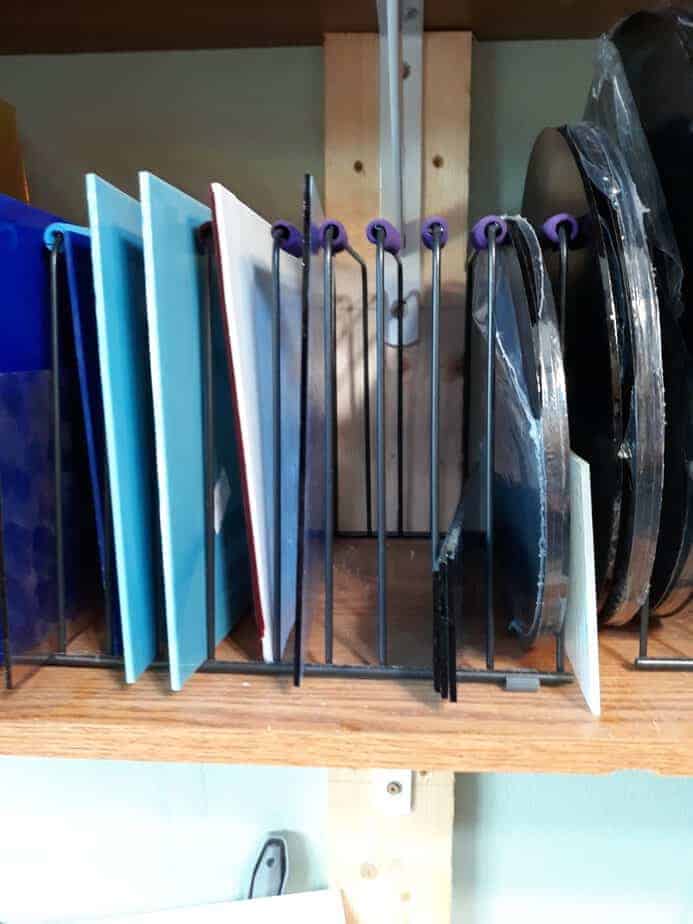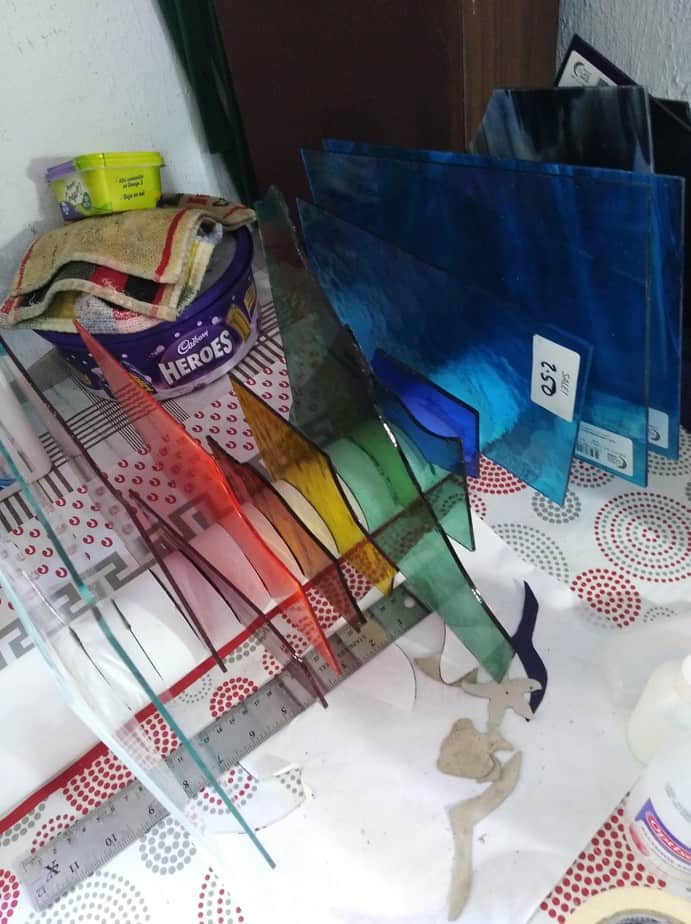 This is a clever solution for storage from Denis Wright. Thanks Denis.
Plastic drainpipe with slots for glass storage, and just the right size for foil tape.
Q from Milly: Thanks for sending in your idea, ingenious. Do you ever knock the end that sticks over the table though? I'm imagining all your glass falling, yikes!
No, never knocked the end yet, that's where I put the tape when foiling but you can cut it off to make it flush with the table, whatever you like.
More storage cleverness from Ron using coat hangers – thanks Ron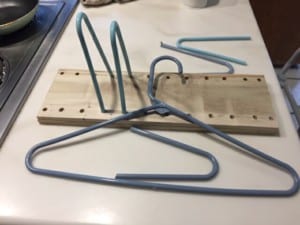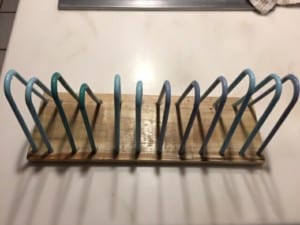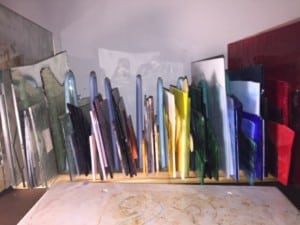 Tip 2. Make Your Own Layout Bars

Here's a top idea for making Layout Bars instead of buying them. Simple and effective. If you don't have the time (or the will!) to make your own then you can buy Morton Layout Bars here on Amazon
.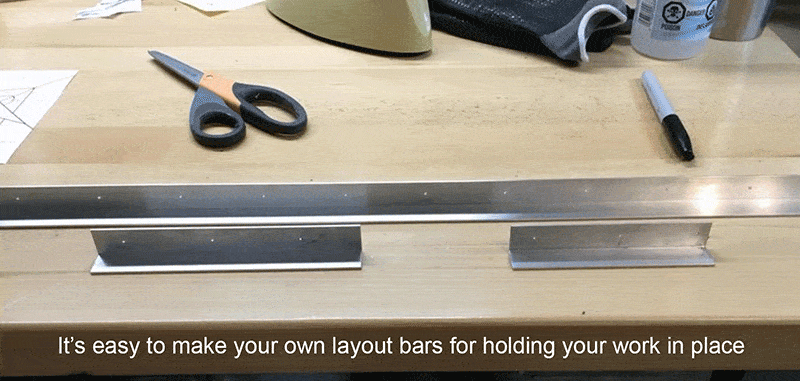 Thanks to Maggie Winters for sharing this. She suggests:
buying strips of  3/4″ aluminium angle stock at Home Depot. She recommends  the 1/16″ thickness
drilling evenly spaced 1/16″ holes along it
cutting them to your desired length
and voila! You have all the layout bars you need
Here are the layout bars in action (photo courtesy of Hubbit Terry B)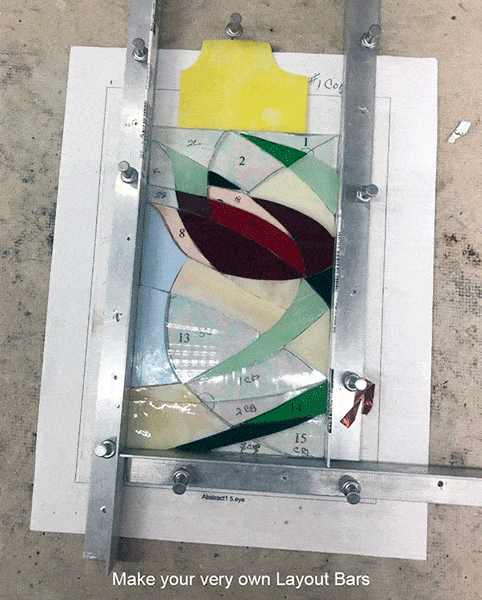 Tip 3. Make Your Own Grinder Splash Guard
Here's the second Cheap Stained Glass Tool Tip for you. This one was kindly shared by follower Diane Ritter. If you have any more ideas for tools, feel free to add them below. Thanks, we need to fill our stained glass studio spaces with them 🙂

Instead of buying a splash guard box, Diane suggests the following:
Buy a cheap a plastic storage box.
Set the grinder in the box with the opening facing you. Having the top and bottom catches a lot of water and stops it going everywhere.
Cut a small hole in the back for the cord to pass through.
If you need to put the grinder away, turn the box back to the normal top up position and reposition the grinder in the box. Put on the lid and you're ready to go.
Diane says she needs a lot of light, so she bought a light strip and put it around "top" of the box (i.e. top when in use.)
The splash guard works perfectly and costs less than any of the 3-sided items seen online. Thanks to Diane for sharing.
Floyd T. Hopkins has kindly shared his idea for a splash guard too. Floyd uses a 20 gallon aquarium on its side.  He says: "It's clear and the lip works great for holding water" and suggests putting a LED light with a magnifying glass on top. Ingenious. Thanks Floyd!
Thanks to reader Bob Miller for this grinder splash guard tip:
Here is a really simple way to shield the spray from.your grinder. Three pieces of plexiglass, two larger than the third. Y'all enough to extend about three inches above the top of your grinder shield. Connect the three plexiglass pieces with Duct tape on both sides of the two joints. Cut a notch in bottom center of the narrow piece for the grinder power supply cord to pass through. The wings, the larger pieces, can be swung open if large glass pieces need to be ground. Cleaning is a piece of cake. Carry it to your hose, hose it off, wipe with cloth or paper towel put it back ready to go. I use a oversized baking tray to set my grinder and shield in to hold excess water.
Tip 4. Removing Water from Grinders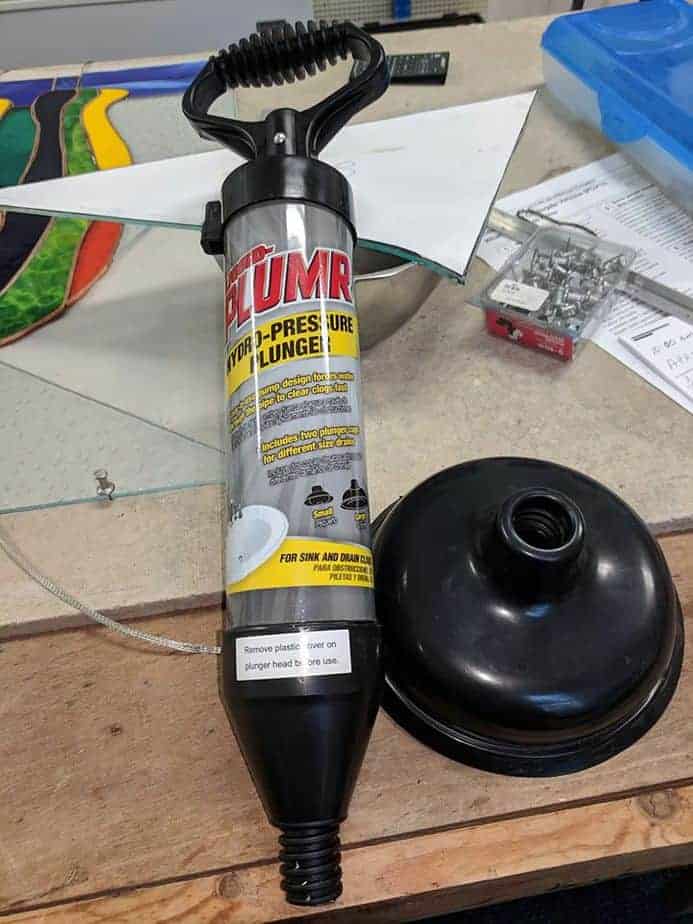 Oh yes, we've all been there… dirty murky water in your stained glass grinder and a mile to wobble your way to the sink to dispose of it… No longer!
Thanks to Mitzi Mallon's inspired idea you'll be sucking up water from your grinder without making MORE mess in the process.
She uses this rather grandly named 'Hydro Pressure Plunger', borrowed from the plumbing industry.
Simply screw on the cup
Slowly pull up the pump handle
Voilá! All your dirty grinder water is sucked into the pump reservoir.
See if it will work for you here:

Terri in Virginia, USA uses popsicle sticks to clean out her glass grinder. They nicely scrape out the glass remains after the water is poured off. She wipes them on a paper towel and tosses the towel into the trash! Easy clean up 🙂
Any more ideas for stained glass studio spaces or cheap/adapted tools? Feel free to add them in the comments below.
Tip 5. Shelving Your Studio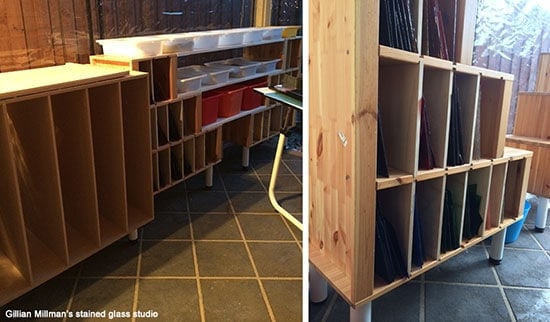 These are good old IKEA toy boxes in follower Gillian Millman's workshop.  The toy box is on it's side with some legs screwed on. Have a look at your local IKEA catalogue and with a view to glass storage… you'll be amazed and go rushing out to your nearest outlet immediately.
P.S. Paul Lloyd-Jones uses the storage trolleys on wheels from Hobbycraft when they're on offer 🙂
Thanks to Tom from Philadelphia for this idea using an Ikea unit:
So the photos in section 5 seem to be a pair of Trofast in pine with several boards cut and used as dividers where their plastic bins would normally slide in. I'm looking at the Ikea Kallax units and thinking that the units you show here would work upright without any dividers to store the sheets of glass I have that are taller than 12″!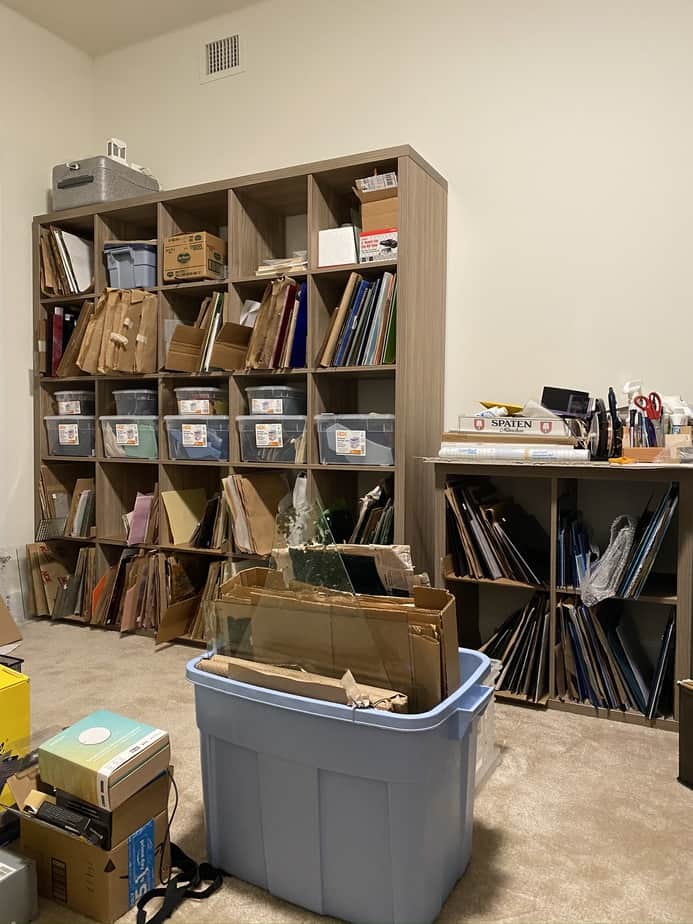 This page gathers ideas about stained glass studio spaces and cheap tools in one kid-in-a-sweet-shop-place. If you think it might be useful to others, feel free to Pin on Pinterest and Share on Facebook. Thanks.
There are more Stained Glass Tools and Materials on this page if you need more advice
Everything Stained Glass Home Page
https://everythingstainedglass.com/stained-glass-studio-spaces
https://everythingstainedglass.com/wp-content/uploads/stained-glass-shelving01.gif
https://everythingstainedglass.com/wp-content/uploads/stained-glass-shelving01-150x150.gif
Stained Glass Tools
Beginner,Quick Tips
Stained glass studio spaces are our little piece of heaven. We obsess over them... how best to store stained glass sheets, how to organise work areas and how high the cutting bench should be... ...and that's before we get on to ingenious stained glass tools to fill them with. You...
Milly Frances
Milly
Frances
millyfrances@gmail.com
Administrator
Everything Stained Glass