Amber Hiscott is a stained glass artist who has inspired me from WAY back when I was just starting out. I loved the movement in her work and bold use of colour. Back then she was making small pieces but has since made many public commissions all over the world. Here she takes us through her process working of on a large commission in Vermont. There's a short video too. It's all fascinating!
Further down the page there's another of Amber's articles about how she approaches her public artwork.
These articles were first published in the Contemporary Glass Society magazine, Glass Network, edited by Milly Frances (that's me 🙂 ). The Contemporary Glass Society is the UK's foremost organisation for supporting established glass artists, for supporting up-and-coming makers and for promoting contemporary glass in the wider art world. You can find out what it can do for you here.
Vermont Stained Glass Windows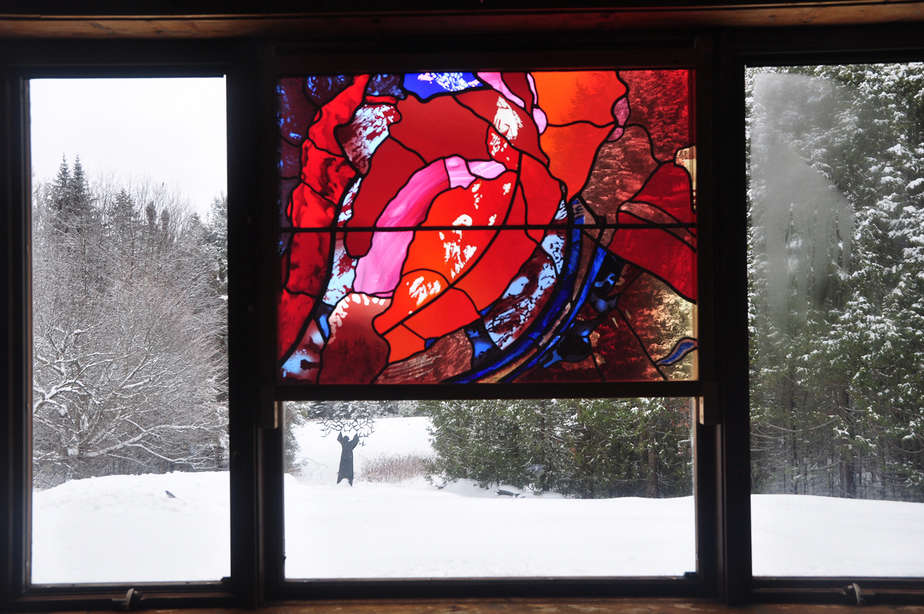 In 2012 Green Mountain Monastery, Vermont, asked me to design four windows for the Cosmic Corridor they were planning to build to connect the main building to a new Chapel of the Living Light designed by David Pearl with Larkin Architects. The windows were commissioned before the rest of the new building.
My approach to designing architectural glass is always site specific. I endeavour to delve into the particular character of the genius loci. Accordingly, I spent a week at the Monastery in October – careening sun filled days, chilly nights. I was cosy in the Hermitage, the wee orange house at the edge of the woods which the Nuns had built themselves from straw bales. The spirit of place was more encompassing than I could have imagined.
There I found several books by Thomas Berry which introduced me to this extraordinary man, whom I would love to have met. He was a co-founder of the Monastery and the great inspiration for its ethos – to create a new community in the Church, to give expression to the Catholic Tradition as it enters its planetary/cosmological phase.
Sister Gail and Sister Bernadette were my favourite kind of client; they set strong themes then left it up to me to find the manner of expression.
Window Themes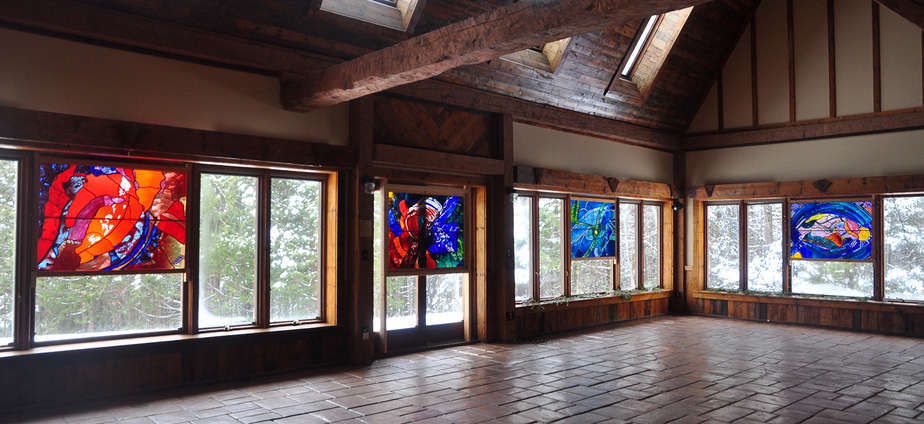 Each window was to have a separate theme within a chronological progression, over almost unimaginably vast distances of space and time:
1) The Primal Flaring Forth. (What most of us call the Big Bang!)
2) The Birth of the Galaxies and the Stars.
3) The Emergence of Life on Earth.
4) Our Future in the Ecozoic Era.
This commission was a challenge, a privilege and an education. It took five years of my life and I felt as if I grew with the windows.
Starting The Commission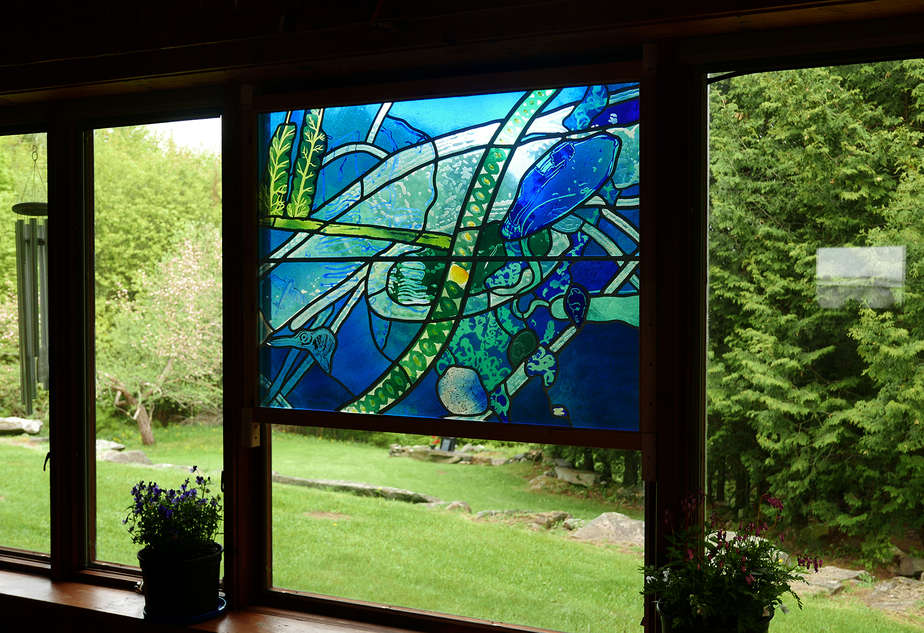 I approach my work without preconceptions but with a healthy curiosity about what might emerge. In that way, new possibilities are extruded by the process.
I bought good quality water-colour paper, stretched it on a board in the Hermitage and started to paint each day, thinking about The Universe Story, which was written by Thomas Berry and Brian Swimme (a natural scientist). My understanding of this text was enhanced and energised by stimulating conversations with the Sisters over evening meals. I even helped Sister Amie plant garlic which helped me feel totally grounded in the natural world. Silence was observed at breakfast which I relished. I'm a big fan of silence; it is a rare treasure in this mad modern world.
The first two windows were painted directly at that time. The third needed a lot more research once I was back in Wales; the fourth remained a puzzle for months.
My intention was always to express and to celebrate rather than illustrate.
Once the designs on paper were completed – and greeted enthusiastically – there was the huge challenge of how to realise them in glass. I like to keep that sense of not knowing exactly how to translate the paintings into windows until it has to be tackled head on. Then it surprises me as well as everyone else. I was confident I could make them but needed a lot of time to work it out.
Returning To Stained Glass
Years of working in the medium of glass for architecture and sculpture have given me many strings to my bow – a huge range of technical expertise. I often use enamel screen-printing on toughened glass for contemporary buildings but on this occasion I chose to return to my roots. It was clear to me that stained glass, i.e. mouth-blown glass made in the antique manner, was the medium I needed to best express the ecotheology of Thomas Berry.
These were small windows, each one just 3ft by 4ft and to be viewed at close quarters. They were to be teaching aids, just as mediaeval windows provided a Biblia Pauperum.
In addition, there is what Abbot Suger of St Dennis described as the anagogical aspect; that by quietly observing the devastating beauty of a jewel-like material our thoughts are led upwards to spiritual contemplation.
At the same time, it was important that the windows were totally relevant to this moment in time. This was not an easy task but I had a big advantage; no-one had given me a deadline.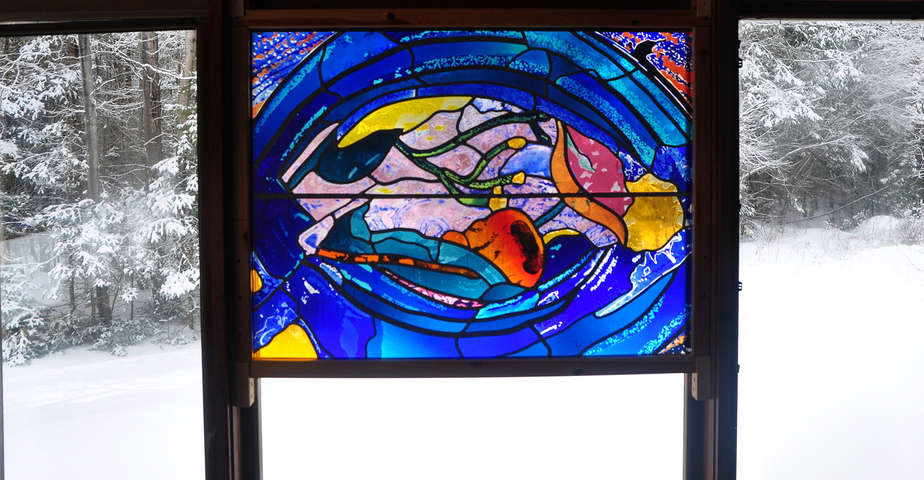 The design and cartoon work were mostly finished in my cottage in rural North Wales, although there were forays out to research Earth and Life at the British Museum, The Natural History Museum and a meeting with Dr. Suzy Moody at Swansea University who showed me living cyanobacteria.
When the time came to choose and cut the glass the base of operations moved to Swansea. There in the basement of our house are racks of mouth blown glass imported from factories in Sunderland, France and Germany since the mid-seventies for specific commissions. Once again I experienced the great joy of pulling out complete sheets of "antique" glass, holding them to the light, and deciding which particular sections were most applicable. Each sheet has its own character because every part of the process involves the human hand rather than a machine. Minute imperfections in the surface catch the light, saturating it with colour, which careens round the room as if you are standing inside a kaleidoscope.
The richness of the material can also be its demise. The uninitiated tend to gush over stained glass windows whether they are good or bad.
Rigour of design is necessary to hold in check the candy aspects of the material.
I count myself lucky to have studied under Ludwig Schaffrath in the mid-seventies; although I never emulated his design style, he drummed home to me the importance of using the leadline, not only to hold the window together but as an essential graphic element.
Then I would often draw the lines in a design for a window first and add in the colour after. But over the years I have become an expressive painter and now I usually start the other way around. Yet there is a real difference between my approach and that of a painter without any stained glass education attempting to design for the medium.
The painterly aspect of my cartoons left a lot of decision making until I began to make the cut-lines and afterwards, as each window evolved using every surface technique that the imagery demanded; acid-etching, glass painting, enamelling, staining from my own recipes, occasionally plating – even sand-blasting when some forty year old deep maroon flash glass from Hartley Woods refused to be acid-etched.
Green Mountain Monastery Video
In this short video Amber Hiscott talks about the inspiration, design, working techniques and fabrication of four Cosmic glass panels created for Green Mountain Monastery, Vermont, USA (pictured above)
Final Completion
It became a source of fascination to me to just trust that I could achieve what I had set out to do. Even so it was a relief when the windows were finished in the summer of 2018; so much so that friends who own a modern house overlooking Swansea Bay offered to display the windows at a special party before they left the country.
The windows were shipped to Vermont the following spring, arriving in their heavy crates while snow was still on the ground.
The Cosmic Corridor has not yet materialised yet something amazing has already happened. The windows were unveiled in The Great Room on 1 June 2019, exactly twenty years since the Monastery was founded and exactly ten years after the death of Thomas Berry. One hundred and twenty five people gathered from all over the States for the magical musical anniversary celebration, welcoming the windows.
Now I feel I can die happily, although I'm not planning on it for a few decades.
Site Specific Glass Work
Here Amber Hiscott writes about the importance of the environment – or context – when designing and making an architectural stained glass window.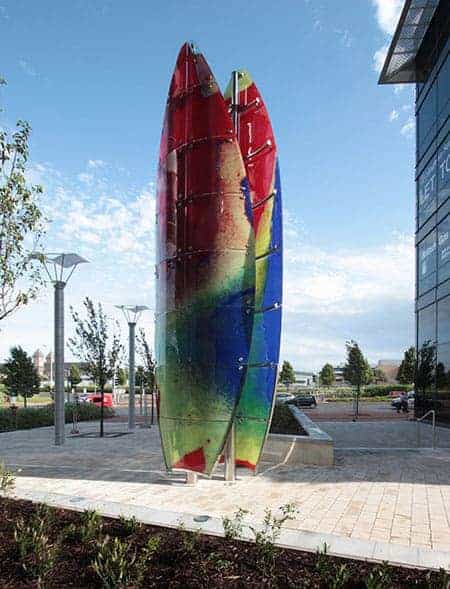 'Razor Shells', Amber Hiscott. 2008 Callaghan Square, Cardiff. Photo David Pearl.
C O N T E X T: conditions, circumstances, situation, state of affairs, background, environment, text, frame of reference, contextual relationship, subject, theme, topic
Working to commission is all about context. My work is a blend of careful consideration and theatrical improvisation. I use whatever is given as a springboard, i.e. the architectural context, the situation, the nature and function of the building or public space, the people who use it and the ghosts that haunt it.
I shall take the ghosts first. It's important to take the time to hangout with them, to go to the site, to do the research with a palpable curiosity. Just being there repays the effort in both tangible and intangible ways. Local libraries, archives and old people are great repositories of knowledge about the history of the architecture and its community. Drawing, photographing, talking to people and listening to them, is a way of continuing my education. The Internet is useful but it can never replace the personal line of inquiry.
---
If you find inspiration looking at different types of stained glass, 'Contemporary Stained Glass Artists' by Kate Baden Fuller will help you do that. It's a full of glossy images from different artists who tell us not only how they make their work but what inspires them. Fascinating stuff! (paid link)
---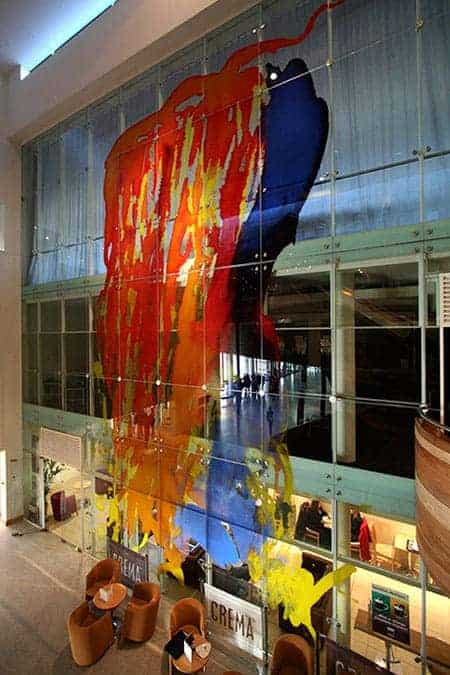 'Colourfall', Amber Hiscott. 2004 Wales Millennium Centre, Cardiff Centre, Cardiff. Photo: David Pearl
If the commission is for a museum of Egyptian artefacts, then I will go to Egypt; if it's a country house which is still a building site, then I will camp in the garden over the bank holiday. Anything for a quiet communion with the spirit of place.
In the end, I throw the research over my shoulder, like salt for luck and just do the artwork. Usually this means painting very freely and intuitively with watercolours, but whatever is the appropriate medium seems to come to hand….
In the end the work may be entirely abstract, so why bother with the prelims, why not cut straight to the chase? Because it is a way of anchoring the attention and keeping the response fresh and surprising, for the artist as well as the viewer.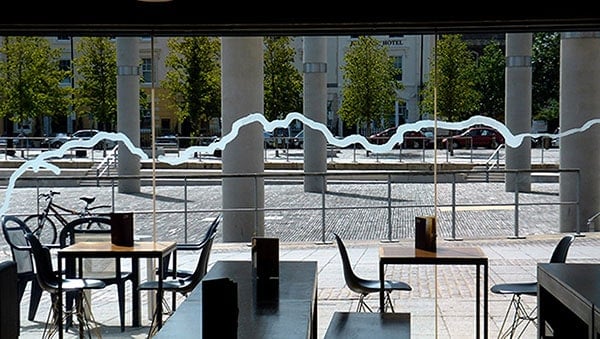 'Taking a Line for a Walk Around Wales', Amber Hiscott. 2004 Wales Millennium. Photo: David Pearl
All this is obviously a lot easier if you are already chosen, or at least short-listed and know you are guaranteed a reasonable fee.
The careful consideration and analysis of the site is the supporting structure behind this fluttering imagination. If the architecture is not yet built, the floor plans and elevations have to be pored over. If it is an external site, the accessibility and safety issues loom large. For an architectural glass artist, understanding the natural and artificial light relationships is crucial to working intelligently with the space.
There is one more layer of course, my own identity. No matter how much I eschew the notion of developing a style, hate to repeat myself and come at each commission anew – and this is a Schaffrathian statement – there is always the incontrovertible fact, that after several decades of working, I have become identical with the mark that I make.
Amber Hiscott is an architectural glass artist and painter working in Wales. She has completed numerous public art commissions in the UK. You can see more of her work at: www.amberhiscott.com.
See more stained glass artwork here.