My love of stained glass started with Andrew Moor's book 'Contemporary Stained Glass'. I was amazed by the variation and possibilities of glass. Even if we don't do HUGE architectural projects like these below, we can get ideas and inspiration from other glass artists' work.

If you want to do something very different with your own work you might want to give plating stained glass (layering) a try. See for yourself how much variety Plating adds to your stained glass here.
The article below first appeared in the Contemporary Glass Society (CGS) magazine, Glass Network. It was adapted by Milly Frances from the full transcript of a lecture given by Andrew Moor at the 2009 CGS Conference Space and Place: Glass in Context at Yorkshire Sculpture Park.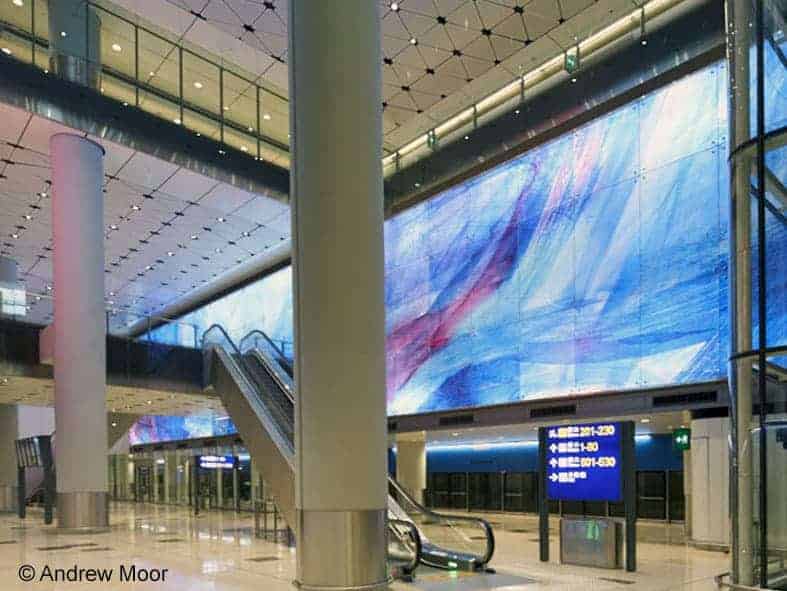 AM Hong Kong Departures. Photo: Andrew Moor
The goal of my talk is to propose some answers to these questions: Where are architects coming from? What can artists contribute? What glass techniques are available? What are other artists doing, and what can we do?
A central part of the vocabulary of architecture involves repetition; repeated motifs, repeated incident, repeated forms, repeated lines. It is through repeated motifs and forms that architecture creates its unique power. Monumentality is often created by the power of repetition… like drum rhythms; the pulse of repeated forms creates structures, shapes and forms that crescendo at certain points.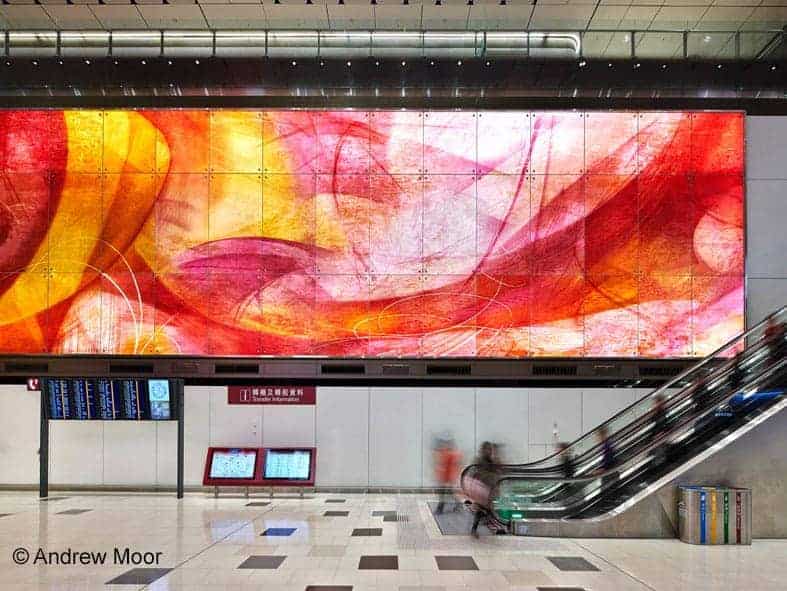 AM HK Arrivals. Photo: Andrew Moor
What happens when architects themselves design glass for architecture? My most recent book – Colours of Architecture (Amazon, paid link, thanks) – shows how architects and artists have been using colour in glass in recent years. When I first started work on it, a well-known artist and the head of a big German studio expressed great concern that, by including work designed by architects, (whose works could in no way be considered 'Art'), I would be confusing architects. What's more, this might give them the idea they could supplant the role that only an artist could bring to a project!
But is this true? In fact, it turned out to be quite hard to find examples of work done by architects, but when they did turn up they were almost all by brand name architects – such as Herzog de Meuron, Wiel Aretz, Will Alsop and David Adjaye.
When we view the work of these architects we immediately notice the simplicity and the repetition. Was this their inability to create art that my colleague had alluded to? Is this simple repetition a failure of imagination, of creativity? Did they run out of ideas, or is this how they wanted their building to look?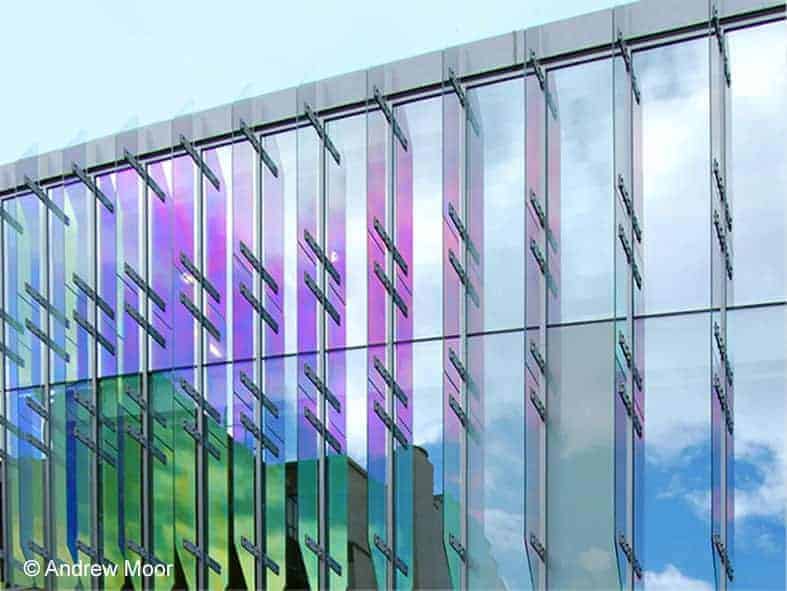 Charing Cross, London, UK. Photo: Andrew Moor
There is no generalisation that can be made about architects – like artists, writers and accountants – they come in every shade of intelligence, creativity, sophistication and visual literacy imaginable. There are some architects who clearly became architects because they wanted to create art on a bigger scale than mere paintings. Probably they are not the ones who will be hiring us, since they want to create their own art – but we should be aware of their work, and perhaps learn from it. Our clients are often architects. It is our job to understand them.
Glass is the medium of public art. As glass specialists we need to need to be extremely aware how successfully glass can be the medium for achieving public art. These are the arguments in our favour: The glass has already been paid for. The frames are all paid for. The installation is paid.
It only remains for us to do something to the glass…
For many of us it is public art policy that has been driving our industry and our income; in the view of some developers – and even more building contractors – this policy is an irritating subsidy allowing misguided artists to add nonsense to their plans. It is for us to disabuse them; to help them understand that glass art can be an aid to marketing, branding and economising on costs, as well as aesthetic enhancements of their creations.
It seems extraordinary to me that only thirty years ago I wrote 'Contemporary Stained Glass' – a book that is in its eleventh reprinting and has sold nearly 40,000 copies. It was a book entirely about leaded glass. Who is doing this now? When I project-managed the Patrick Heron window at St Ives Tate Gallery, a 5m x 5m window without any lead – this was revolutionary. We have moved on.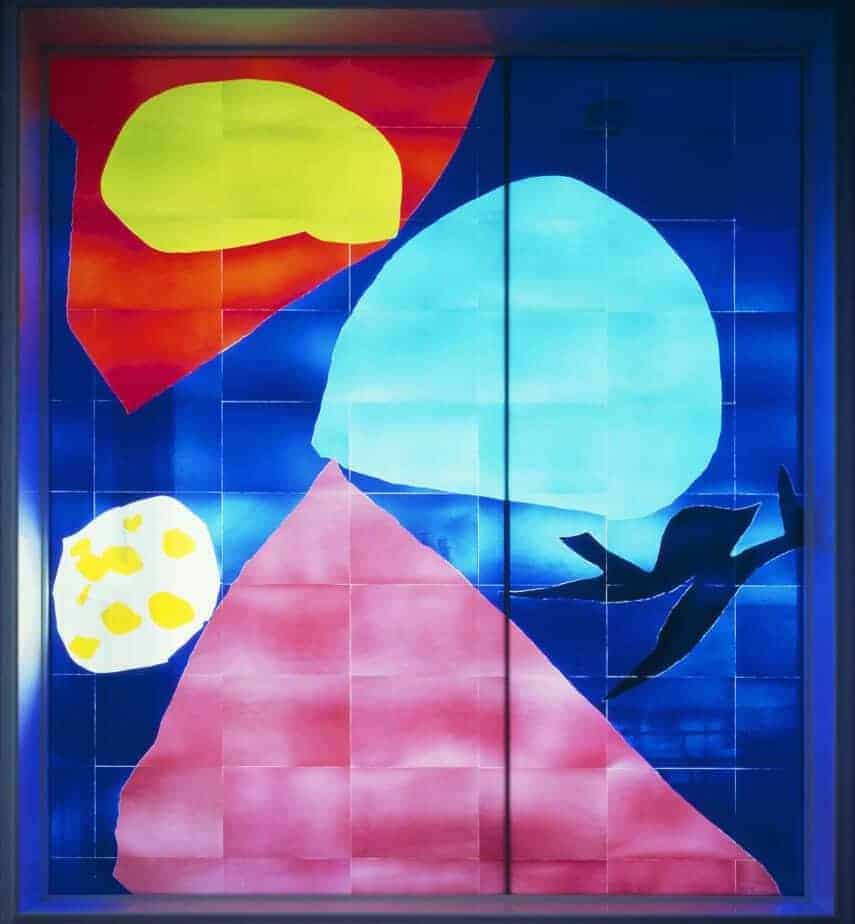 Patrick Heron, St Ives Tate Gallery
Over the last five years there has been extraordinary industrialisation of the processes involved in creating 'art' on glass. Costs are dramatically shrinking as a result. As – in some cases – is the quality of the reproduction. This is another symptom of the much-discussed democratisation of art – with Photoshop everyone can be an artist! With new techniques everyone can be a glass artist. But can they? A central part of being a glass artist is really thinking about transparent, translucent and reflective images. It is the interplay between these three elements that is the unique drama of glass art and this is where our unique skill lies.
We can now have images all over the facades of buildings. We can create coloured images on external glazing that cannot be experienced from the interior but only seen from the outside – allaying worries of tenants or developers that the art will make their building difficult to rent. Almost anything is possible, and the costs are not huge. We can even reduce heating and cooling costs by these techniques.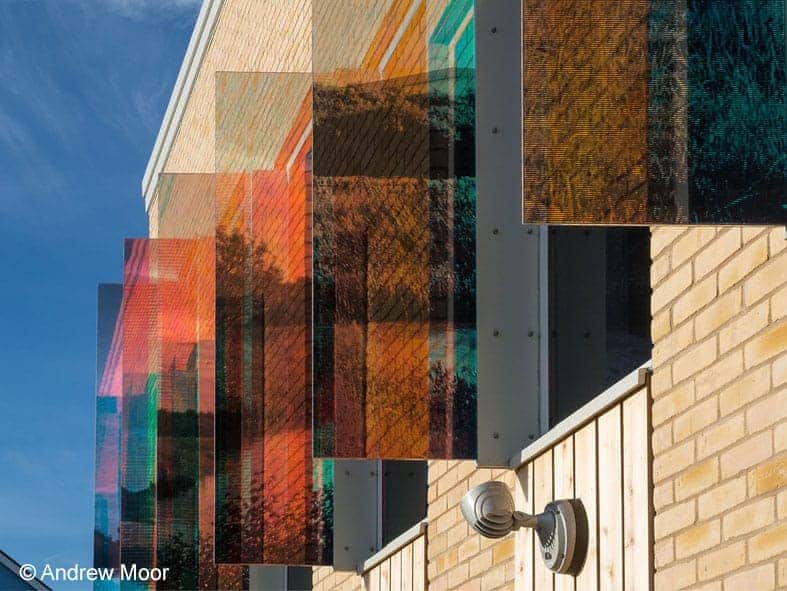 Lyde Green, UK. Photo: Andrew Moor
The scale of what we can do is enlarging and the range of techniques is increasing. But it will probably be those artists who retain a certain discretion and restraint that will be the most successful and achieve long-term success. These are the glass artists working successfully with architects and creating architectural works of art. They understand and exploit the fact that glass is the medium and that it is integral to architecture. It is important to remember that repetition is a powerful weapon and that less if often more – mostly we are working too hard. We have barely touched the surface of what is possible.
If you like looking at imaginative glass work and learning a bit more about the artist who made the work, Kate Baden Fuller's book (paid) "Contemporary Stained Glass Artists" is an even better read. It's full of glossy images and explores the 'softer' aspects of being an artist as well as new techniques.

The Contemporary Glass Society is the UK's foremost organisation for supporting established glass artists, for supporting up-and-coming makers and for promoting contemporary glass in the wider art world. You can find out what it can do for you here.
Andrew Moor has written three books about architectural glass art, and has lectured in Europe and the US at conferences and architectural practices. He has been helping artists, architects and interior designers realise their ideas in glass for twenty-five years. For more info: www.andrewmoor.co.uk
There is some more stained glass art work here