Gallery of Readers Stained Glass Panels
3D Wedding Panel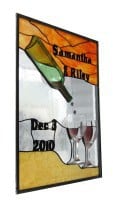 3D Wedding Panel
A friend of mine asked me to make a wedding panel for her son. After some thought we talked about a 3D idea to cut a wine bottle and wine glasses in half and then incorporate them into the panel. Because the couple were married in Jamaica, I included a sunset and beach.
Hope you've enjoyed the photo. By Trickett Glass
Milly's reply: What an ingenious idea. And what timing – here in the UK we've just had the Royal Wedding of William and Kate… it's a shame you weren't commissioned to do something for them!
I'm interested to know how to cut glass bottles length ways like that? I've tried a Glass Bottle Cutter, but it goes around, not along the bottle.
I bet they were really happy with their gift.
Costanza's Blue Jay
by IkoStudio
(Orvieto Italy)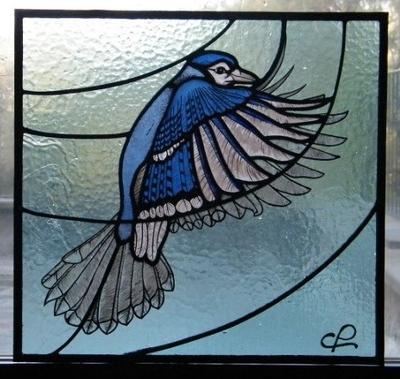 Costanza's Blue Jay Stained Glass Panel
In North America there is a beautiful bird called the Blue Jay. My student Costanza, travelled from Piacenza armed with a photo of one and a good deal of ambition to create her first ever stained glass window with the Blue Jay as the subject.
As Costanza had never cut, leaded or painted on glass before, I was a little apprehensive that it would be somewhat ambitious for her to take this on as her first ever project. But, Costanza is full of motivation and a contagious enthusiasm, and the photo she had brought with her, with a Blue Jay in flight,was so beautiful it was a challenge worth taking on. Costanza made her first panel in a week residential course at my studio.
Milly's reply: Wow! That is really special. Delicate and with a lot of movement – there's a sense that it could just up and fly away. Fantastic, not only for a first panel, but for any panel.
The Sitting Lady
by Hassan Al-Saffar
(State of Kuwait)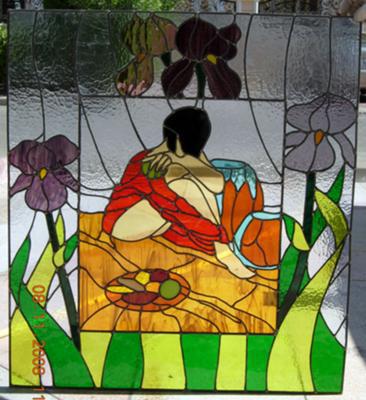 Sitting Lady in Glass
This glassart panel was made using the Pattern Wizard software, It was contrasted with lead came, then putty was used to weatherproof the finished panel.
It shows the lady sitting inside her own space and the viewer looks at her from inside toward the outside Irises garden.
The size of the panel is 90cmX90cm and due to this large size, reinforcement was done using steel and such a way to flow with the lead lines so not to distract the design.
This panel will be installed in a wall space and will be lighted from the back using a diffused daylight light tubes.
Milly's comment: This looks great. I love the way the central space seems private and special because of the clever use of lead lines.
The cutting looks quite tricky, too – you've obviously done this before! I'd never guess it was reinforced, either – always a good sign.
I'm interested in the software – would you recommend it?
Thanks for showing us your work, there's an impressive gallery now!
Painted Abstract Zebra
by Pete
(Bristol, UK)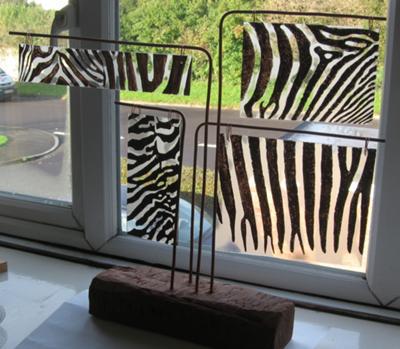 Abstract Zebra
This stained glass art work used cropped and enlarged extracts from a zebra photograph as patterns for acid etching the individual pieces of float glass. The resulting depressions were painted and fired in a kiln before the raised clear surface was abraded.
There was a happy accident – the unexpected warped surface from the kiln firing caused a mottled effect that I thought added to the piece.
Someone suggested the use of automotive brake tube for the davits, and the chunk of red wood was the result of a small contribution to the tea club of a joinery firm. Another 3D object.