Stained glass lead soldering is FAR easier than soldering copper foil . The main reason for this is that you are only soldering a small area each time rather than along a whole seam.
Think cake decorating; it's the difference between piping a whole border and piping a Swiss dot.
---
If you're new to using lead came as a technique I would highly recommend you give it a try. It will add a great deal to your skill set and give you the best of both stained glass worlds – foil and lead.
If you don't have a local class my Leaded Stained Glass Artistry course has taught many people – even those who have never used lead before – how to make a stained glass panel using lead came. The course is self-paced and online so you can learn this lovely technique even if you are unable to get to a class. You can find out more about it here Leaded Stained Glass Artistry.
---
Stained Glass Lead Soldering In Easy Steps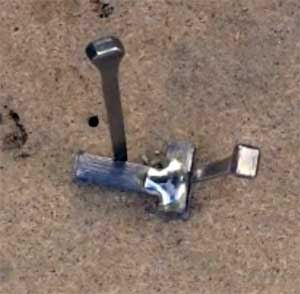 1. Tools and Materials Needed
Soldering Iron. 50/50 Stained Glass Solder. Lead Came. Soldering Iron Holder. Natural sponge to clean iron tip. Wire Brush. Old Toothbrush. Flux.
Notes on tools:
Soldering Iron. I use either a Hakko FX-601 set at 360C or a Weller 100 with a standard 7 tip (700F).
To check the Weller tip temperature: Unscrew the soldering iron tip and check the number on the end. 7 = 700F,

 

8 = 800F. 8 is too hot for stained glass lead soldering. It is for copper foil soldering.
Solder. 50/50 solder is most often used for soldering lead came. You can use 60/40 but you have to work quicker or turn the heat of the iron down.
Flux. Tallow, liquid or paste will all work.
2. Stained Glass Lead Soldering – What To Aim For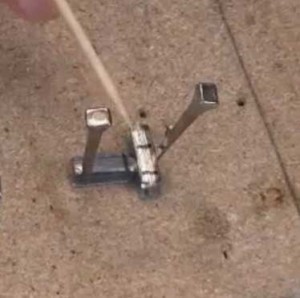 A stained glass lead solder joint should:
be a strong union between the lead came and the solder. To get this make sure that both metals heat up during the stained glass lead soldering process.
contain enough solder to join both pieces of lead together successfully. They can be flatter or slightly raised. This is a question of what you prefer.
create a T-shape and be a tiny bit wider than the width of the lead came
The 'Leaded Stained Glass Artistry' course is full of extra tips and advice to develop your leaded glass skills – Click to see if the course is right for you here..
3. Getting Started With Stained Glass Lead Soldering
Friendly safety reminder: Always ventilate the room when you are stained glass lead soldering. Wear gloves when handling lead came.
Firstly, clean all the lead joints thoroughly with the wire brush
Check that all the lead is still in place and hasn't moved during the cleaning process
Immediately flux each joint to prevent oxidation
Turn the iron on and test if it's hot enough. To do this, put a small blob of solder on the heated tip and turn the tip over. If the solder still stays on the underside of the tip your iron is hot enough. If it rolls off, it's too hot
Hold both the solder and the iron tip over the joint
For beginners I recommend melting a blob on the joint first with the side of the tip
Then turn the tip so that it's flat on the solder and hold for a few seconds until the solder is melted and shiny
It's a fine balance between making sure there is a good union between the two metals (solder and lead) and not melting the lead came! Practice on some scrap bits first to get an idea how long you should leave it
Finally, Do NOT 'iron' with the soldering iron, keep it still! You don't want to spread the solder too far and make an unsightly mess

4. Finishing Up
First of all check you've soldered all the joints on side 1 (I bet you miss one!)
Clean the flux off each joint with a toothbrush or similar
Carefully turn the panel over
5. Stained Glass Lead Soldering – Side 2
There may be some small gaps where the lead came doesn't butt up to the adjoining lead or if the angle is incorrect. Fix these by cutting some small slithers of lead came and inserting (balancing!)  them in the gaps.
Take care when you flux these slithers of lead filling a gap. Brush the flux on VERY gently – or grate some tallow on to the join if you are using tallow – otherwise you'll dislodge the slithers.
Repeat the steps in 3. above
Drop a tiny blob of solder rather than press it on the joins which contain 'filler' pieces of lead. Wait for this blob to solidify first. This keeps the fillers in place while you add more solder and heat the join as normal.
6. 3 Ways To Rescue Mistakes
Watch this short video to see how to rescue 3 common 'YIKES' moments that often happen when stained glass lead soldering.
It finishes off by showing you how to create a perfect solder join with lead came. Good luck with your soldering!
P.S. The 'Leaded Stained Glass Artistry' course is full of extra tips and advice to develop your leaded glass skills – Click to See if the course is right for you here.
7. Finishing Up
Check you've soldered EVERY SINGLE joint. It's very annoying if you miss one!
Use a toothbrush or stiff brush to clean the flux off each joint
Now you're ready to go to the next stage – Cementing Your Panel