Slumping and Fusing Answers
Firing Produces Honeycomb Effect
I did some fused glass with some orange Spectrum glass in my kiln a little while ago, at the same time some blue Artista glass.
The kiln shelves were laid with whiting and glass mixed on shelves, top temp was around 810C for a full fuse of some opaque white on top of the blue and orange bits.
It all fused together well, but the orange looks like honey comb from the back and does not look stable or safe.
Could anyone explain or give a reason for this to happen? Bob.
Milly's answer:
Thanks for your question Bob. Am I right in thinking that you're using Spectrum and Artista on the same piece of fused glass? If so, that could be causing the instability, as the CoE is different – 96 for Spectrum (if you're using System96, otherwise it's 90), and 94 for Artista – and the manufacturers don't recommend fusing them together. Have you looked at the fired glass through polarizing filters, to see if there is any stress there?
If it's stress-free, it could be possible that the orange is a striker – it changes colour at a given temperature. Spectrum do have an orange striker – maybe it's not reaching the top temperature consistently?
Also, is the glass opaque? I've noticed sometimes that the opaque glass does mottle a bit when taken to fusing temperatures.
Has anyone else out there got any other possible solutions, or direct experience of this?
Black Dichroic Glass
I just sent a set of dichroic glass into my kiln for a full fusing and I found that at the end of the cooling period all my glass was black. This has happened before when one of my coils broke but I don't see that anything is broken now. Any suggestions? It is an old Jen Ken Kiln. Thanks! by Anne Durrett
Milly's reply: Thanks for your question Anne, sounds really annoying! I'm afraid I'm going to answer with more questions…was it CBS dichroic glass? This has a very good reputation and I'd be surprised if it behaved in this manner. Was it capped with clear? What kiln firing schedule did you use? Any chance of a photograph? If you have more information on what glass you were using and how it was layered, that would be helpful.
Glass Stuck to Mold
I used "Slide" high temp mold release on a mold. The mold had been kiln washed but I thought I would try this product SLIDE. I used frit and fired to a full fuse. /most of the pieces fell out but 6 did not. How do I get these pieces out of the mold? by Debbie Yates
Milly's reply:
I've never tried this product, but have had the misfortune of having glass stick to glass molds. Try refiring the piece, but with the fusing mold upside down. Make sure you have a prepared kiln shelf or ceramic fibre paper underneath for the glass to fall on to. Re-fire slowly to slumping temp – around 1150F/620C – soak for at least 30mins. Keep watching the glass in the glass kiln – often it will separate from the mold and drop onto the kiln shelf. At this point anneal and cool as normal.
If this procedure doesn't work, you will have to break your pieces off the glass fusing molds as best as you can, and repair any damage to your mold. Good luck and hope this helps.
Has anyone successfully used the SLIDE product? I'm always looking for things to recommend.
Fusing and Slumping on a Budget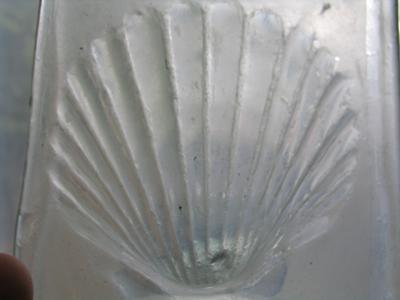 Slumped shell in mould
I want to run a simple fusing and slumping project in the day centre of a charity for people with learning disabilities where I work. We are on a tight budget and have read about using bottle glass for fusing & slumping. You mention special fusing glass and problems with mixing glass, is it not possible to use old jars, bottles and sheet glass? Can you offer any advice on whether this is possible?
We have a ceramic kiln. by Georgie
Milly's reply: Sounds great Georgie. You're right, you have to use glass that is compatible – meaning that it heats and cools at the same rate – otherwise it will crack or be unstable and dangerous.
To get around this you can use float (or window) glass – I'm assuming that's what you mean when you say 'sheet glass'? – as long as you fuse it to itself. So you could rescue some glass from a skip, cut it up and fuse it to itself. You could get fancy and add some wire in between the layers for visual interest.
Similarly with bottles – you could either just melt them and enjoy the shapes they make (I've seen people selling these!) or break them safely and fuse them together by making sure all the pieces are over-lapping before you put them in the kiln.
With regard to the slumping process. It's best to fuse the glass pieces flat first, and then shape the glass (slump) into a mold. This can be a stainless steel bowl, or a ceramic mold – as long as you've painted it with a separator, like batt wash, to stop the glass sticking to it.
A ceramic kiln is fine, just make sure the shelves are clay-free. There's a Kiln Firing Schedule here that might start you off.
Come back and post some photos on the site once you've had a go, I'd love to see them.