Hubbit* Gallery 2022
My online students have truly excelled themselves this year. 2022's gallery is SO inspiring.  There are 66 – SIXTY SIX – mistress/masterpieces of the Best of 2022. They each chose the piece they were most proud of this year.
If you want to shower them with well-deserved praise, go to the Comments below so that they can read them and be joyful.
They've all done me proud this year and must take all the credit – they're an amazing group of artists. Best on the web, full stop. Thanks for the inspiration.
* 'Hubbits' are students of my online classes who are members of the Stained Glass Hub – a private FB group just for them. Think 'Texans' from Texas and you're on the right track 🙂
Visitor's Stained Glass Window Images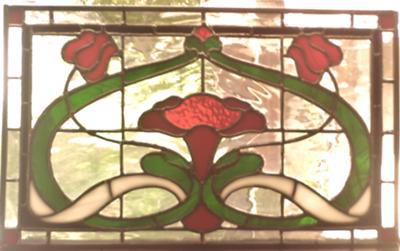 Panel with 175 Pieces
This panel was rather difficult and time comsuming with about 175 pieces..many small,,,but a joy none the less.
Milly's comment: Wow, thanks for this PJ, it looks great. Not only 175 pieces, but small curvy ones too! And that's not even mentioning the symmetry of the design, which means it has to be perfect, otherwise it looks all wrong. Brilliant.
I love the choice of glass, too. The textured clear lets the outside plant world mingle with the stained glass plant world of your panel.
Norfolk, UK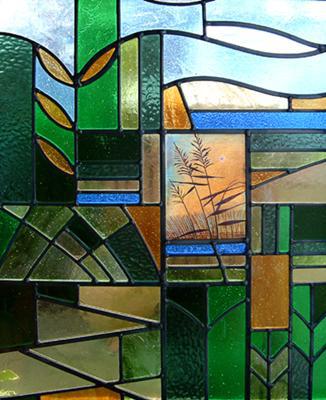 Abstract 'Norfolk' Design
I have been making stained glass as a hobby for many years. The next step for me is painting. I went to Ely cathedral for their one day painting workshop. I then built this panel around my first attempt which I was quite pleased with! by Julia Richardson
Milly says:
Oh this is great! Love the colours and the delicacy of the painting. I bet the stained glass painting will open up a whole new world for you.
I have some tutorials about painting on glass, if you need additional resources.
Darwin With Painting Instructions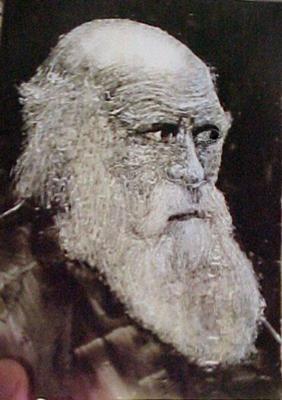 Thoughtful Darwin
Trying to imagine how to make Pebeo paint work for portraiture, I recalled the scratchboard technique. So, to make my "Darwin" I downloaded a photographic portrait of the gent, printed out at desired scale, cut out the man himself, placed on whitish opalescent glass rectangle, and heavily overpainted in black all around (more lightly brushed for his coat), then daubed inside the outline, variously dark or left blank, as the photo suggested. After overnight drying, Darwin's features were "picked out" (scratched out, actually) with X-acto knife point. I used the resulting effigy in a capricious panel, where Darwin is surrounded by a variety of fanciful, Pebeo-marker-drawn beetles, at which he looks, quite evidently, askance! ;>) by Larry Stout
Milly's reply:
Thanks Larry, you've got a sense of humour to go with your artistic talent! This is a really good idea for cold paint (paint you don't have to fire in a kiln). It's very similar to the sgraffito technique used to paint the lovely sleeping squirrel at the bottom of my Glass Painting Techniques page.
Four Intricate Pictures
Mermaid
Every painting is inspired by what I love from mermaids to an elegance of beauty and artwork has no boundaries…I paint what inspires me. by Ayshita Chandappa
Milly's comment:
Ayshita, these are amazing! Thanks for posting them on the website. I can't quite what you've made them with as the images are a bit small, perhaps you could let me/us into your artistic secrets?!
Rose Blanche Lighthouse
Glass lighthouse
A Wyoming client had enjoyed "the vacation of a lifetime" with his wife, including a visit to this lighthouse in Newfoundland, so wanted it rendered in stained glass for their home (a geodesic dome!). I used the applique technique to create the lighthouse large, stone by stone, since copper foil would have required a ghastly amount of solder. One of the adhered pieces came loose during shipment (gasp!), but was easily replaced by the client, following simple instructions. (Shipping glass is always risky: insure it!) by Larry Stout
Milly's reply:
They sound like interesting clients… I love the colour palette here, really subtle with nothing garish about it whatsoever. And the grouting lines are nearly invisible, it's a really good advert for the technique, as you can minimise the 'blackness' that is sometimes too dominant in leaded stained glass panels.
Thanks Larry.
Saguenay Panel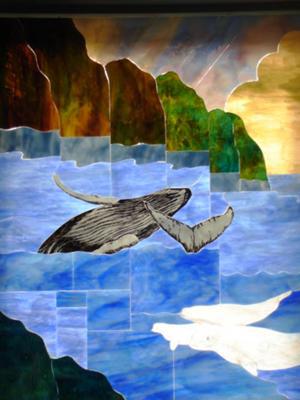 Saguenay
I wanted to commemorate our whale-watching adventure last summer at the mouth of the Saguenay fjord on the St. Lawrence Seaway, so devised this semi-stylized applique panel, to which I've just glued the last piece. Stuck it in the destination window to have a look, although grouting obviously yet to be done (outside light rather dim this morning). My trials at ways around grout bleeding have all failed, so will have to try the normal method, with as little moisture as possible (!). The whale belly and tail (two whales there) were made with grey/opal glass, overpainted with Pebeo black, details of patterns scratched off before baking. The beluga (white) whales were made from Youghiogheny ice white stipple, with faint suggestions of eyes, mouth, and flippers painted on the reverse.
Grouting will give everything definition and make it look "solid" (I hope). by Larry Stout
Milly's reply:
Three things strike me here – lucky lucky you, seeing whales!, I love your choice of glass, and it's very interesting to see just how much the grouting adds to a stained glass applique panel. It gives it a depth and structure that really helps us visualise the scene. And what a scene! I'm not often jealous, but might have to admit to it here…
Sorry your experiments attempting to prevent the grout bleeding didn't quite work. I bet you resolve the issue in the end, though. That's what normally happens with glass, something will nag and nag until a solution is found. Let us know if it suddenly comes to you.