Glass Etching Cream Tutorial
Glass etching cream is quick and simple to use with stencils, giving good results for relatively little effort.
So where can you get it and how is it done? Here you'll find out how to:
design custom etchings and add unique detail to your glass art work.
make personalised glassware gifts by learning how to etch with cream.
discover where to find the best etching supplies for your specific project.
The glass etch process can be broken down into just FIVE basic steps.
1. Buying The Materials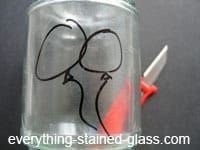 The etching cream is sold in plastic bottles weighing 3, 10, 22oz or even 10lbs (!) They're all pretty much the same quality, although Armour Etch is a good and well-respected brand.
They've perfected a specially formulated compound that acts quickly by eating into the surface of your glass.
Although not dangerous if you use it carefully, etching cream contains hydrofluoric acid and can't be shipped by air, so you'll have to find suppliers in your own country.
If you're in the US, Amazon.com stocks Armour Etch Cream (paid link) . Whenever I've had dealings with them they've always been very helpful and prompt.
2. Choosing And Applying Your Etching Stencil
Stencils come in different forms – ready-made, custom-made, reusable or single use.
You can find ready-made stencils with all sorts of patterns at Amazon in their glass etching stencils (paid link)section – butterflies, flowers, alphabets, weddings, births, man on the moon – you name it, you can buy it!
These can either be reusable, for example Over 'n Over, or one-offs, as in Rub 'n' Etch. The reusable stencils are more expensive.
Simply peel the stencil off its frosted backing and rub it onto your clean glass with the wooden stick provided.
Carefully remove the top carrier sheet once the stencil is stuck firmly.
Stick a masking tape border around the etching stencil, making sure you don't stick it over the pattern.
If you don't find this method creative enough, you can do custom glass etching by designing your own stencils. This can be done expensively, by sending a digital vector image to a stencil manufacturing company, or cheaply by yourself.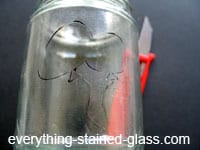 I've chosen a simple image of two balloons and etched a jam jar to show you how it's done.You could use mirror, a wineglass or bottle, or coloured sheetglass that you are going to lead into a stained glass panel. All you need is some clear adhesive vinyl (sticky-backed plastic) and a sharp craft knife. Clean your glass, peel the backing off and stick the contact paper on.
Find an image you like – it could be one of your drawings, clip art or a photograph.
Trace the image onto the adhesive vinyl with a permanent pen.
Carefully cut out the image shapes with the craft knife and you have your unique stencil!
The etching cream will etch where you have removed the paper.
3. Applying The Glass Etching Cream
Always wear rubber gloves and protective goggles and use in a well-ventilated space. It's best to have water handy.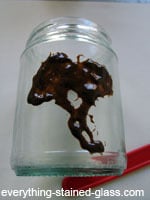 Shake the glass etching cream.
Using a cheap brush, apply the etching cream thickly over your stencil. If you don't have a thick enough layer the chemical in the paste won't eat into your glass or mirror and nothing will happen!
Don't get any cream on any area apart from your stencil; it will etch wherever it lands.
It's worth remembering that you don't have to use stencils at all if you want a freehand design.
Just apply the paste to your clean piece of glass with a brush, or use something to print it on with – cloth, tissue or a sponge for example.
4. Removing The Etching Cream and Stencil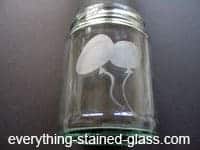 Leave the cream on for as long as the manufacturers suggest. This can be from 1-20 minutes.
Wash under running water and remove the tape and stencil afterwards.
5. Cleaning
Clean the glass thoroughly and dry completely. Your etch will only show up once it is totally dry, so don't worry if you can't see anything at first.
Do watch out though, there are a few things etching cream isn't good for.
The paste isn't suitable for Pyrex or plastics – lucky really otherwise it couldn't be sold in a plastic bottle…
and I definitely wouldn't recommend children using this product.
If it's a fairly large, flat etched area you're after, etching cream is not advised – it comes up blotchy and uneven – you'd be better off using sandblasting for that.
Amazon sells Amour etching cream (paid link)– all sizes up to the enormous 10lbs – and a wide range of the ready-made stencils and has an etching kit selection in their Glass Etching (paid link)section.
If you want to learn more about the different types of templates go to my Etching Stencils page