What You Get In Your Kit
With a glass etching kit you can transform boring glassware into individual gifts for friends. This page will help you
Compare kits for value and quality
Save time with a complete etching tools check-list
Choose the best stencils and cream for your project
Save money with best price supplies
Which kit offers the best value?
There are several glass etching kits on the market, and – although basically made up from the same materials – they vary slightly in price and quantity.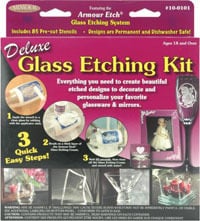 Recommended
The best value kit is definitely the Armour Deluxe Glass Etching Kit (paid link)
from Amazon. They offer the cheapest price – sometimes cheaper than the more basic kits below – and everyone knows they are reliable and prompt with their deliveries.
They also sell a good selection of Over n Over stencils if you really get hooked…
Why is this etching kit the best?
This kit has got absolutely everything you need for etching in one box – over 75 pre-cut stencils to choose from, a 3oz bottle of etching paste, design patterns, hobby knife, Camel hair brush, wooden applicator stick, colour instruction booklet, practice glass, reusable protective gloves and custom stencil vinyl for creating your own stencils.
This kit contains over double the amount of stencils for you to choose from, and twice as much paste as the Starter Kit below. The inclusion of the custom stencil vinyl is handy, as it means you can have a go at drawing your own designs and making really personal gifts for friends and family.
There's nothing you need to add to this kit, except more cream to use up all those stencils!
Other Kits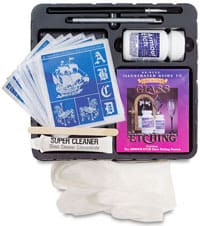 Blick Art Materials offer a kit that contains 3oz of Armour Etch paste, a craft knife, glass cleaner, brush, protective gloves, a range of stencils and an instruction leaflet.
Mid range in price, this kit is probably just about worth the extra few dollars for convenience – you won't have to find protective gloves or a craft knife, and there's double the amount of cream than the Starter Kit below.
There's no practice glass though.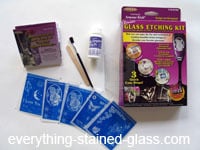 The cheapest and most basic kit is the Glass Etching Starter Kit (paid link) again from Amazon. This contains 1.5oz Armour Etch paste, a small selection of Rub n Etch stencils, an instruction leaflet, a bit of practice glass, a brush and a stick for burnishing the stencil on.
This glass etching kit is absolutely fine to give you a taste of etching, but is a bit lacking in choice of stencils and the small pot of cream won't get you very far as you have to layer it on thickly.
Additional Information
Here's a checklist of essential etching tools and materials to make sure you have everything before you start.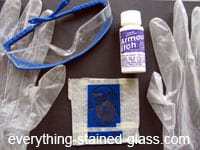 Stencils, glass (the etching process shows up better on clear, a very pale colour or dichroic glass), etching cream, small brush, wooden stick for transferring the stencil, masking tape, ruler to centre or line up your design, hobby knife, scissors, paper towels, protective gloves and goggles.
You need to have a water source at hand, preferably running water.
Etching Cream
All the above kits use Armour Etch cream; it's just the size of the bottle that differs.
I've used this paste and found it to work perfectly, but I would recommend leaving it on for about 10 minutes, rather than the one-minute the manufacturers suggest. Make sure it's a well-ventilated room.
Stencils
The stencils supplied in all the kits tend to be the same type. They're called 'Rub n Etch', and are for single use only.
These are fine for one-offs – they stick to the glass and are detailed, precise and give a very professional look to your glassware.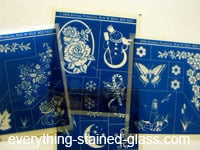 If you want to do repeat designs you will need to buy reusable stencils – such as 'Over n Over' – in addition to those in your kit. These types of stencil can be used up to 20 times. Some manufacturers say that you can use them a hundred times, but I think that's a bit ambitious.
Some kits include a sample of adhesive stencil vinyl, which is great if you want to draw your own designs and cut them out yourself.
Alternatively, get your children to draw on the vinyl, cut it out and etch it on to glassware. It makes a great individual present for your family.
Health and Safety
Safety is obviously an issue with etching paste.
– Always wear protective gloves and goggles when using it, and work in a well ventilated space with running water at hand.
– The etching paste isn't suitable for children to use.
Helpful Resources
If you're unsure how to use the Etching Kit, go to my 4-step tutorial at here for fully illustrated instructions and invaluable tips.