The Dangers Of Making Your Own Etching Paste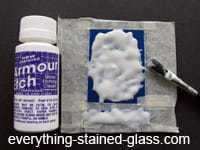 I want to know how to make white glass etching cream for frosting the glass.
I have already bought the white powder (dudhi) and hydrofluoric acid and sugar (chinidana). Please help me out – how do I mix all of them, and in what proportions?
Milly's answer:
Hi Gurmeet, thanks for your question. You are braver than me, wanting to make your own etching paste! I have never done this myself, nor would I recommend it. Hydrofluoric acid is extremely dangerous, and – in my view – not to be mixed with anything!
You can buy reputable glass etching cream called Armour Etch from Amazon or Stained Glass Suppliers – it's safe and not too expensive.
So I can't help you with your specific question, but if you go to my Etching Stencils page, you can learn about using the etching paste safely.
I hope this helps – good luck with your project, but stay safe.
Comments for How to make glass etching cream?
Don't do it !
by: Anonymous
They are right , I have seen it happen to miny times , when mixed with a salt it could make a hydrochloride gas and kill u !
---
Armour Etch
by: Dave @ R&D NY
I have learned that Armour Etch has Benzoate added to it, which will make it safe for everyone to use in normal work environments.
You don't need to worry about the effects that come with HF. I've been doing this for a very long time, don't wear any protective clothing or gloves, nor a mask, etc.
I will give this one caution though. DO NOT get it near your eyes, and thoroughly wash all areas, including your hands when finished. This is the safest product on the market for the average people. As stated above many times, HF can kill you in 8 short hours, in a very painful death, that will not be reversible.
Milly's reply:
Thanks for your comment Dave.
I would never, ever use HF without protection and am amazed that you have! I can only assume you mean Amour Etch and not HF acid…
Either way, happy and safe etching to you!
---
Etching Cream
by: Donna
I want to know how to make Etching Cream for glass and other things
---
colored etch
by: Anonymous
after you have done the etching, you can go back over it with alcohol ink.
---
you can do anything anyone else can do
by: Anonymous
My art teacher in highschool was a chemist as well and she used the acid in molasses, she wore rubber gloves a chem suit and a gas mask. I don't know exactly how much of the acid she used but it was very little amount. If I had to guess it was about a tbl spoon into a large mason jar of molasses… it worked very well as my mirror turned out bad ass and sold for 400 bucks..
---
Dangerous chemicals
by: Anonymous
This product is made of fluoride salts which are dangerous. Please read the MSDS for this product
Caution —Armour Etch contains hydroflouric acid, which is corrosive to skin and irritating if inhaled. Use with adequate ventilation, and wear protective gloves. Not for use by children.
---
etching cream
by: Anonymous
it is not made from HF.
---
there is more than one type of etching cream…!!!!
by: Anonymous
there are 2 different types!!!!! so why not have both recipes…??? if factories can make it why cant we?!!! just put the cautionary directions. blah so frustrating that this goop is so darn expensive! 🙁
---
Etching Solution
by: vinay vyas
i want to know tht how i make etching solution with the water wht material i used for it. i want to knw were i get the good quality etching for the flat glass (the sheet tht is 8*4)
Milly's reply:
I wouldn't recommend making etching paste, it's too dangerous. You can buy ready-made glass etching cream called 'Armour Etch'(see link above). It's safe and works well on flat glass.
---
armour etch
by: Anonymous
they sell the etching cream "armour etch" at michaels, or alternativly they usually have it on ebay
---
Etching Cream and everything else
by: Stickem_Deacls
I use Armour Etch, works great, and fast shipping
---
Hydrofluoric acid
by: Anonymous
I work in a chemical plant that uses hydrofluoric acid in some of our manufacturing processes, I CANNOT possibly emphasize this enough DO NOT MESS WITH HF! This is an EXTREMELY hazardous chemical. Carefully take it back to where you got it.
---
can tint be add to etcthing cream
by: nell
Can i add a tint or paint to the galss etching cream.
It won't do any any good as it will be nullified by the glass etching creme and won't register as a colour. Good idea, though!
---
glass etching
by: Anonymous
Hi.
Thank you for posting that question and your comments! I have been searching for the cream too, but it seems all the places I have tried either only do sandblasting, or have been out of stock for 7 mnths(!) and only getting new stock in next yr.
I was considering making the stuff, but was uneasy about the idea. After reading this I'm not going to take the chance. I think I will have to resort to sandblasting instead, I hope it works as well.
Milly says: Thanks for posting. Etching is definitely the most dangerous process I do, and only then in an industrial fume cupboard. Sandblasting will make the glass opaque, but you can work with that contrast between opacity and transparency to very good effect. Don't forget to wear a mask!
---
Concerned for your safety!
by: professional HF user
Hopefully you only have a few centilitres or less of this stuff…
Please, if you don't know what you are doing – take the HF back to where you got it from.
It will be in a far more concentrated form than in the cream (by about 100,000 times). This stuff can kill you, painfully and without you knowing until it's too late. You should not be breathing the vapour. It should not be in the same building as children. It should be kept, mixed etc it the same type of material container as it came in – so what do you intend to do with the excess and the waste? What do you do if you spill it? And we haven't got to mixing it with other materials yet!
If you need to know more, look up MSDS material data sheet on chemical company websites.
But please take it back until you have sorted the information out.
Never use buffered HF.i.e. with a salt added – it's far worse.