by Sarah
(UK)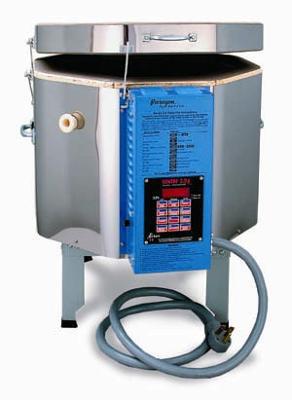 Paragon Kiln – Fireluxe
I purchased a Paragon kiln – the fireluxe model – as I wanted to do ceramic work as well as glass casting. I've now got it wired up, but am too scared to try it out!
I've done glass casting on a small scale (in my little hobby kiln), and on a bigger scale on courses (but on these, the instructor does the firing for you)!
My problems are, venting the kiln… I've heard you mention on here that you need to vent the kiln on the way up, to burn off fumes… any chance you could advise me when I need to do this, and how long for??
The fireluxe comes with a sort of jointed 'arm' which I think is something to do with venting – the one I've been shown on my last course had sort of bungs in the front that you could take in and out, but that was a HUGE kiln!
Milly's reply: Hi Sarah, I'm not surprised you're scared, it always takes a bit of time turn a new kiln on, let alone finding out about all its idiosyncrasies!
A Paragon kiln is a good choice, but I'm not familiar with this particular model (pictured). Because it's primarily a ceramic kiln – which of course you can fire glass in – the kiln vent might be set up to let a bit too much air in if it is opened as far as it is in the photo.
I'm assuming it has the facility for just opening it just a small bit, rather than fully?
It looks like it has bungs in the side, too? If so, I would be inclined to use those to vent your kiln, rather than opening the lid, especially if you ever decide to fire flat glass on the top kiln shelf.
You vent a kiln to burn off and release gases from anything that you might've added to your glass – eg fusing glue, glass paint – to make sure that it won't cause devitrification.
Just leave the bungs out/lid open a fraction until your kiln reaches about 550C/1022F. That should be sufficient to burn off all the fumes. Then close the bungs for the remainder of the firing schedule.
Good luck with your new toy… there isn't much damage you can do with it, unless you try really hard!