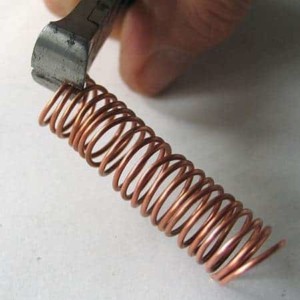 Do you buy ready-made jump rings for hanging your suncatchers? Expensive, aren't they?
Here's a tutorial showing how to make your very own rings from wire by winding it around a stick of bamboo and cutting them with wire cutters.
It's a simple trick and will save you lots of money if you need lots of rings for your sun catchers and free hanging panels.
You can even upcycle by using wire taken from discarded electrical wiring. In fact, there's nothing to be said against doing this!!!
And once you have rings filling your craft room, you can learn how to attach them neatly in this tutorial too.
Get thee over there immediately!