Making the Most of Scrap Art Glass
If you're anything like me you'll have small bits of left over and scrap glass in containers in your workshop. They're FAR too nice to throw away but too small or not right to use in a project.
But did you know that Tiffany himself started making his stunning stained glass lampshades as a result of piles of scrap glass?! Here are some ideas to inspire you and fire up your scrap glass imagination.
They're by students of my online stained glass classes – thank you each and every one of you 🙂
Janusz Niedzielski has shared a raft of great scrap glass ideas ranging from clocks to boxes to very nice lampshades:
What about a scrap glass stained glass bridal bouquet?! Kristina Gintautiene has shared her truly ingenious and beautiful idea with us:
Or another boquet idea from Laurie Schonhofer. The edges are solder. The stems are a mix of brass rods, and 12, 14, and 20 guage silver plated wire.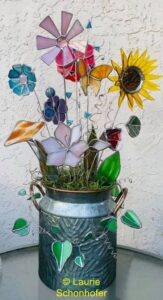 Steven Clarke sent pictures of this lovely transom window made from waste art glass:
And here are lots of fantastic ideas from members of the Stained Glass Hub (my private student community) who have kindly given permission for me to share their scrap glass creations:
Here is another idea from Aristide Hagiu
The challenge of using scrap glass well is being able to get the glass to work together to suit the scrap project. It's very different from specifically choosing the glass. It's a fun conundrum!
Scrap Glass Questions
Question: As you know we always have pieces of scrap glass after completing a project (sometimes very small). Is there a rule of thumb for the size of scrap glass you would keep versus discarding?
Milly's Answer:
I don't go too tiny – 2″ square is as small as I'd go for special glass. 3″ square for more standard glass. Any smaller and overwhelm follows quickly!
If you're a mosaicist, any size will find a home.
Here are some more decorative ideas for smaller bits of scrap glass and wire
If you need some additional inspiration to get you started, you could have a look at this Stained Glass Project book by Lynette Wrigley (affiliate)
If you have any ideas of your own, I'd love to hear about them below. Thanks in advance.