Adding wire working to stained glass gives your project a whole new look. It adds detail that you can't get with just stained glass and copper foil alone.
Click the links below to go to the different sections:
Wireworking Eyes
Adding Wire Flower Stamen
Decorative Wire Working Spiral Tutorial
Using Washers For Eyes
Using Wire and Solder Together For Detail
Wire Working With Shells
These stained glass, shell and wire panels are COMPLETELY unique. They're lovingly – and patiently! – made by Carol Coffin.
Carol combs the beaches of Maine to find her shell treasures particularly after stormy weather.

If you don't live by the ocean you can buy bags of shells at local hobby stores. Try to make sure that they're sold responsibly and aren't denuding our beaches 🙂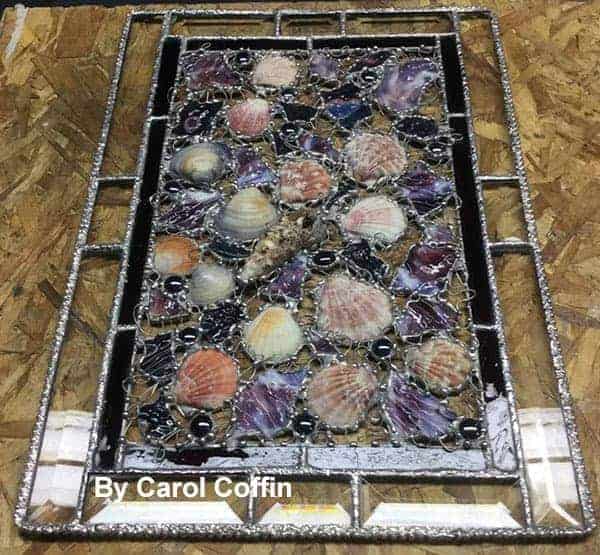 As you can see from the photo above, Carol obviously is very creative and has found this outlet. If you'd like to start creating totally unique stained glass you might want to look at my Plating Magic course. It shows you how to layer glass to achieve ALL sorts of stunning effects.
You need: drapery glass (you can use any stained glass but this glass goes particularly well with the shells), shells, thin wire, gridded paper, mosaic glass cutter or glass saw (if using drapery stained glass), needle nose pliers, KwikClean, wax
Instructions
Designing
Decide on the size of your panel and draw it out on gridded paper

Double borders are recommended to add strength

Start placing your shells and stained glass to your liking

Make sure that the corners have shells or glass for added strength
Foiling
Clean the shells thoroughly. This helps the foil to stick. Wash the shells and wipe the edges with denatured alcohol as you foil

Foil all the pieces, making sure you burnish securely in and out of the grooves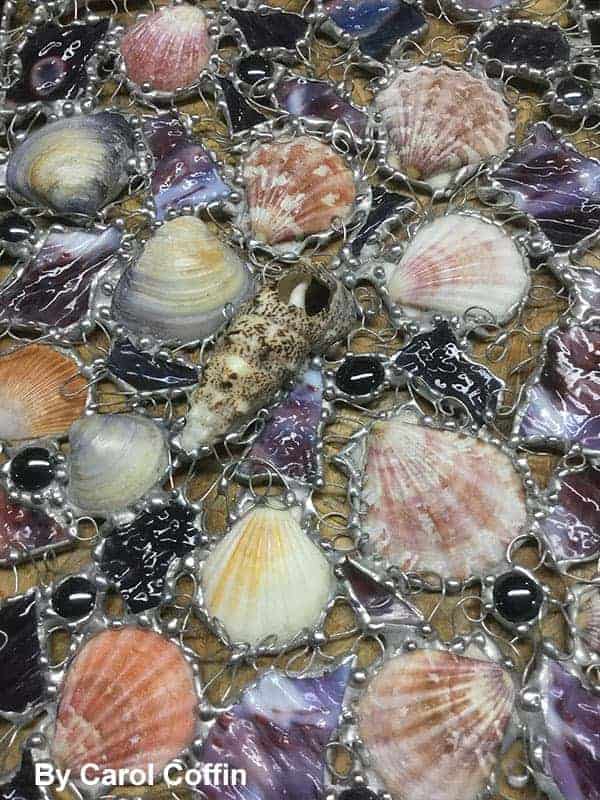 Wire Working and Soldering
Start connecting the shells and glass with the wire using the jeweller's needle nose pliers

Twist and turn the wire, soldering to the foil as you go

When you've finished make sure that the connections are strong enough to support the stained glass and shells. If not, add more.

Solder with little balls of decorative balls of solder

For the border solder just use the side tip of your iron tip to rough up the solder lines. Check with your fingers that you don't have sharp points. If you do just touch those points with the soldering iron to melt down the sharpness
  Finishing
Use KwikClean flux cleaner and lightly scrub with a soft brush. Your wire and solder will naturally darken in time

Polish the glass with wax
And finally a helpful  tip from reader Karen Forde about burnishing copper foil on shells:
I wanted to pass on a little trick I learned when burnishing copper foil on the glass beads or shells…after wrapping them in foil, put them in a glass or jar and spin it around in a circular motion. They come out perfectly burnished.
And there you have it; THE most amazing panel to wow both you and everyone who sees it! Thanks for sharing your secrets, Carol. She recommends this method only for those people with lots of patience. I can see why 🙂 You can see more of Carol's work here.
Plus here is another lovely example of shells in stained glass kindly shared by Bev Whitbeck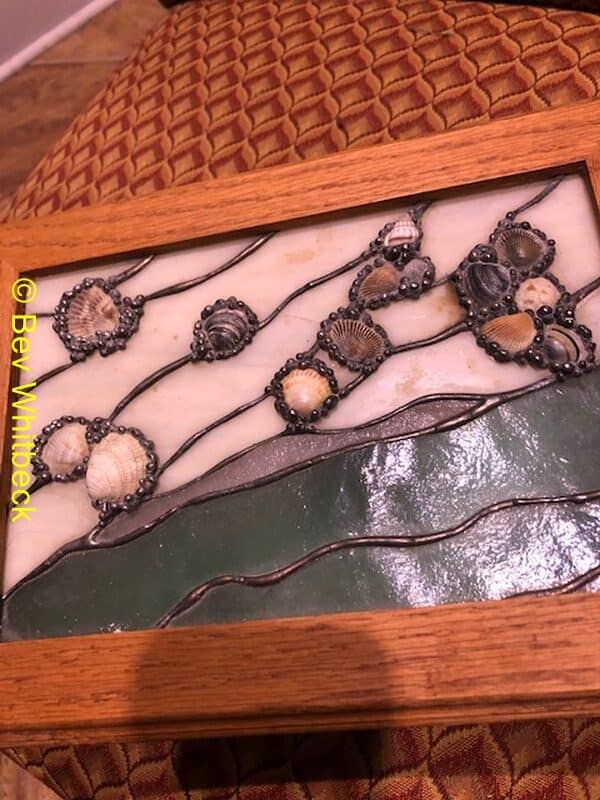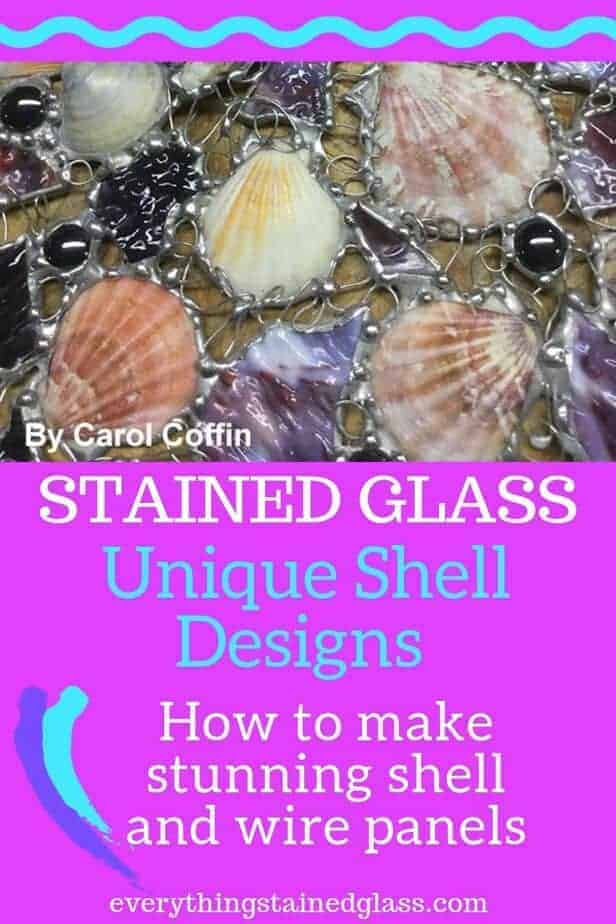 Adding Eyes With Wire Working

Eyes, eyes, eyes…how to add them without paint or glue?!?  Sticking copper foil directly on to the glass and soldering over it is an option but can be quite fiddly.
You can also use a single drop of solder if you have a solder line close by. This too can be tricky as the blob can melt into the solder line or end up too big and too flat.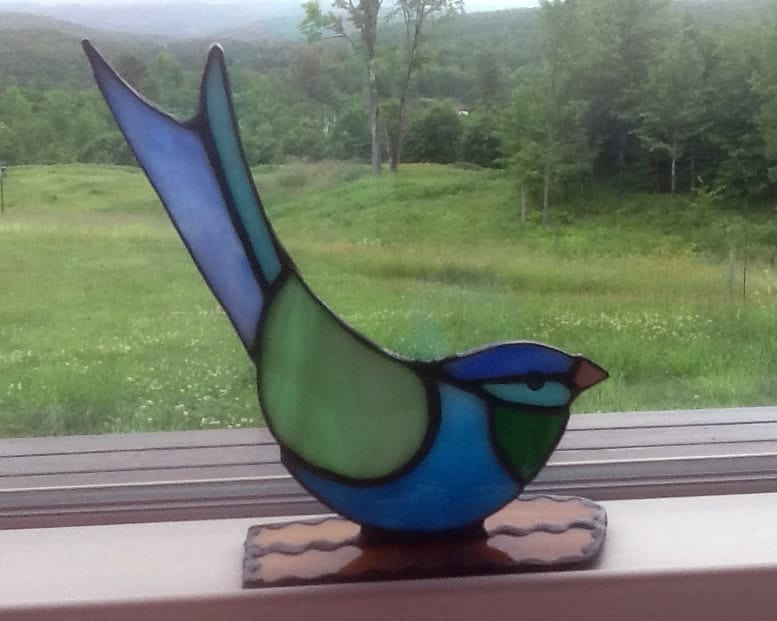 Wire working offers another option. You'll need a length of thin copper wire. Recycling old electrical cord is a good source of copper wire. Just strip the coating off and use a thin strand.
Wind the thin copper wire around a small paint brush handle 3 or 4 times
Leave an inch 0r so to give yourself a handle to work with
Slide the 'mini spring' off and press it flat – see photo below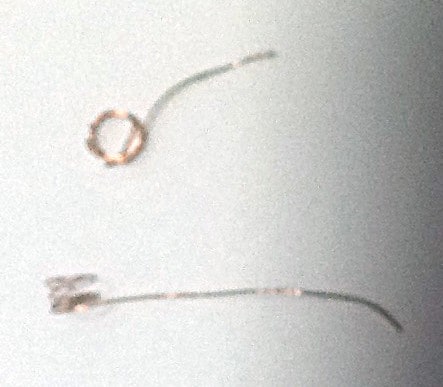 Add a small blob of solder to the circle and wait for it to cool
Position the eye where you want it and add another blob of solder to secure it
Cut off the handle and wash, patina and wax as normal
Try using this technique in different ways and see what stained glass decorative delights you come up with!
Thanks to Vicki Farrell for this simple and effective solution.
Other Methods For Adding Eyes
If you want to use glue to stick the solder eyes you can use E6000. If this doesn't work for you, try KOA 300. It's a UV glue so has to be kept in the dark when not in use. When you're ready to use it, the piece of stain glass has to be put in the sun for the glue to adhere for 3 to 4 hours.
You can also drill a small hole and melt a tiny blob of solder into the hole for an eye.
Adding Wire Flower Stamen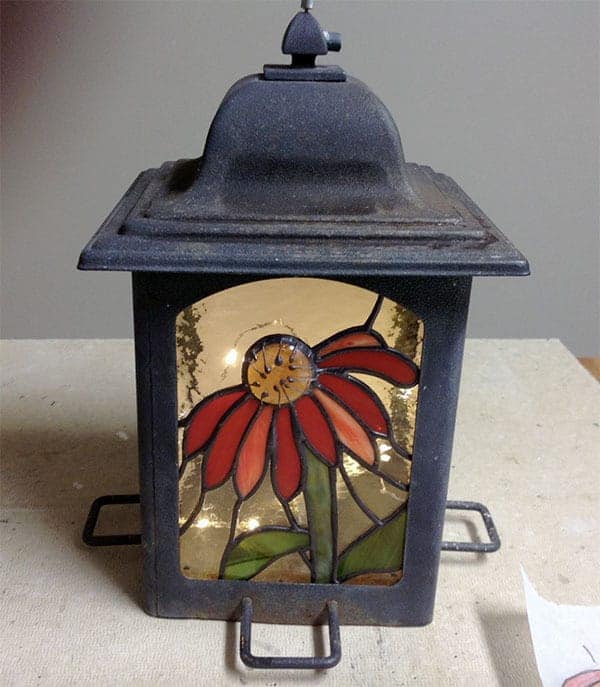 Can you see the gorgeous detail Denise Whittle achieved by adding wire working stamens at the centre of the stained glass flower above? It gives a real 3-D effect to the project.
You can tin your own copper wire by holding one end with pliers and quickly running an iron tip along the length of it.
If you're feeling lazy you can buy wire already tinned. I dare you to go look at Artistic Wire's range and not come away with a whole selection!
Wire at Amazon* (affiliate link)
How to Use Wire Working To Add Detail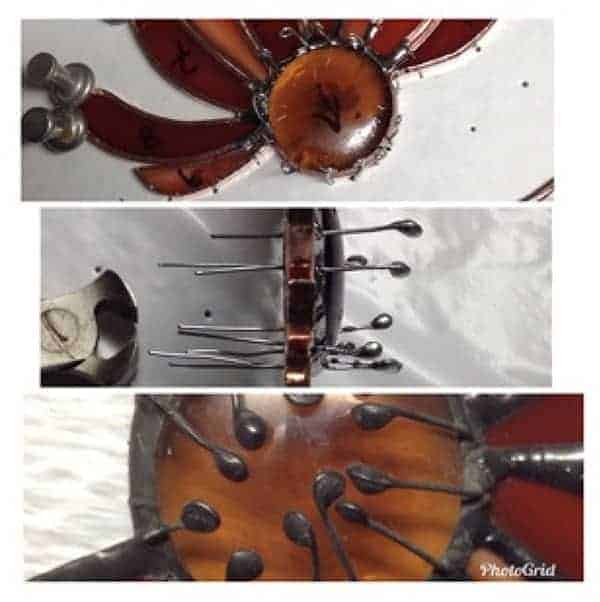 This is an ingenious way of adding decorative wire to your stained glass projects:
Snip little pieces of 22G wire and make loops at the ends to drop a solder ball onto

Poke the wires in all around the nugget at different levels

Solder the flower and clear glass at the top of the nugget. The wires should stay put

Lift it up and snip the wires off very close at the back

To solder the back, place the nugget over the edge of the styrofoam board 

The solder bead on the back side will cover the little end nubs

Leave the wires sticking up until you finish the panel

Fold them over after the patina stage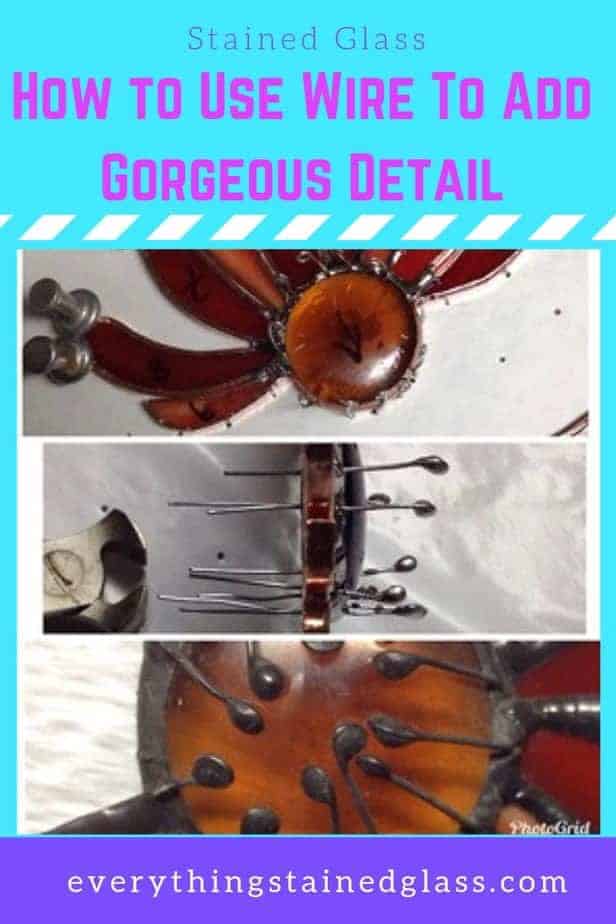 Using Washers For Eyes
Reader Rob Exton has a very clever technique for making eyes. He simply uses a washer and solder.
Start with a little blob or peak and slip on a copper washer
Melt the peak to trap the washer.
You can leave the washer with a copper rim for a 2-tone effect or cover the whole washer for a perfect circle. Both methods are illustrated here.
I think you'll agree that the result is much neater than wire.
Lovely Examples of Wire Working
Reader Gail Shears has very kindly shared these ideas and images with me.  They show that wire adds those lovely details that elevate your work. Gail has added wire aspen leaf stems, columbine back petals, pine needles and foil covered hummingbird beaks. She's also used them for ski poles, fishing poles, lines on a sailboat and whiskers.
You can also use copper wire bent in small inverted V shaped hooks to solder on smaller items to use as hangers.  They blend in perfectly, especially if you use copper sulphate to bring a copper finish like Gail does.
Decorative Wire Working Spiral Tutorial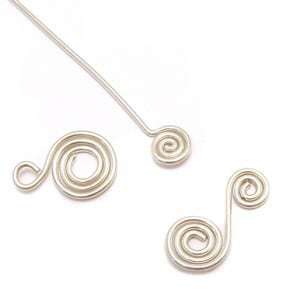 You know those decorative wire overlays that add lovely accents to your stained glass work? Fancy having a go?
I've found a brilliant video tutorial for beginners by Beaducation.
This particular one shows you how to make two types of lovely spirals. If spirals aren't your thing the techniques with the pliers could be used for other wire working shapes.
There's lots of other videos on the Beaducation site. Have a snoop around with your 'how can I use this in stained glass' head on, and see how you get on.

Using Wire and Solder Together for Detail
This is a lovely idea. Alison Rowley Weir spotted a similar technique on Pinterest and replicated it to make the feet on this fabulous rooster. She says she used wire and soldered over it. She had to do it over 4 or 5 times to get the effect she was looking for.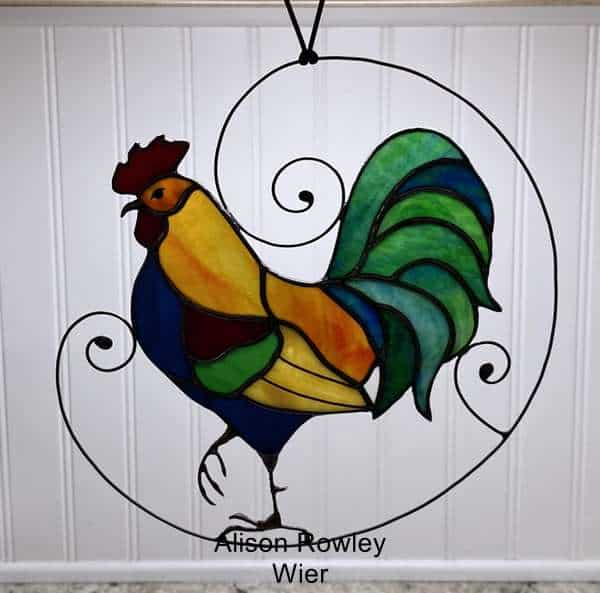 Take a look at this clever use of wire and solder in Beanne Rothenberg's watery crab panel. Zoom in to see the wire detail. Very nice.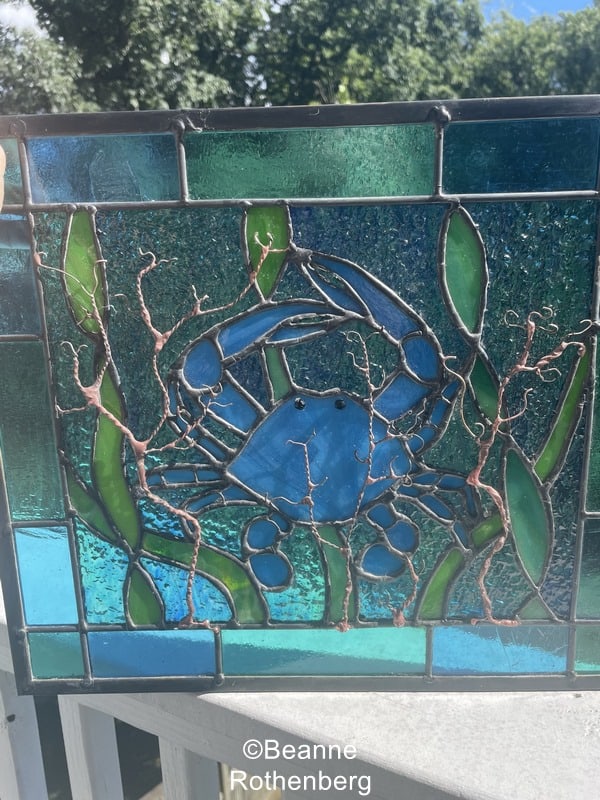 Have a look at another decorative soldering idea here
For more detailed homemade jump ring instructions go here
Return to Home Page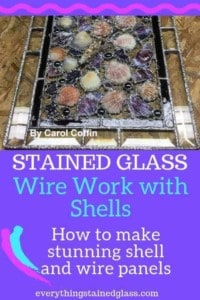 Using Mirrors in Copper Foiled Stained Glass
Want to see more decorative techniques? See this page on stained glass overlay.