This is such a fun project for your grand/children. What pleasure the children get from it, and you never know; maybe it will inspire a new generation of stained glass artists in the future. We have to keep this beautiful craft alive 🙂
I made something similar with my niece's drawing waaaaaay back (see below). I used permanent paint which was then fired in a kiln. My parents still have this simple stained glass panel hanging in their house decades later. We love it to this day.
Foil Overlay and Glued Shapes
Reader Ron Dinsdale made these two lovely simple stained glass panels with his grandchildren. He says that 4 years ago he asked his then 7-year-old and 5½-year-old grandchildren to draw a picture of whatever took their fancy.
He then interpreted their drawings in stained glass (see images, below). He used a combination of regular foil work, cut-out glass (figures, trees, flowers) stuck on with 2-sided tape, and foil overlay.
It didn't take too much time and the children were delighted to see their works reproduced in another medium. The pieces still take pride of place in their bedroom windows years later.
Ron's Foil Overlay Method
Stick strips of foil on the glass, fid them down well and leave them for 30 minutes or so to bond
Cut them to shape with a sharp hobby knife and peel away the excess
Flux gently and tin to get a fine bead
Apply the iron quickly so the glass doesn't crack and the bond doesn't come unstuck
If the foil slides, I discard it, clean the glass and start over. That happens maybe once in 20 times
These really are special aren't they?
Foiled and Leaded Drawings
Berna Verstappen interpreted her sons' and grandchildren's drawings into cuttable pieces. She successfully managed to keep the spirit of their drawings to create wonderful individual sun catchers.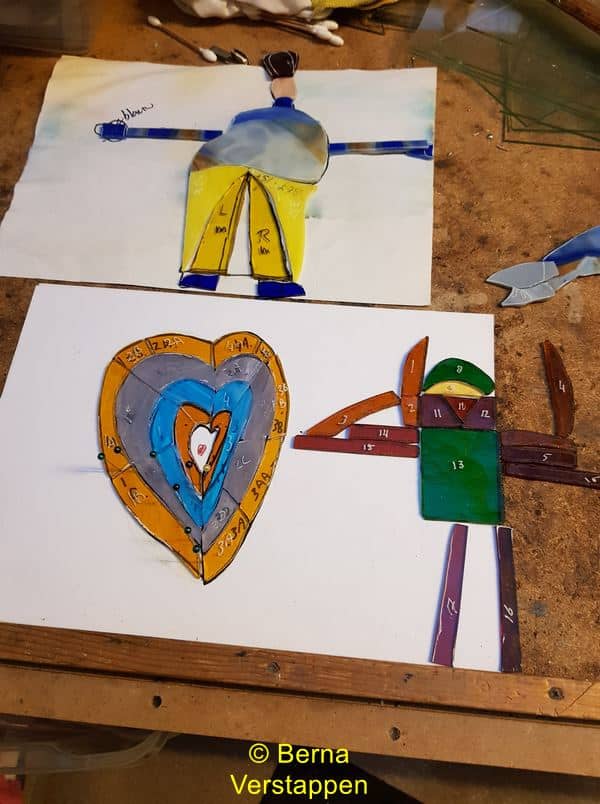 Kristina Gintautiene took her grandson's "signature" bird drawing to make this simple stained glass panel. She then added the background to illustrate his favourite book series about Frightful, a falcon on Green Mountain. How fabulous is that?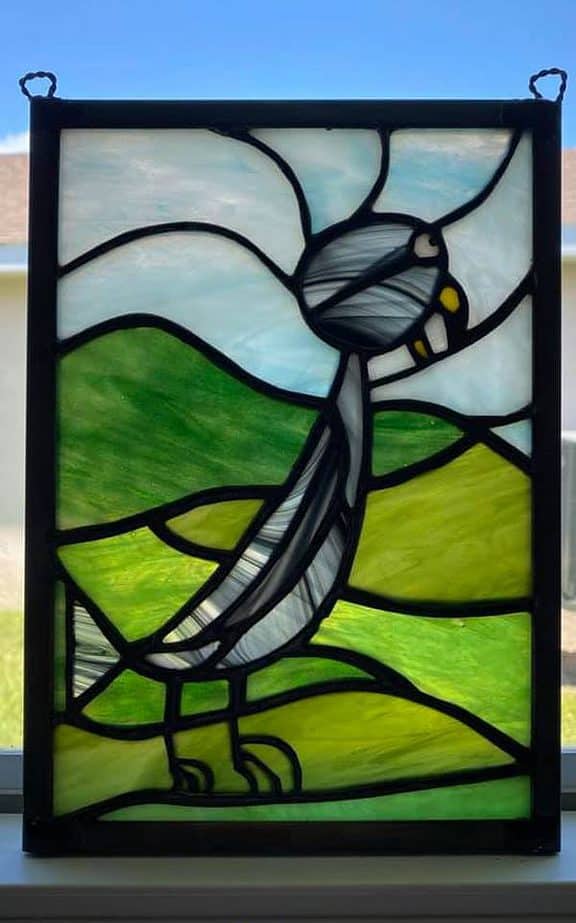 Commission Ideas
You can also use this idea for paid stained glass work.
Linda Sheldon expanded the scope of her school garden commission by mentioning that she replicated children's artwork into simple stained glass sun catchers.
The headmistress suggested that this idea could be used for their Centenary Birthday celebrations. Way to go, Linda 🙂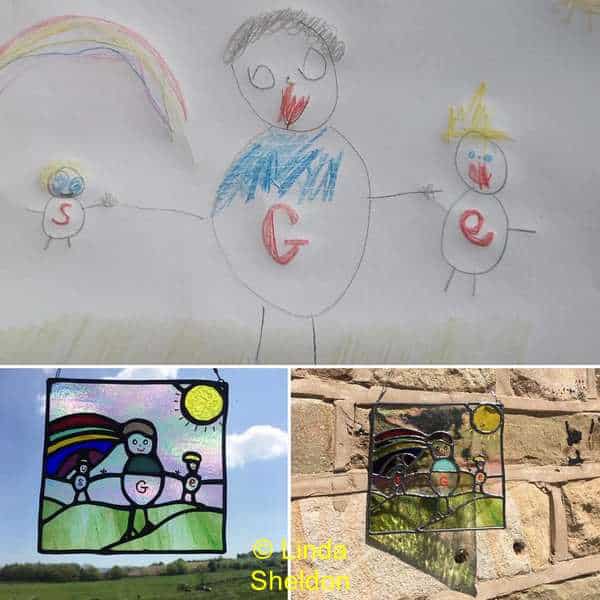 Engraving Drawings
You could also use a Dremmel to hand engrave some simple children's drawings on to a panel. These were some of mine that were incorporated into a larger stained glass commission.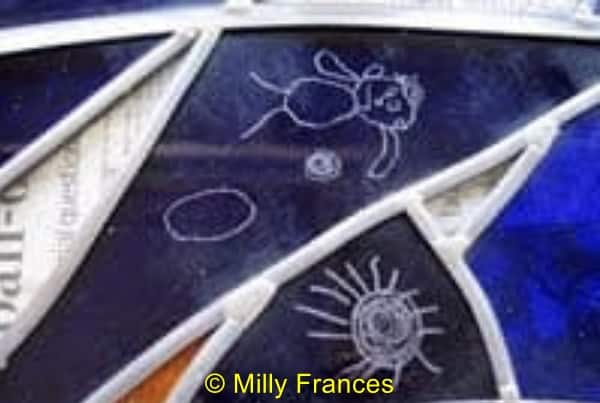 I hope you've been inspired to steal your children/grand children's drawing and having a go at this with them. They won't forget it in a hurry.
These ideas and examples have been generously shared by readers and my online students. Thank you all, what a lovely group of projects.
Resizing Drawings
If you want to resize one of their drawings I suggest looking at Rapid Resizer (see below)