Best Stained Glass Soldering Iron
Top Performing Soldering Iron
Your stained glass soldering iron is one of the most expensive items in your kit. And so it should be!
It's a false economy to buy a cheap stained glass soldering iron and find that it doesn't solder properly. There's nothing more disheartening and it may put you off stained glass forever.
On this page you'll find:
helpful reviews of the best soldering iron around to help you choose wisely
the important features to look out for before buying one
Best Stained Glass Soldering Iron
Recommended
The Hakko FX-601 Soldering Iron
Starting at the top, we have the Queen of stained glass soldering irons, the Hakko FX-601 (paid link). This ticks all the must-have and wish-list boxes. I waited quite a while to buy mine but now I absolutely love its heat retention, adaptability and lightness.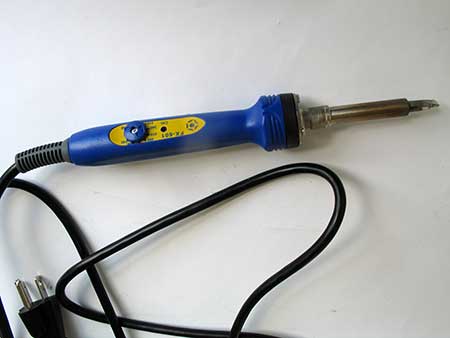 Pros
Not only is the temperature thermostatically controlled, it combines the latest highly efficient ceramic heating element
This ceramic heating element enables these soldering irons to reach temperature very quickly and to maintain it consistently over prolonged periods. The light flashes when it is ready to go.
This avoids the annoying 'cold' spots that you sometimes suffer with other stained glass soldering irons when they attempt to recover heat.
The new ceramic heating technology is also cheaper to run than soldering irons with the more conventional temperature controlled tips.
Easily Adjustable
Handy built-in control that can be adjusted to 6 different temperatures. For regular foil soldering tasks I use 360 or 410. For leading projects I use 360.
Being able to change the tip temperature adds versatility and means that this iron can be used for all types of stained glass projects.
It's very light which gives you lots of fine control over your soldering. If you're doing hours of soldering you won't get tired holding it.
Cons
There's only a couple of occasional problems:
1. This hasn't happened to me but I've heard it sometimes suffers from 'burn on', which is when the tip fuses to the iron barrel that holds it. To avoid this I suggest doing the following before you turn it on:
loosen the nut
turn both the tip and the barrel
it's worth applying a TINY amount of anti-seize grease
then re-tighten the nut and turn it on
2. if you're NOT in the USA or Japan, you'll need a step-down converter (sometimes called a transformer) – at least 100W- to use this iron.
I bought my transformer in an electrical store and have had no problems at all.
Everything else about this iron is fantastic.
Rating
The Hakko FX-601 * professional quality soldering iron is lightweight, cheap to run, heats up extremely quickly and maintains temperature beautifully. 9 out of 10.
*Just so's you know, if you click and buy through the link within 24 hrs I get a small % from Amazon, (not you!). Thanks in advance but no worries if you have a local store – I'd always support them first 🙂
Other Stained Glass Soldering Irons
The Weller 100 Watt Iron

The Weller 100W Soldering Irons are just right for those who are starting out and who want a very good iron at a decent price. I used one for years and years until I bought the Hakko FX-601.
I still regularly use them as an alternative.
Comes with a 3/8″ 700 degree tip.
Pros
– These soldering irons reach temperature in a couple of minutes.
– Weller 100 soldering irons are easy to use for beginners as the tip is thermostatically controlled. This means you don't need to adjust the temperature while you're soldering nor do you need an expensive rheostat (separate temperature controller).
– It's the most popular stained glass soldering iron and many accessories are easily available.
– The iron is lightweight and easy to maintain.
Cons
Very occasionally this iron will experience cool spots. This is when the temperature drops and it will need to rest for a minute or two to regain its heat.
Rating
The Weller 100 is lightweight and well balanced. It works well with different types of solder. These soldering irons are great for those not wanting to spend on the Hakko. 8 out of 10.
The Studio 100 Iron

The Studio 100 Iron is great value but I'm not sure if that is enough to recommend it.
The main difference between this and the Hakko FX-601 above is price, temperature flexibility and running efficiency.
The Studio 100 soldering irons have a temperature controlled tip which has a set (rather than adjustable) temperature – normally around 750F – which the iron reaches and then shuts off.
Once heat has been lost from the tip it has to turn itself on again. This causes 'cold' spots stopping it melt the solder.
Cons
– More costly to run as the thermostat than the irons with ceramic heating elements.
– Cold spots experienced.
Rating
The Studio 100 soldering irons come with a one year manufacturer's warranty and have replacement tips in various sizes available to buy.
However, with commonly experienced cold spots I would pay the extra for the Weller 100. 6.5 out of 10.
What To Look Out For In A Stained Glass Soldering Iron
There are three key things to consider when looking at stained glass soldering irons:
First, temperature.
Your iron should have a heat capacity of between 80 and 200 watts.
– The exception to this rule is irons with the ceramic heating element, like the Hakko FX-601 above, which is a far more efficient technology and therefore needs less wattage.
– When you are soldering stained glass, you want the tip to reach and maintain a certain temperature to melt the solder evenly.
Second, weight.
You might be using the iron for prolonged periods of time, so its weight and the balance between the handle and tip are important.
Thirdly, versatility.
There are different tips and temperatures needed for various soldering tasks.
– The best irons can be adapted to suit all types of projects. – A standard ¼" tip is great for copper foil or lead came projects, whereas smaller tips are better for decorative soldering.
– Being able to adjust the temperature of your iron means that it can be set at the melting point of the solder you're using and give you perfect results.
Helpful Resources
This is a useful 2mins 30 second video explaining some of the different tips you can buy for stained glass soldering irons. It tells you which ones are best for which kind of project.

Video explaining the types of tips available for soldering irons
A Readers Experience of the Hakko:
I have also upgraded both my glass cutter and soldering iron (both replaced with products recommended by you) and they make the process so much better. The proper tools really do make a difference. I feel that my pieces look better – that could also be due to practice 🙂 – but there's a lot less frustration with each step.
Hakko FX601-02 soldering iron and the Toyo Supercutter glass cutter  both much better quality that what I was using before. Well worth the extra money.
Polly Smith-Blackwell USA in New York State/Chemung County.
Question from a Reader:
Q.I have the hakko 601-02 solder iron, love, Love, LOVE it. having a hard time finding small tips, what am I looking for as I can't find the right ones?
A. You want a chisel tip – for this iron it's the T19 range, shape D on this page: (none of the links below are paid links)
https://www.hakko.com/english/tip_selection/series_t19.html#type_d
You can buy different sizes here:
https://www.tequipment.net/Hakko/T19-D32/Tips/
or here at Anything in SG:
https://www.anythinginstainedglass.com/tools/ironsHakko.html
I'd try a couple out and see which width works best for you. It depends what you're doing, too. Small delicate tasks are better tackled with a smaller tip.
There's a page focusing on soldering iron temperature questions here
Find out about other stained glass tools for the Tiffany technique here.
Return to the Everything Stained Glass Home Page.
https://everythingstainedglass.com/soldering-irons
https://everythingstainedglass.com/wp-content/uploads/2016/08/xhakko-fx-601.jpg.pagespeed.ic_.SsoolVYjKe.jpg
https://everythingstainedglass.com/wp-content/uploads/2016/08/xhakko-fx-601.jpg.pagespeed.ic_.SsoolVYjKe-150x150.jpg
Stained Glass Tools
Cornerstone,Soldering Tools
Top Performing Soldering Iron Your stained glass soldering iron is one of the most expensive items in your kit. And so it should be! It's a false economy to buy a cheap stained glass soldering iron and find that it doesn't solder properly. There's nothing more disheartening and it may put...
Milly Frances
Milly
Frances
millyfrances@gmail.com
Administrator
Everything Stained Glass