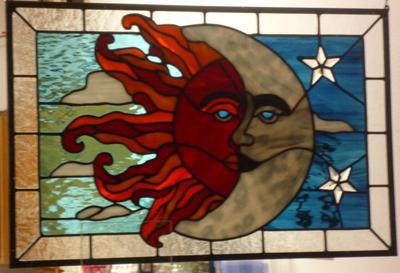 Taken from outside at dusk by Audrey
I loved making this piece because of the extreme opposite colors. It has become one of my favorites. I've been doing stained glass for four years. Each piece is a learning experience!
Milly's reply:
This is really great Audrey! I like the way you've used transparent glass around the sun and moon, but opaque for the center. It makes them stand out and means that it will work both at night and in the day.
Great choice of glass colors, too. Warm and cool, just like the planets they're representing.
I know exactly what you mean about 'learning experience'. That's what I love about stained glass – you never know it all, there's always something new.