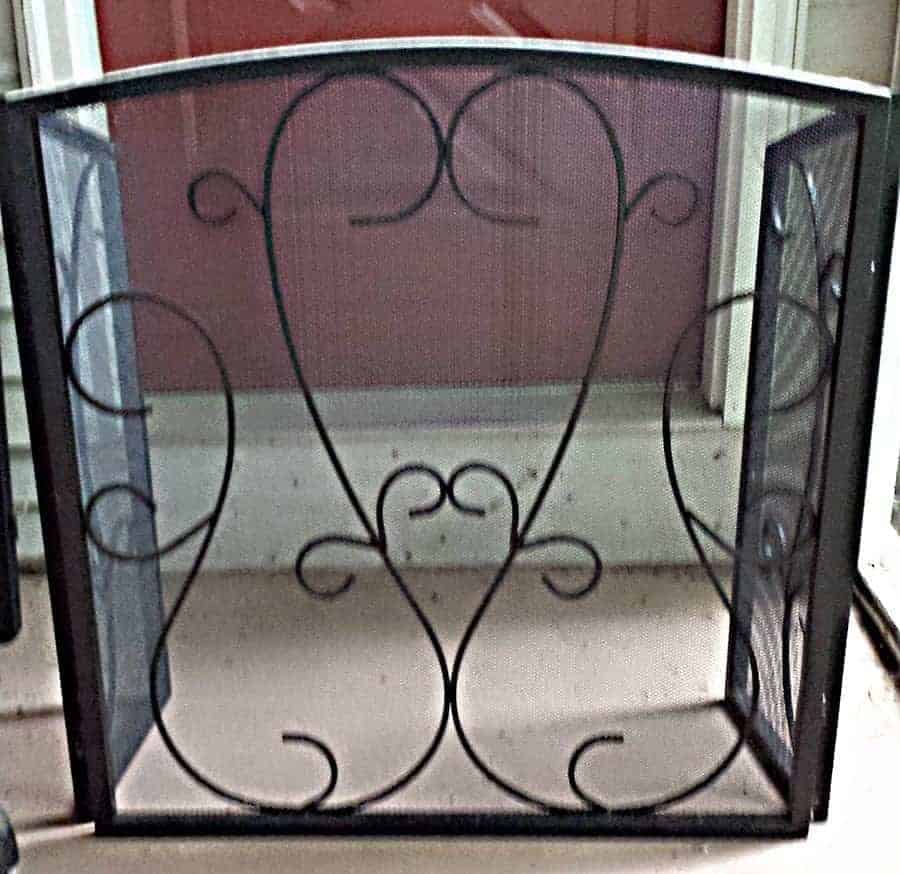 Ever picked one of these fire screens (or similar) up from a thrift shop?
I was asked for some ideas for incorporating stained glass into it and came up with these suggestions:
1. Use the metal work to your advantage
The metal work is quite dominant so I would be inclined to try and introduce smaller elements of stained glass that were somehow attached to the metal framework, rather than filling it all with stained glass. That way the finished stained glass fire screen won't be too heavy – both physically AND design-wise!
2. Work out the fixings first!
It' s a bit tricky for me to help with the details as I can't see the fixings very well. Figure out what's possible first, rather than spending time on the design only to be thwarted…
For example, try and see if the solder sticks to the metal – that would make things easier!
If not, you could attach wire to your stained glass inserts and then wrap it around the metal to secure it on.
It might even be possible to drill small holes in the metal to attach your glass to.
Don't leave any fixing stone unturned!
3. Design tips
Decide what the curls and swirls suggest to you – it could be trees, flowers, pitchers of water (well I can see them!) and then design something in keeping.
Sketch out the metal framework to scale and photo copy it so that you can play around freely without having to sketch it out over and over.
If you do use wire to fix your glass elements on to the screen, make sure you use it in a way that compliments your design. It could be shaped like leaves if you chose a tree theme, for example.
Good luck and feel free to post any fire screens you have done yourself.
Here's one of mine below. I was helped by the fact that the frame is made of wood so there was no fixing problems. The white background is semi-transluscent plexiglass which I cut with a band saw before inserting the leaves.