Best Stained Glass Grinder For Quality And Value
The stained glass grinder will soon become your best friend although strictly speaking it is not essential for making stained glass.
Once you have one you'll wonder how you did without! Did you know there are many other creative things you can do with a stained glass grinder, for example drilling holes and bevelling?
The main things to consider when thinking of buying a grinder are:
size
power (or torque)
whether it can easily be adapted for drilling or bevelling
the availability of replacement bits
Compatibility with other manufacturers' products is also worth thinking about. You may want to benefit from specialist stained glass grinder accessories such as drilling bits and ripple bits for textured glass.
Best Stained Glass Grinders
Glastar All Star G8 Grinder – 
Recommended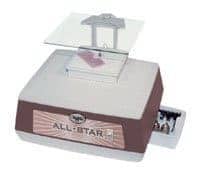 The Glastar All Star G8 Grinder is the Rolls Royce of the grinder world.

Efficient and reliable, it has that quality feel about it that you only get with the best.

It lives up to its promise by being sturdy and long-lasting.

I've had mine for years and have had no trouble with it.
Despite having lots of useful extras, it's light, easy to assemble and to clean.
Pros
one of the quickest and most powerful grinders, running at 3560 rpm with a 1/9 hp motor. This means it eats away glass faster than other grinders. No more sore fingers!
boasts a very generous 11" X 13" work surface which is great for bigger projects. The larger area means that the stained glass grinder feels very safe and stable.
compatible with virtually all the accessory products available, which makes it a very valuable and adaptable part of any stained glass kit. You can drill through fused glass easily with the drill bit.
handy drawer for accessories, along with a coolant drain. If you're like me and are always losing your stained glass grinder accessories, this is a very helpful feature.
protective shield which helps stop the glass and water from spraying everywhere. I always wear safety glasses when grinding to be on the safe side but it does form a useful secondary barrier and stops you getting wet.
Cons
spare drill bits are a little expensive, although it comes with two grinder bits – 1" and ¼", which should cover most projects.
the built-in water pump is great for keeping the glass cool, but is a bit splashy.
Rating
The Glastar All Star G8 Grinder is a quality stained glass grinder that came top in the reviews. It's reliable and built to a professional standard and will suit stained glass makers at any level. 9 out of 10.
Is Grinding Glass Necessary?
The short answer is no, you don't have to grind glass.
You don't have to grind glass edges to make copper foil stick. If you don't believe me, try this test. Cut a glass shape without grinding. Now try sticking copper foil around the edges. Did it stick? I thought so!
I'm not sure why the myth of having to grind each and every piece of glass has come from. I DO know that it will waste a lot of your time.
A stained glass grinder should only be used to tidy up a piece of glass and get it to fit accurately.
Stained Glass Grinder Suppliers
Any local stained glass store will be able to show you these reviewed grinders.
Otherwise, most of the models discussed are available from Amazon online. They are very reliable and accommodating.
Everything Stained Glass receives a small percentage from Amazon (not you!) for any grinders bought by clicking through this site. I hope you find our review service helpful.
Other Stained Glass Grinders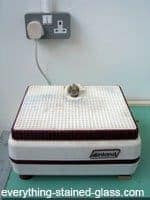 Inland make a whole range of grinders. The Wizling Cg is their most basic model. It's cheap and reliable and lasts.
It is incredibly simple to set up and operate and never breaks down.
You can use Vaseline for lubricating the shaft and inside the grinding bit to prevent it getting stuck.
-It has a reasonably sized 9" X 10" grinding surface, which adequately supports bigger pieces of glass as you pass them across the grinding bit.
– With a 3450 rpm motor and 1/22 hp, it isn't the most powerful, so if speed and power are what you need for heavily textured glass, or if you do lots of grinding this might be too slow and hard for you.
Rating
This is a cheap and cheerful grinder which is certainly up to most tasks. It is more than adequate if you can't find the extra dollars for the Glastar and will serve you very well. 8 out of 10.
Inland Wiz Cg Grinder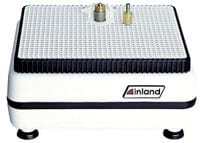 The Wiz Cg Grinder is a mid-range grinder.
With a 3550 rpm motor and 1/11 hp, this has more power and speed than the Wizling Cg and is a good bet for copper foilers who use their grinder more regularly.
– It comes with two grinding bits which is a plus, a standard ¾" and a smaller ¼" for more fiddly work.
– Both of these Inland grinders come with a 5-year warranty.
– You can also convert these Inland glass grinders for drilling by buying an adaptor and a diamond drill bit – they come in 3/8", 1/8" and 1/4", depending on the size of hole you need.
You can see it on Amazon HERE:
Rating
A very good all-round reliable grinder. Reasonably quick and powerful, but I'm not sure if it warrants the extra price-tag over the Wizling Cg. I'd rather spend the extra and go up market to the Glastar. 6.5 out of 10.
Helpful Stained Glass Grinder Resources
Here's a 1.5 minute video that shows you which way is best for grinding large amounts and some safety tips for your fingertips!
Video showing the best way to grind glass
Tips For Grinding Small Stained Glass Pieces Accurately
What you need to know about other stained glass tools is here.
Return to Everything Stained Glass Home Page