Grinding small pieces of art glass accurately – without losing your fingers!
Click the links below to go to the section:
Stained Glass Grinder Cookie
Grinders Mate and Other Grinding Tools
Make A Grinder Jig For Bevelled Edges
Additional Grinding Tips
Cheap & Cheerful Finger Protection
Sometimes you have to be able to accurately grind small pieces of stained glass to get a good fit or for detailed designs. The small pieces put your fingers in the way of the grinder bit and can be difficult to manage, especially if your fingers are less than nimble.
I asked how others manage the tricky problem of grinding stained glass by hand and had some interesting ideas shared. Let me know if any of these are helpful or if you have a different trick up your sleeve that you would like to add in Comments below.

1. Stained Glass Grinder Cookie
Milly's recommendation:
This is the tool I use for grinding small pieces of stained glass painlessly and accurately. It looks a bit like an unsuccessful flying saucer but is actually does a fine job holding small bits of glass in place when grinding.
I was a bit sceptical first, thinking that my fingers do the job fine, thanks. But I've been trying them out for a few years and now think they're great.
Because you have more control over the grinding process there's less breakage. For the same reason they seem to help preserve the grinder bit.
The Grinder Cookie is comfortable to hold, you don't need to grip anything tightly so it's good if you struggle with dexterity.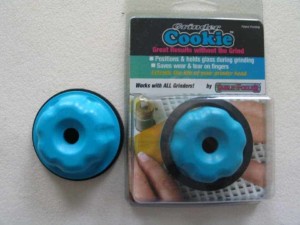 It is also good for grinding shapes that taper off into thin tips. I bought a few for my classes and tried using two together, which meant I didn't have to hold the glass at all. The glass grinder cookie also stops you wiping the pen lines off with your fingers, which is a big plus.
Best of all, it saves your nails and fingertips and lessens the cramp you sometimes get when grinding tiny pieces of glass.
All in all, I stand corrected. This is a very useful addition to a stained glass kit and comes recommended.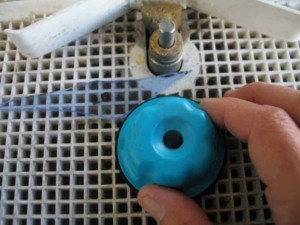 Stained Glass Cookie Grinder (*paid link)
The following suggestions have been kindly shared by members of my Stained Glass Hub community and readers – a big thanks to all!
Tips on art glass cookie grinder alternatives from readers:
This is a great idea for a cheap, effective DIY version:
I use the Stained Glass Grinder Cookie you show but found for even smaller glass pieces I made a pusher from a paint stirrer. I put a nickel sized 'U' in it and it works well.
2. Grinders Mate & Other Stained Glass Grinding Tools
You might find the following tips and discussions about different stained glass grinding tongs useful:
I was recently loaned a Nick's Grinders Mate to test out. I have to say that I LOVE it. If you haven't tried one yet, I highly recommend it. The jaws grip exceptionally well and hold even the tiniest piece quite securely. I have read that others don't like that the piece is elevated off the grinding surface and that this comes into contact with the bit at a raised point. This isn't a drawback for me.
I have the Grinders Mate and it works fine but teensy tiny pieces get lost in it.
I have Grinders Mate, but I found that the soft rubber doesn't wear well really tiny pieces "get lost."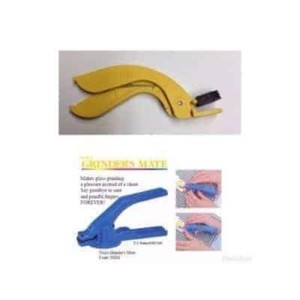 Comment from Milly: You can get replacement heads for these glass grinder tongs so the wear and tear described above isn't the end of the tongs, just a bit annoying!
Grinders Mate Replacement Heads (*paid link)
My art glass grinding tongs are the yellow Morton ones(*paid link), you have to clamp the glass piece down with your hand the whole time. I would recommend the Grinder's Mate though because it stays locked – no hand grip required.
While I was working on a fanlight, I stumbled across Griffin Glass Gripper (German made) grinding tongs that are marketed by Glastar. Like the Morton, you do have to hold them together to grip the glass, but so far, I've found them superior for holding super small pieces well. They seem to be a heavier plastic, and there is no soft rubber to wear and compromise the grip. The downside is price — they're a significantly more expensive than Grinder's Mate or Morton.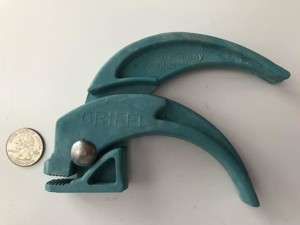 Just so's you know, if you click and buy through the link within 24 hrs I get a small % from Amazon, (not you!). Thanks in advance but no worries if you have a local store – I'd always support them first 🙂

3. How To Make A Grinder Jig For Bevelled Edges
This jig will enable you to angle the edges of your glass and create a mitred joint. These bevelled mitred joints can be used in a variety of 3-D projects, for example lamps and boxes.
These mitred joints reduce the amount of solder used as there is no gap to fill.
Use oak for the jig as it withstands getting wet from the grinder.
Cut an angle on one side of the oak. The angle will depend on your project. 45 degrees is perfect for a right angled box. You will need a lesser angle for a multi-sided lampshade. The photo shows 2 different angles.
Insert 2 pins in the bottom of the oak. These slot into the grinder grid and keep the jig in place. The placing of these pins is important as the jig has to be held close to the grinder bit. Use heavy gauge copper wire. You can see the distance needed in the photos.
Lastly, stick a strip of 'Slick Strips' tape along the top of the bevelled side to help the glass slide freely. You can purchase this from a woodworking supply store.
Thanks SO much to George Hight for sharing this gem with us. It is a great help for all the lamp and box makers out there 🙂
If you don't want to have so much control over the size of your angles you can get a ready-made lamp grinder bit like this one from Amazon (paid link).
4. Additional Grinding Tips
Here are some clever ideas from Stained Glass Hub member Denise Whittle, with a nifty storyboard to help you understand:
I use a +/- 1 or 2 inch strip scrap piece so I have something to hold on to. Grind that scrap for safety.
Grind around 3 sides, then score and break the 4th side and grind It. That way you only have to hold on to a tiny piece for one side.
I also have a Cookie Grinder that keeps it up against the bit but still if it is too tiny, it will disappear into the bottom of the grinder.
Another thing I do is to hold it up against the 1/4 or 1/8 bit directly either with my fingers or use the grinder tongs. You have to hold yourself steady because you don't have a work surface to support your little piece.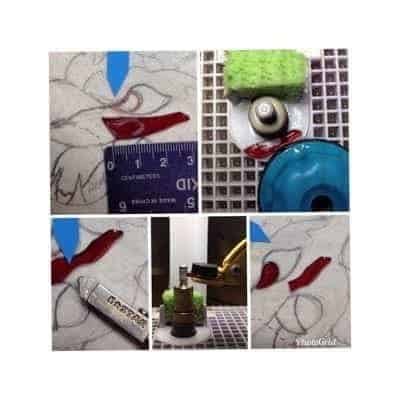 Image Denise Whittle
Here's an ingenious cork idea, although I'm wondering how safe it is to insert a small piece of glass in a cork so be careful if you try this.
I make a slit in a wine cork… slot the tiny piece of glass into it and hold cork while grinding :-). I will have to have people save for me as I also use them for burnishing foil on heavily textured glass too.
 5. Cheap & Cheerful Finger Protection
I got fed up with ground fingertips – the solution? Rubber thimbles! Easily found in stationery stores. For your thumb, get larger ones suitable for quilting, made from plastic. Here's some on Amazon (*paid link)
Alternatively, use adhesive tape – tape it over and back over the top of your fingers, then around the circumference of your finger/thumb to hold it on.
I have been doing stained glass since 2002. I buy the rubber finger protectors that you would use for flicking through papers etc. for grinding. I buy them in different sizes. I always have them on each thumb and either my index or middle finger (this way it allows either index or middle finger, depending on which you have the finger protection on, to be clear to pick up the pieces. This works better than tape as they are very easy to take on and off.
Idea from Ron – "I avoid grinding fingers (as much as I can) by using 2 erasers per attached pics. They grip the glass nicely"
So there you have some suggestions to help you grind small pieces of stained glass more easily and accurately, without putting your precious fingers at risk! Let me know below how you get on if you try any of these suggestions or if you have any others. Thanks in advance.
Glass Grinder For Accurate Shapes