Compare Value and Quality
Stained glass kits save you money but how can you be sure that the one you choose is both high quality and contains everything you need? I've checked out lots of stained glass kits for you and found 2 of the best so that you can:
be sure your money is well spent AND
get started immediately with good quality stained glass tools
1. Best Stained Glass Kits For Copper Foil
Recommended Purchase
The Stained Glass Start-Up Kit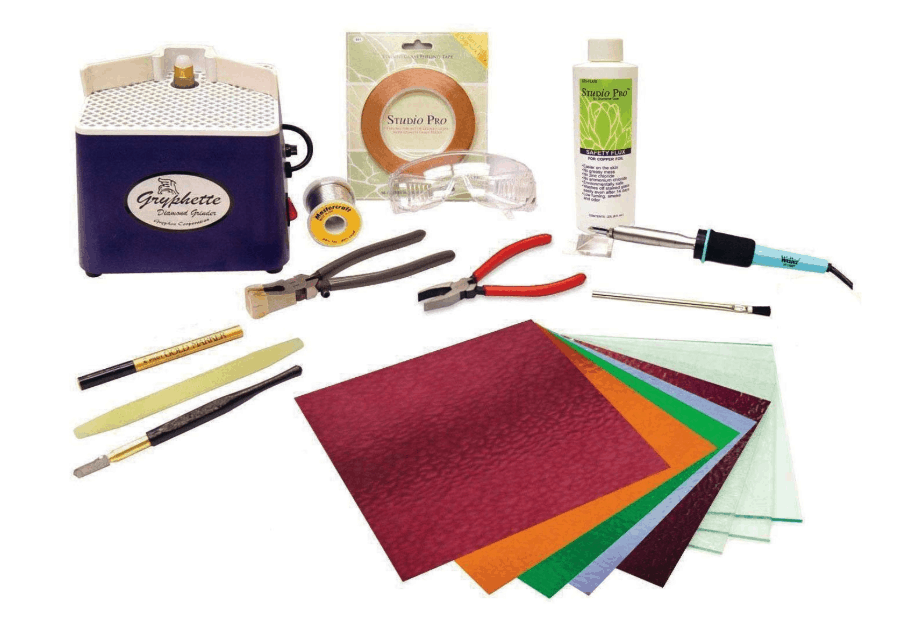 This kit is the best of the stained glass kits for copper foil I've found. It comes with absolutely everything you need to start making stained glass. Not only that, the tools are high quality metal rather than the cheaper plastic ones you find elsewhere.
What's Good About This Kit?
The 2 most important bits of this start-up kit – the soldering iron and cutter – are very good choices.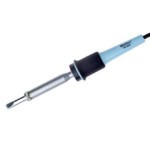 Soldering Iron:


It contains a Weller 100 watt temperature-controlled soldering iron. It's a highly rated iron, reliable and consistent, and is the iron that I have been using myself and teaching students with for over 20 years. An in-built temperature control in the tip is very important as helps you solder neatly by keeping the temperature stable.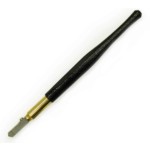 Cutter:

The Supercutter Dry Wheel Glass Cutter is a very high quality cutter with a textured shaped pencil grip to help you hold and cut easily. The head is replaceable – although you won't need a new one for ages as it is made of tough carbide steel. The cutter gives you control over the sometimes messy oil-filled cutters. You can choose oil or no oil – just dip the head onto a pot on to an oiled sponge if you prefer using oil.

Other recommended features of this Stained Glass Start-Up Kit: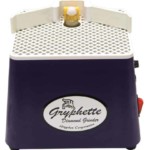 Stained glass kits don't always include grinders but I think they're pretty much essential for beginners. This kit comes with a very reliable Gryphon Gryphette Grinder. It comes with a free standard 3/4″ bit and a 5 year warranty (not for the bits though!). A powerful 3000 rpm motor will grind easily. The grinder accepts all standard bits so you don't have to buy a certain make.
The inclusion of a glass pack is good! You can't choose the colours unfortunately but 8 hobby sheets will be enough to make a few projects and get you started.
I'm very VERY happy to see that both the Breaker/Grozer pliers AND the Running Pliers are the long-lasting metal ones that I regularly recommend. No flimsy plastic here, thankfully.
Cons
I honestly can't think of one. I would recommend my Stained Glass Made Perfect course rather than the DVD here but apart from that, this has absolutely everything you need to start creating beautiful things with stained glass.
Rating
With the copper foil, solder, safety goggles and the DVD to show you how to use your new tools, this is an extremely fair priced and comprehensive kit for beginners. These tools will last.
Stained Glass Start-Up Kit (paid link) came out top in the reviews on every count. It's the best value, quality and contains all the essential tools so you're not paying for things you don't need.
I can't fault it. 10 out of 10.
2. Best Stained Glass Kits For Leaded Stained Glass
Recommended Purchase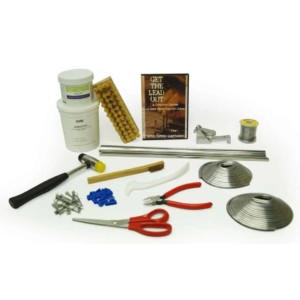 This kit is full of well-made and reliable tools and materials. I'm pleased to see that the Lead Nippers (sometimes called Lead Dykes) are of good, lasting quality.
It includes absolutely everything you need for easily upgrading and giving lead came a try.
What's Good About This Stained Glass Kit?
This kit gives you an opportunity to move into leaded projects from copper foil without costing the earth or leaving you with lots of duplicate materials and tools. It includes all those extra bits of kit you need specifically for lead came:
Lead Pattern Shears, Lead Nippers and Fid, Lead Vise, Wire Brush, Glazing Hammer, Horseshoe Nails – 100 pieces, Black Cement – 1 lb., Whiting Powder – 1-1/2 lb., Scrub Brush, 50/50 Solder – 1 lb., Lead and glass stop blocks – 25 pieces, 12 feet of 1/4 inch Adj. U zinc came cut innto 8 18″ pieces, 7/32 inch Round H lead came – 4 pieces rolled and bagged.
It even has an instructional DVD to take you through the basic processes.
Rating
Out of all the stained glass kits I looked at, this one came up top as offering the best value for those ready to go from copper foil to leaded stained glass without starting over from scratch. It is a very comprehensive selection of tools and materials, mixing quality must-have tools with a range of useful items. The only thing to remember is that you will need to add a soldering iron and stand, a cutter and safety goggles if you have no existing stained glass tools. 9.5 out of 10.
There's a page exploring the different stained glass tools you need for the Copper Foil technique here.
There's another page going into more detail about each individual tool used in Leaded stained glass here.
Once you receive your kit, come back and have a look at my free tutorials on how to make stained glass so that you can start making your own panels.