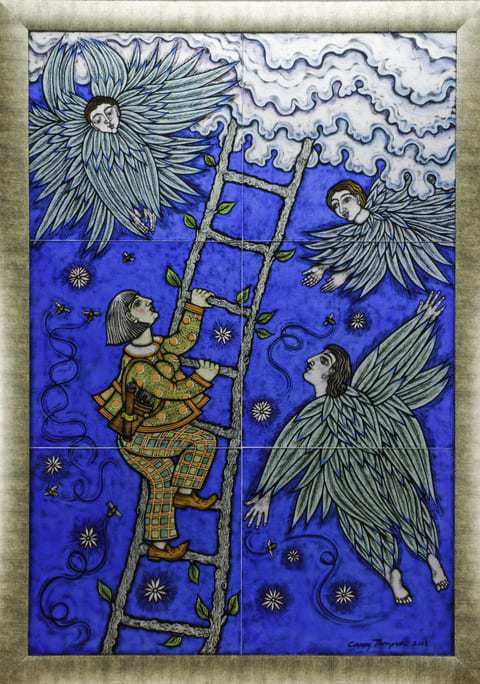 Just glass and lead = stained glass. Just glass and foil = stained glass. But glass and paint = stained glass paintings!
It's not that they are better than stained glass, but they are certainly different.
Here's a collection of my favourite stained glass artists who use paint:
Cappy Thompson (see above) has been doing work ranging from the small – decorating vases – to the enormous – huge public work – for decades. Her work has a sense of fun about it and quite often includes a caricature of herself. A bit like Alfred Hitchcock appearing in all his movies. I think that might be her climbing the ladder!
There's lots more of Cappy's reverse glass paintings on her website if you are intrigued.
With regard to other similar artists… there's a few who work along similar lines in terms of their painterly techniques, but their subject matter seems either darker or more ironic. I don't know if that's your thing, but even if not, you might get something from their creative processes.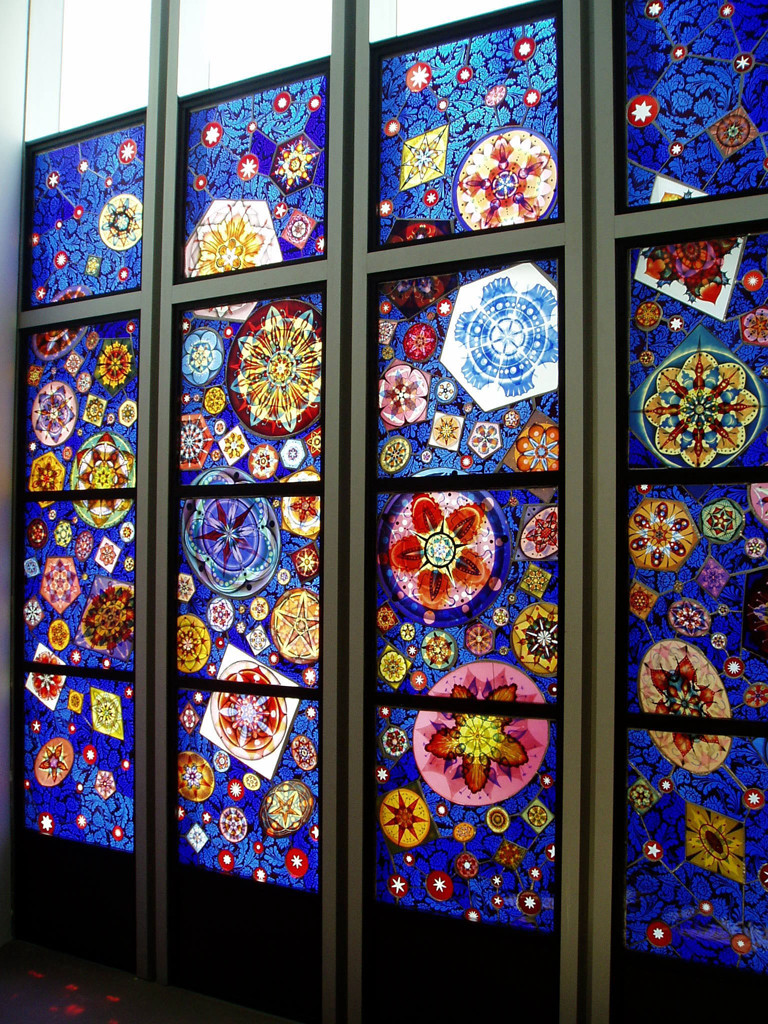 Firstly, Judith Schaechter. I've just seen her give a talk and she's something else! Very idiosyncratic and a HUGE perfectionist. She makes all her work, and as it's layered, it can take months… the screen above is 11′ X 9′ and is multi-layered.
Here's Judith's website , which has all her work pictured but not much commentary. But this for me is her Jewel in the Crown, her Late Breaking Noose Blog, where she talks about her inspiration, processes, thoughts – oh all sorts! It's a real glimpse into an artists' mind and life:
PS Judith thinks her women characters are beautiful and is always surprised when others think differently.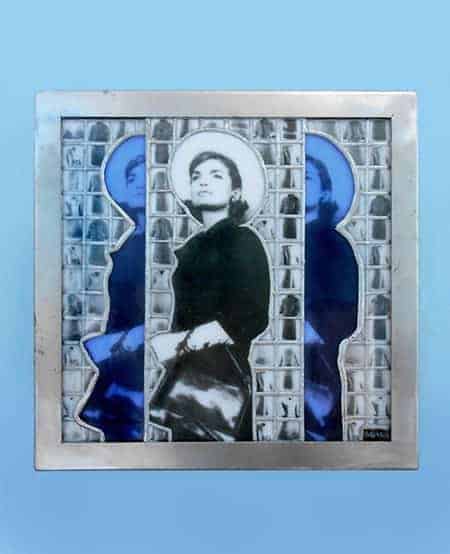 Then there's Joseph Cavalieri, who pinches from popular culture with impunity. Comics, Hollywood, history… you name it, he uses it in his work.
All these artists are very skilful with their techniques. Both Joseph and Judith are attracted by decoration and patterning – something that you could use in your work, maybe?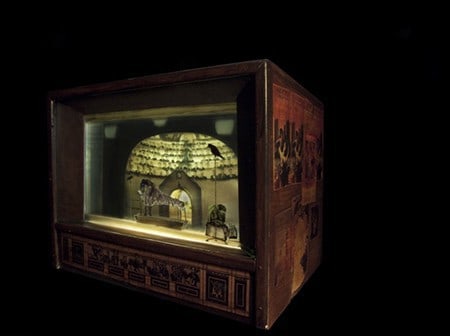 Jeff Zimmer is another glass artist whose representational work has a twist to it! He was fascinated by theatres a while back and made some  boxes with layers and layers of glass building up the image. They were amazingly detailed and because of the depth you really felt like you were disappearing into them:
Here's Jeff's theatre series. They're very dark and mysterious and intriguing. Jeff has just won a big prize in the glass world – second in the Coburg Prize – and is hot property. Wish I'd bought this one back in 2010!
I'm going to stop now… I could go on but I might frighten you off altogether! I realise these artists aren't such 'fun' as Cappy Thompson but they do share a certain aesthetic, if not subject matter.
If you find any more, let me know.